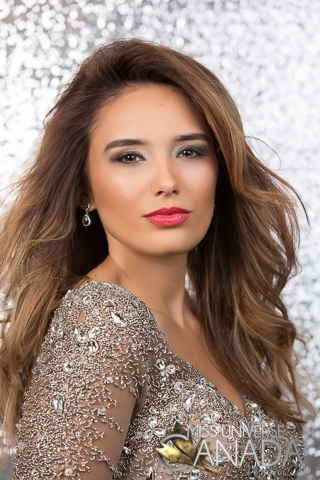 Height: 5'8″
Hometown: Whitby, ON
Melissa was born in Markham, Ontario. Her family later settled in Whitby, Ontario where she has lived for nearly 16 years. She is an extremely dedicated person that believes in hard work and giving back to her community. She is known for her kind-hearted nature.
Melissa is currently a student at the University of Toronto, double majoring in Psychology and Political Science. She is also hoping to add a minor in French into that mix. Before she began her Honors Degree, she completed school at Seneca College and now has a diploma in Broadcast Journalism. She has a passion for world issues and current events. Her plan is to use her voice as a journalist to tell stories that need to be heard!
She grew up modeling and acting in print and commercial work. Melissa was a quiet young girl who suffered from a low self-esteem, and acting became an outlet for her creativity. She soon discovered that it was in front of the camera where she felt most comfortable. It was this experience that encouraged her to become a Broadcast Journalist and gave her the confidence to pursue her dream of becoming Miss Universe Canada. She has grown up to be a very confident person who is excited for what life has to offer. Melissa plans on creating her own support group one day that focuses on aiding children and adults who deal with confidence issues. She wants everyone to feel proud to be who he or she really is.
In her spare time, you can find Melissa traveling with friends and watching hockey. She spent many years training as an advanced figure skater, so she still breaks out her skates on the weekends. She loves to spend time at the gym and taking yoga classes. Melissa also really believes in volunteering her time. She says that the purest form of satisfaction she has ever experienced comes from doing selfless things for others.
Melissa is an incredibly proud Canadian. Her dream is to represent the country with grace and integrity. She is a lady who loves life and appreciates every moment!
Sponsors:
Ontario Hyundai, Briar Resorts, M.A.C Cosmetics, Jakes On Main, Dr Pong Orthodontics, Dentistry on Taunton, Barnes Memorial Funeral Home, Valentino's Grande Salon, Lashes by Design, Trio Photography, Carol Baker Visage, Friends & Family
Languages spoken fluently (please include your native language if English is not your native language).
English
What are your interests and what do you enjoy doing the most?
I enjoy keeping up with current events and politics. It has inspired me to pursue Broadcast Journalism as a career. I like trying new recipes when I cook, and I love to travel. Above any of this however, I love spending time with my friends and family. I appreciate every moment spent with them.
List any special training you have had (music, art, drama, dance, etc.).
Broadcasting
Public Speaking
Acting
Modeling
Fitness and Strength Training
Figure Skating
Guitar/Piano
Dance
In what sports, if any, have you participated?
I grew up figure skating competitively. Skating not only challenged me physically, but it taught me how to stay dedicated and motivated. It also taught me how to love my body and to make sure I always take care of it.
Name one person, other than your parents, who has had the most influence on your life. Why?
Aside from my incredible parents, I would say my grandparents have had the greatest influence on me. They have created quite the life for themselves here in Canada. Especially considering that they came here from Greece as teenagers without anything to their name. I can't help but think how much courage it must have taken to do that. They have accomplished so much in their lifetime and I appreciate the struggles they endured to provide for their family. Their actions truly demonstrate that anything is possible if you are willing to work for it. They inspire me to become a better person.
What is your proudest personal accomplishment (other than participating in this pageant)?
Before I began studying at the University of Toronto, I graduated from Seneca College with a diploma in Broadcast Journalism. Soon after, I began working as an intern for Chex Television. My proudest accomplishment is having my stories aired on the nightly newscast. Not only did I seek my own stories, but also I wrote, filmed and edited them all before a strict deadline. That experience solidified my love for journalism and has provided me with the greatest sense of accomplishment.
What is the most interesting or unique thing that has ever happened to you and/or what is the most interesting thing about you?
I am a listener. Many people mistake that for shyness, when in reality I have a HUGE personality. I love to talk and present; however I will always be more interested in learning about the person I am talking to than about myself.
What is your career ambition and what are you doing or plan to do to accomplish that goal?
I am currently working on my second round of post-secondary education to strengthen my knowledge about politics and the world. When I finish this degree I plan on pursuing a Masters Degree in Communications. My career goals include becoming a News Anchor and later producing documentaries. I have volunteered at every news outlet within my reach. I have interned at places such as CBC Toronto, Chex Television and Rogers Television for many years. I hope I can use my voice as a News Anchor and Producer to change lives. I absolutely love creating content. I can't wait to begin doing it everyday.
What would be your "dream job" in life?
My dream job is a position where I am free to be creative and give back to the community. Journalists have so much power because they are responsible for shedding light on things that really matter. I know when I begin working full time and writing stories I will always put the best interests of the community first.
Are you currently a student?
Yes
If yes, where?
University Of Toronto
Area of study:
Psychology/Political Science
Are you currently employed?
Yes
If yes, what is your occupation?
I work as a server at a family owned restaurant.
Describe where you were raised and what your childhood was like.
I am so fortunate for childhood I had. My neighborhood in Whitby, Ontario allowed me to experience the most incredible close-knit community you can imagine. I was always a very busy child. My mother insisted that I join every club and class available. Now I can say I'm definitely a Jack-of-all-trades! I am so grateful for the childhood I had and I owe it all to my parents and the neighbors that I grew up with.
List any interesting or unusual jobs you may have had.
Intern at CBC Toronto (Giller Prize, Canadian Screen Awards, Cover Me Canada, Dragon's Den and other shows)
Intern at Rogers Daytime Durham Region (Daytime)
Intern Reporter at Chex Television (5:00 News)
Stage Manager at a local theatre (Live theatre performances)
List any volunteering you have done.
Skating Coach for children
Church breakfast events for less fortunate families
Volunteering time at local stations to produce stimulating content for the community
What is your most unusual talent?
Unfortunately for my friends, I consider myself quite the prankster. However, I promise I'm always nice when it comes to my jokes
Where is the most interesting place you have been to?
The most interesting place I have been to would definitely be in British Columbia. I spent most of last summer travelling across the country exploring all of what Canada has to offer. I spent time camping deep in the Rocky Mountains. It was there that I fully experienced the feeling of being "unconnected" with the rest of the world. It definitely gave me a new perspective on life.
What do you hope to be doing in ten years?
In ten years I hope to have become a well-respected journalist that has begun her first documentary. I also hope that I have established a support group for children who suffer from confidence issues. More importantly, I hope to have a family life that is very well balanced with my work life.
Is there anything you would like to add that we haven't asked?
This experience is truly humbling! I am treasuring every moment spent with these incredible girls I am competing with. Never have I felt more at home than with the Miss Universe Canada Delegates, as we are all so similar in so many ways. Words cannot describe how excited I am for what is to come!