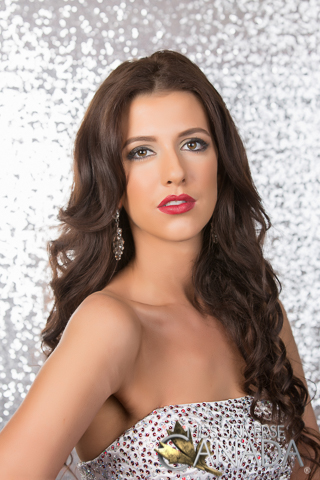 Height: 6'1″
Hometown: Iroquois Falls, ON
Natalie Carriere was born and raised in the small Northern Ontario community of Iroquois Falls. Fun fact; Natalie was born on July 1st, Canada Day! She loves to celebrate and share her birthday with the entire country; this makes her very proud to be Canadian. From a young age Natalie always had a microphone in her hand, hosting the family dinners and singing songs with her friends and family; she always loved to be on camera. Reaching a height of 6 feet tall so young; Natalie stood out from the age of 13 as she was already the tallest in her class. She was often bullied for being different, therefore her confidence suffered.
A local pageant had begun in her community and as soon as she was of age to participate, she begged her parents for permission. Natalie fell in love with pageantry from the moment she began. After competing in pageants through high school and graduating at the top of her class, Natalie went on to attain a general degree with an emphasis on Public Relations/Image Management; also studying Ethics in Canadian Society, Debate/Critical Thinking, and Sociology. Natalie enjoys public speaking, motivating young women and spreading positivity wherever she goes. She dreams of being a television host or even hosting a game show! Pageants have been in Natalie's life since she was a girl and she truly believes that pageants can teach great life skills that can help you in the workplace as well as in life!
One of Natalie's proudest moments in life so far was when she was able see the world and travel to Thailand to represent Canada at Miss Grand International in 2013. Natalie has begun mentoring young women for their pageants as well as motivating them to be the best version of themselves, building confidence in today's young women as well as motivating them to go after their wildest dreams no matter how unimaginable they may seem at the time! This has been one of the most rewarding experiences she has ever had, watching these girls grow before her eyes. She dreams of having her own non-profit scholarship system where she holds workshops for young women, inspiring them to go after what they want, and believe in what they can become. What is your passion and what are you doing today to get closer to your dream?
Sponsors:
Dance Evolution- Sudbury Ontario, Smiles for Life Dental Hygiene Clinic- Timmins Ontario, Miss North Ontario Regional Canada Pageant, Friends & Family
Languages spoken fluently (please include your native language if English is not your native language).
I speak English and French fluently. I was very fortunate to come from a Bilingual family and to be able to study in both languages.
What are your interests and what do you enjoy doing the most?
I really enjoy musical theatre, singing acting and dancing. I have been involved in several productions and I really enjoy helping behind the scenes. Pageants are also a major pastime. I have competed in pageants since I was 13 and really fell in love! I have been able to travel to Thailand to compete internationally, representing Canada. Through my experiences I began mentoring young women in Northern Ontario for their pageants. It became so much more than training; it was almost a self-development workshop. I get to watch and guide these young women, help them find themselves and motivate them to be the best version of themselves. To go after what they want and to believe in what they can become!
List any special training you have had (music, art, drama, dance, etc.).
8 years dance experience- Tap/Jazz with one year of ballet.
4 years at Musical Theatre Summer Camp
Played piano for 6 years
Taught myself how to play the guitar.
Participated on many committees, planning the town carnival, figure skating shows as well as school spirit committees.
In what sports, if any, have you participated?
Being 6'1 at the age of 13, I turned to sports that benefited a girl with height. I played basketball and volleyball in high school; I made the varsity team at post-secondary school, but decided not to play so that I could focus on my studies.
Name one person, other than your parents, who has had the most influence on your life. Why?
I've been so lucky to meet several inspirational people in my life, especially through pageantry. All of my past directors have influenced me positively; however there is one woman that stands out in my life. She is the president of the Miss North Ontario Pageant, I met her in 2011 when I participated and was crowned Miss North Ontario 2011. She is referred to as "Mama Cheryl" because she is more than just a director, she is a mom, a best friend, a fun aunt or anything she needs to be at the time to everyone she meets. She inspires me because she is always making sure that every person she meets feels special and empowered to be the best they can be! I would like to represent Canada with that same mentality.
What is your proudest personal accomplishment (other than participating in this pageant)?
After graduating post-secondary school and travelling to Thailand to represent Canada at Miss Grand International. I would say my proudest moment so far would be becoming an independent woman, living on my own and relying on myself for happiness. I think it's so important for young women and all people to know that they are the first and last person they need to count on in life. You are responsible for your own happiness, so do what you have to do to accomplish that! Reach for the stars, life is too short!
What is the most interesting or unique thing that has ever happened to you and/or what is the most interesting thing about you?
I think the most interesting thing I have ever been able to do was to travel to Thailand to represent Canada on the international stage at the first ever Miss Grand International Pageant. We were able to visit Bangkok, Chiang Mai as well as Pattaya. Thailand is a beautiful country and being a small town girl like me who had never even seen the ocean; it was a really exciting experience. I was even able to compete at Impact Arena, the same Arena our very own Natalie Glebova was crowned Miss Universe 2005 in! The most interesting thing about me would have to be my positive attitude. I try to make sure that wherever I am, I am making everyone around me feel special, empowered and comfortable being themselves. These are also qualities that I believe a Miss Universe Canada should have.
What is your career ambition and what are you doing or plan to do to accomplish that goal?
Ever since I was a little girl, I always had a microphone in my hand. Whether I was singing or MCing at the family dinner, if there was a microphone around, I would find it and use it. I would love to eventually move to the big city and host a talk show, radio show or work in broadcast television. Perhaps becoming a game show host or a host on Entertainment Tonight! I also would love to travel the country and speak at workshops for young women; motivating and mentoring them in the areas of Interview, Public Speaking, How to walk with Confidence and general motivation for life. I would love to collaborate with likeminded people on this project!
What would be your "dream job" in life?
I wouldn't be telling the truth if I didn't say that being Miss Universe is my dream job! Ever since I was a little girl I would watch the Miss Universe Pageant on television with my family. My heart was always filled with this feeling, a burning desire to be one of those women up there some day! I hope I can have the opportunity and believe I have what it takes! Another dream job would be to host an entertainment or fashion themed television show as well as travelling the world and becoming a motivational speaker.
Are you currently a student?
No
Are you currently employed?
Yes
If yes, what is your occupation?
I currently work in the field of Marketing and Communications as well as Restaurant Management. I make sure that my company is involved in the community, raising funds for teams and groups in the city and surrounding area. I am even given a microphone to host special events, which is a dream come true for me! I also make sure all of our guests leave with a smile and want to return to our facility! It is a really fast paced environment and every day is different. I enjoy this type of work.
Describe where you were raised and what your childhood was like.
I grew up in a really small town called Iroquois Falls. It was a really great place to grow up. If the chain fell off your bicycle, someone would be there to help you or drive you home. I grew up with an older sister. We were always very close and spent most of our time outside with friends or inside planning a show for our parents, making up skits and dances. I owe my love for the stage to my sister, she really taught me to embrace who I was as well as to not be shy and go for it! I was always really involved in extracurricular activities; piano and singing lessons, dance classes, figure skating and so on.
List any interesting or unusual jobs you may have had.
I think the most interesting job I have ever had was working as a server in a restaurant. I had never worked in a restaurant before so I had a lot to learn. It requires a lot of multitasking, thinking on your feet and people skills! Every shift was different and I enjoyed the fast paced environment.
List any volunteering you have done.
Growing up I was very active in my community, volunteering where I could. For 3 years I was able to teach young children how to skate with the CanSkate Program and assist in the choreography and planning of the annual Ice Show. I was on their Ice Show Committee and took care of everyone's costumes for the show! Every year I try to volunteer as a backstage hand with my favorite Musical Theatre Company- Lock and Keynote Productions. Whether I was reading to children at the Library or taking tickets at the local hockey game, I was always there to give a hand.
What is your most unusual talent?
They say that public speaking is the number one fear for people, followed by death. That to me is very strange! I have always been a really good public speaker and believe that this is a great talent to have! I have never been afraid to speak in front of large groups of people! I seem to have a way with words. I also really enjoy public speaking!
Where is the most interesting place you have been to?
I was able to travel to Thailand which was for sure a very interesting place; however the most interesting place I have been too would have to be New York City. I had always wanted to go and I was able to see a show at the Radio Music Hall, it was breathtaking. I am in love with the city lights of Times Square and the beauty of Central Park. It was stunning and I would love to return!
What do you hope to be doing in ten years?
I think it is important to have a plan, dreams and goals. However, life works in mysterious ways. We can never plan how things are going to go. I hope in ten years I am happy and successful, living a positive and healthy lifestyle. I have always wanted to be a mother and give the gift of life. I would hope to have that opportunity as well.
Is there anything you would like to add that we haven't asked?
I am so excited to be participating in Miss Universe Canada 2016! This has been something I have wanted to do since I was little and I believe life is simply too short to not go after your dreams and goals. Through pageants I have met many young women who are absolutely amazing, but still do not see it for themselves yet. I hope to attain the title of Miss Universe Canada 2016, not only to represent Canada at the most prestigious event of them all, Miss Universe, but to really inspire everyone to believe in themselves and go after their wildest dreams no matter what comes their way in life! Adversity causes some to break, others to break records! I thank you for the opportunity!