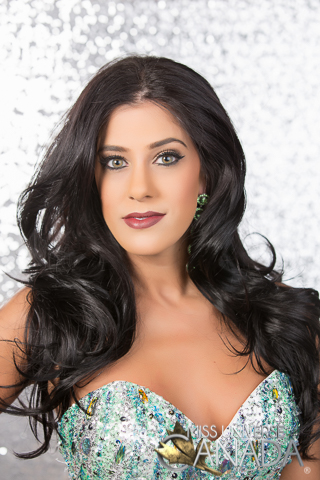 Height: 5'3″
Hometown: Edmonton, AB
Known for her quick-witted humour and positive outlook on life, Natalie Zaiffdeen is a creative and compassionate individual, always open to new opportunities and challenges. Born and raised in Edmonton, Alberta, she is a first generation Canadian with a heritage rich in culture and traditions drawn from the beautiful islands of Trinidad and Tobago and the sunny coast of California. Her parents met in Canada and fell in love with its beauty and welcoming of culturally diverse communities. Natalie, the third of their four children, appreciates the fact that Canada embraces many different nationalities and in this light, her family has been involved in showcasing and promoting numerous cultural events.
From a young age, Natalie's passion for culture and travel has taken her to over twenty countries and has widened her global perspective on the diversity and disparity that exists within our world. This global view has shaped her into a compassionate woman who finds joy and purpose in reaching out to others. Over the years, Natalie has volunteered at several functions promoting cultural awareness and supporting diversity. Through her travels, she made it a priority to share her time with children in need by visiting various schools and orphanages around the world.
With a love for learning, Natalie has completed a four-year degree in Psychology, and went on to achieve a Bachelor of Commerce degree in Human Resources Management at the University of Alberta. She did so with exceptional academic achievement, earning her the Jason Lang Scholarship for four consecutive years and was invited to join the Golden Key International Honours Society upon graduation. Currently, Natalie is working as a Recruiter for one of the largest contracting companies in North America, PCL. She enjoys her role of sourcing and connecting with applicants and facilitating their transition into the work force. She feels fortunate to be able to touch the lives of others and make a positive difference for their future. As a proud supporter of women in the workplace, she is also a committed member of the 'Women of Industrial' group in her company. Natalie takes pleasure in connecting with different people and enjoys listening to their life stories and journeys. She has always been a passionate and ambitious learner who feels that one can never be too educated. Her goal is to eventually utilize her strengths in psychology and business management to optimize human resources and lead global organizations through complex business challenges.
Aside from her career, Natalie also enjoys the spotlight. She has an extensive background in competitive dance and has been a promotional model with the Hudson's Bay Company for eight years. In 2015, she took her love for modeling to the stage as she competed in her first Bikini Fitness Competition. Her confidence, grace, and stage presence won her much praise as she placed in the top five, qualifying her to compete at the provincial level. In 2016, she looks forward to competing in the Miss Universe Canada pageant. To Natalie, this is more than just a title; it is an honour and a responsibility, and most of all, an opportunity to become a leader, role model, and ambassador for her country.
Sponsors:
Privé Ultralounge, Orions Health and Beauty, Excel Fitness and Nutrition, Famoso Neapolitan Pizzeria, The Ice Cream Depot LTD., Cariwest Western Carnival Development Association, Sparkle Entertainment, Pure Orthodontics, Circus Nightclub, Soca F.I.T, JW Ramsahoye Corporation, Friends & Family
Languages spoken fluently (please include your native language if English is not your native language).
English
What are your interests and what do you enjoy doing the most?
I started travelling overseas at the age of five and it has since grown into one of my greatest passions in life. Travelling ignites my curiosity, and continues to teach me more and more about the people in this world. So far, I have had the privilege of visiting: Thailand, India, Mexico, Uganda, Spain, Trinidad & Tobago, Singapore, Cuba, Italy, Malaysia, Bahamas, Jamaica, France, United States, Indonesia, United Arab Emirates, Vietnam, Netherlands and Cambodia. My goal is to visit '30 by 30'; travelling to 30 different countries by the time I am 30 years old! I will graciously accept any opportunity that comes my way to immerse myself in new cultures, meet new people and enjoy the natural beauty that this world has to offer.
My love for photography goes hand-in-hand with my travels. My camera and I are inseparable, capturing fantastic frames of memorable moments and beautiful scenery. Known as the designated photographer, my family and friends often depend on me to capture spontaneous and candid shots of people, places and nature.
When I'm not busy exploring the world, you can find me on the dance floor! I absolutely love music and dancing. It's in my blood! Every other year, my family travels to Trinidad & Tobago to participate in Carnival – an annual celebration well known for colorful costumes, exuberant festivities, and positive vibes! It's one of my most enjoyable experiences and something I hold very close to my heart.
Staying active and fit is also very important to me and has become part of my daily routine. If I'm not working out at the gym, I'm on the soccer field. I started playing soccer at a very young age and have continued to play ever since. Currently, my sisters and I play on the same division one team for the Edmonton ICE soccer club.
When it's time to relax, I enjoy spending quality time with my family. We celebrate every Sunday with a gourmet meal, music, laughter, and lengthy discussions about our busy lives. When I do have some time for myself, I love catching up on documentaries. I find them fascinating, informative, and often, inspirational.
List any special training you have had (music, art, drama, dance, etc.).
10 years Competitive Dance: Tap, Jazz, Ballet, Lyrical, Hip-Hop
Cultural Dance: Latin, Bhangra & Character dance
Fitness, Strength & Nutritional Training
Modeling, Runway & Stage Posing
Cosmetology: Hair & Make-up Styling
Languages: French, Spanish, Italian
Piano Lessons
Art Lessons
Cooking Classes
In what sports, if any, have you participated?
Track and Field
Soccer
Swimming
Surfing
Waterskiing
Wakeboarding
White Water Rafting
Name one person, other than your parents, who has had the most influence on your life. Why?
My two older sisters, Danielle and Lauren, have had a profound impact on the woman I am today. They are intelligent, strong, confident, and ambitious. As the baby sister, I have always tried to follow in their footsteps. They have pursued their passions with relentless determination and are both very successful in the health care field. Their footsteps have often led me out of my own comfort zone and taught me to go after what I want in life. They have encouraged me to persevere through any challenges with dedication, hard work and consistency; and my participation in this pageant is no exception.
What is your proudest personal accomplishment (other than participating in this pageant)?
Many personal achievements come to mind but one of my more recent accomplishments occurred on May 17, 2015, a day I will always remember. It was the day I stepped onto the stage in my first Bikini Fitness Competition. After twenty long weeks of intense fitness and strength training, I had finally conquered one of the most physical, mental, and emotional challenges in my life. My journey to the stage took a lot of dedication, determination, and self-discipline but the feeling of accomplishment was well worth it. There I was, standing tall and proud, with my chin up! I placed in the top five and qualified to compete at the provincial level the following month.
What is the most interesting or unique thing that has ever happened to you and/or what is the most interesting thing about you?
While on a safari tour in the middle of the Sub-Saharan African jungle, I decided to pull out my delicious coconut cookies to snack on while viewing the beautiful scenery and native wildlife. As we passed a pack of elephants lurking nearby, our safari jeep came to a complete stop. I popped up from the roof of the jeep to start taking pictures, not realizing that I was still holding onto the cookies. Suddenly, while adjusting my camera lens, I felt a firm yank on my hand and realized my cookies had disappeared. I immediately whipped my head around, only to see a giant baboon, sitting on the top of the jeep, boldly eating my coconut cookies right in front of my face!
What is your career ambition and what are you doing or plan to do to accomplish that goal?
My career ambition is to become a leader in the business world with a specialization in Human Resources Management, Labour Relations and Business Consulting. With my two degrees in Psychology and HR Management, I would like to work at the corporate level to support challenges in identifying problems, developing successful solutions, creating effective policies and implementing core strategies. To accomplish this goal, I have recently taken an opportunity to challenge myself further within my field. I am currently exploring the technical side of my industry, enhancing my professional skill set, and learning more about my business as a whole. I will continue to pursue these challenges to broaden my knowledge and expertise.
What would be your "dream job" in life?
My perfect dream job would be to become the next "Lisa Ling"—award-winning journalist, television presenter, and published author. Known for her breath-taking adventures to the far corners of America, she explores and exposes unusual subcultures that open our eyes to the realities of the world. I would love to follow in her footsteps, travelling across the world in search of ordinary people with extraordinary lives. Although exploring unusual and often, dangerous cultures and communities can be a deeply emotional and often difficult experience, it is something that truly appeals to me.
Are you currently a student?
No
Are you currently employed?
Yes
If yes, what is your occupation?
I am a full-time Recruiter for PCL Energy Inc.
Describe where you were raised and what your childhood was like.
When I think back to my childhood, I am grateful for the positive memories, experiences, and opportunities that have shaped me into the adult I am today.
I was born and raised in Edmonton, Alberta in a family of six. With the four of us children being extremely close in age, our childhood was filled with love, energy, adventure, excitement, and laughter. When we weren't busy riding our bikes or playing at the park, we were participating in numerous extracurricular activities, including dance, soccer, swimming, and piano. Dancing, in particular, was a significant part of my childhood. My sisters and I participated in several forms of dance during our school years and we loved every minute of it!
As a child being raised in a culturally diverse family, I was introduced to exotic food, music, and dancing at a young age. With my father being a leader in the Caribbean community here in Canada, our family was involved in promoting numerous cultural events at Klondike Days, Heritage Days, and the Caribbean Cariwest Festival. I still have vivid memories of me as a baby in a stroller, dressed from head to toe in a vibrant, colorful costume, moving to the beat of the Caribbean music on many occasions.
My passion for travelling the world can also be traced back to my childhood. With both parents born outside of Canada, I spent most of my summers visiting exotic locations, camping in the mountains or enjoying water sports in California.
List any interesting or unusual jobs you may have had.
As a promotional model for the Hudson's Bay Company, I would often dress up in the latest fashion trends and pose like a mannequin during busy weekends. As with any 'real-life-looking' mannequins, customers would always stare at me directly in the eyes, or even reach over and touch my body to see if I was, in fact, real. I loved to startle them with small eye movements!
List any volunteering you have done.
Caribbean Event Planning & Costume Making
Psychotherapy Outpatient Evening Treatment Program
Orientation Leader, University of Alberta
Bridge of Hope, Trinidad & Tobago
Edmonton Food Bank
Festival of Trees
Operation Smile
Hope Mission
Sherpa, University of Alberta
Elementary School Tutor
CASA: Child, Adolescent, and Family Mental Health
Linguistics Laboratory Research – University of Alberta
What is your most unusual talent?
Call me the pepper connoisseur! Although some may not consider this a talent, I have developed an extremely high tolerance for spice and love to collect different pepper sauces from around the world. I can easily drink an entire glass of hot pepper sauce without flinching!
Where is the most interesting place you have been to?
I was sixteen years old when I had the pleasure of visiting the Golden Temple, located in Northern India. When we tied on our headscarves, removed our shoes, and washed our feet, I knew we were about to enter something special! The Golden Temple is a place of great beauty and sublime peacefulness and is considered the main pilgrimage and spiritual center for Sikh people throughout the world. I remember walking barefoot on the warm marble concourse encircling the shiny temple. I can still recall the light echoes of the soothing chants that played to the flutes, drums, and other stringed instruments. The serene pools of water surrounding the temple are said to have healing powers and pilgrims come from all over the world to bathe in these holy waters. It is believed that a single bath would properly 'cleanse the soul'. My family made sure to revisit this sacred setting to enjoy its beauty and energies at different times of the day. For me, it was such an authentic experience; much more of a pilgrimage site than a tourist destination and I hope I get the chance to visit it again someday.
What do you hope to be doing in ten years?
Ten years from now, I hope to be firmly established in my career in the business world. I would like to be able to travel more extensively and see first-hand how people live with respect to cultural, religious, economic and geographical conditions. I hope to continue in my quest to help the world be a better place, by fostering a healthy environment where human beings can live happy lives and have respect for one another. In addition, I hope to raise a family of my own and give them the same sense of values, experiences and opportunities, which I had in my upbringing.
Is there anything you would like to add that we haven't asked?
It is an honour and a privilege to have been selected as a National Finalist in the 2016 Miss Universe Canada pageant. I look forward to this incredible journey and I want to thank my family, friends, and sponsors for your kindness and generosity. I am a firm believer that with full commitment, ambition, and positivity, anything is possible!