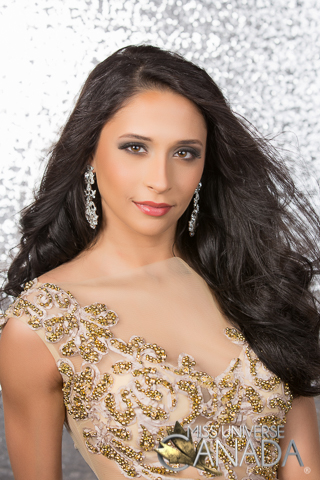 Height: 5'7″
Hometown: Thunder Bay, ON
Sabrina Felice is goal-driven, with an infectious personality, and is proud to have been born and raised in Thunder Bay, Ontario. She was raised in a large Italian family, who continue to keep their traditions and culture a daily part of their lives. She grew up with her twin brother, who empowered her to be adventurous and creative, and with her older sister who offered guidance along her journey. She prioritizes family, and has always valued her parents who re-enforced humility and leadership.
These characteristics served Sabrina well in her numerous athletic activities, which continue to this day. In addition to being a competitive soccer player from a young age, she has studied dance and enjoys running and swimming. Currently she is very involved with Crossfit.
Education is another passion of Sabrina's. She is a voracious lifetime learner, and this passion for always seeking higher education led her all the way to Lakehead University. This is where she earned an Honors Bachelor of Sciences Degree in Kinesiology, in the spring of 2015. This experience taught her the value of hard work, as she pursued her education while working full-time to pay for her studies. Currently she is working in Health & Safety at Bombardier Transportation which enables her to work with many people and continue to learn about health & safety, which is her focus.
Sabrina believes in the power of giving back and that small acts of love can make a difference. She has volunteered her time with numerous charities and organizations; among them fundraising for Heart & Stroke Foundation, Northern Ontario Families of Children with Cancer, Free the Children, serving food at the Shelter House, and working with youth and adults of the Special Olympics.
As a health care professional, Sabrina strongly believes in the importance of access to safe surgery, and is driven to bring awareness to Operation Smile so that more children can be treated as if they were our own. It is her goal to be a part of the Operation Smile team so she can aid in giving children the gift of smiles.
Sabrina has had the privilege to compete in other pageants, having competed both nationally and internationally, and understands the responsibility of representing Canada with grace and pride. The Miss Universe Canada stage represents the ultimate in elegance, beauty and commitment, and she is excited to dedicate her focus to represent Canada with excellence on the Miss Universe stage.
Sponsors:
The Sports Dome, Epica Pictures, Raffaele's Tailoring, Mirella Esthetics & Electrolysis, Inspired Cabinetry, Thunder Bay Canadian Lakehead Exhibition, Friends & Family
Languages spoken fluently (please include your native language if English is not your native language).
English
What are your interests and what do you enjoy doing the most?
I love to go out on spontaneous adventures, try new restaurants, travel to new places, perform long crossfit workouts, and volunteer with different organizations. I can't put a finger on what I enjoy doing the most because they all fulfill me in different ways.
List any special training you have had (music, art, drama, dance, etc.).
Dance
Drama
CPR & First Aid
Athletic Taping & Wrapping
Management training
In what sports, if any, have you participated?
Dance
Swimming
Track & Field
Soccer
Cheerleading
Crossfit
Name one person, other than your parents, who has had the most influence on your life. Why?
The underprivileged children that I met at a school in Costa Rica, opened my eyes to life. Their appreciation for the simple things reminded me to be thankful for the life I have and to continue to give back to the less fortunate.
What is your proudest personal accomplishment (other than participating in this pageant)?
My proudest personal accomplishment is completing my Honors Bachelor of Sciences Degree in Kinesiology from Lakehead University. Completing an education is something that not everyone has the privilege to achieve, so the accomplishment is also humbling. I am also very proud that I was able to achieve a University Degree, while working 30-35 hours a week to pay for my education. Although it was tough, it was worth it.
What is the most interesting or unique thing that has ever happened to you and/or what is the most interesting thing about you?
The most interesting thing that has happened to me was the opportunity to represent Canada at Miss Teen International 2012. One excursion, while there, in particular, impacted me. It was a visit to a school with underprivileged children where they were overjoyed to meet us. For the few hours that I was there, I was brought back to my childhood, dancing, singing and being one with the children. I often look back on the pictures I took with the children remembering how happy they were to meet someone from Canada, and during that short stay, nothing else mattered but them.
What is your career ambition and what are you doing or plan to do to accomplish that goal?
My career ambition is to work in the healthcare field, promoting health and safety at work and home. To accomplish this, I wish to be a continuous learner, working on my strengths and weaknesses, so that I can also have the fulfillment of constant growth and being the best I can be.
What would be your "dream job" in life?
I have an ambitious dream job that is comprised of the following: being a woman in leadership in the Health & Safety field, while being actively involved in helping others achieve their fitness goals. Most importantly, I want to continue to make time to work locally and abroad for various charities and organizations to better the lives of others.
Are you currently a student?
No, but I continue to embrace new learning experiences, read novels, and research topics related to the health and wellness field.
Are you currently employed?
Yes
If yes, what is your occupation?
I am currently employed at Bombardier Thunder Bay. I work with a dynamic group of individuals in Health & Safety, where I perform physical demands analyses and ergonomic assessments throughout the entire plant.
Describe where you were raised and what your childhood was like.
I was born and raised in Thunder Bay, Ontario. Thunder Bay is a small town with a 'big city' feel. It is a community showcasing many cultures, hosting numerous cultural events, and is the home of beautiful monuments such as, the Sleeping Giant, Terry Fox Monument, Kakabeka Falls, and Eagle Canyon (Canada's longest suspension bridge).
I am blessed with an older sister whom I could look up to and 'borrow' her clothes, and I am also lucky to have a twin brother whose adventurous ways allowed me to be creative while bringing out my 'tomboy' qualities.
I loved school, and have always been interested in learning new things, both in and out of the classroom. When I was not at school, I spent my time outside, playing soccer, dancing, and expanding my imagination through arts & crafts.
My parents are very supportive and extremely hardworking. They have always embodied the importance of putting 110% into everything that we do, and to be leaders.
List any interesting or unusual jobs you may have had.
Soccer coach
Manager at a retail store
Visual Lead at a retail store
Health & Safety: Kinesiology
List any volunteering you have done.
Thunder Bay Invitational Soccer Tournament volunteer
Heart & Stroke Foundation – Fundraiser
Northern Ontario Families of Children with Cancer – Fundraiser
Shelter House Thunder Bay
Free the Children Campaign – Fundraiser
Special Olympics Thunder Bay Track & Field
Our Kids Count Thunder Bay – Face painting
What is your most unusual talent?
I can perform the Olympic lift "clean and jerk" at 100 lbs.
Where is the most interesting place you have been to?
The most interesting place I have been to was the Atlantic Ocean, snorkeling while in Mexico. It was stunning because it felt as though I was on another planet, surrounded by magnificent beauty and other worldly creatures.
What do you hope to be doing in ten years?
In 10 years I hope to be an established career and a happy marriage. I want to continue keeping physically healthy, while being a contributing member of my community, and being a role model for others.
Is there anything you would like to add that we haven't asked?
Thank you to everyone that has been supporting me throughout this exciting journey. I could not have done it without you!