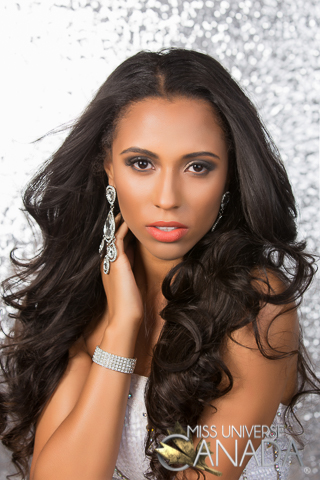 Height: 5'5″
Hometown: Windsor, ON
Shanacee Shreve is a multi-media expert, model, and actress who has an unyielding love for service. Her modeling portfolio includes major international brands such as Kraft and Advil; as well as her multimedia work landing her on BET's 106 & Park and as a finalist for TV 20's the Search. Beyond her work as an established model, she works for a branding company, hosts events, writes, produces and edits film all while remaining on the Dean's List in her Master's Program in Media Arts at Wayne State University.
Growing up in Windsor, Ontario, she has always been rooted in the issues of her community. During her undergraduate collegiate career Shanacee interned as a broadcaster in New York and throughout the British Isles. After attending Michigan State University as a first-generation college student, she knew her calling was more than her professional endeavors. She paired her personal passion of service and her education in broadcast journalism to create her show A Sit Down with Shanacee, a platform that addresses self-identity, mental health and personal success. Through this experience, Shanacee noticed the overwhelming response from people who were suffering from mental issues. From there, she became an advocate for depression awareness and suicide prevention among teens and young adults.
Shanacee was first exposed to living a life of service by working with Windsor's Downtown mission since she was a child. Currently, she is a member of Alpha Kappa Alpha Sorority Inc. in Windsor, an organization that spearheads volunteer efforts with Sandwich Teen Action group in Windsor, Ontario, the Red Cross, Windsor's Downtown Mission, and ASCEND Mentoring. One of her greatest joys is being an active volunteer at her church as a mentor, tutor, and media specialist. She is the oldest of four siblings and constantly strives to set the bar high and lead by example. Her friends and family believe she is doing an excellent job thus far, describing her as compassionate, resilient, and fearless.
Shanacee aspires to use her voice and media platform to tell the stories of her generation. At the core of her work often lies a story that has a universal message connecting people across social, political, economic and ethnic barriers. Shanacee is using her skillset and love for humanity everyday to fulfill her purpose of inspiring people to become their greatest self. She hopes to use the Miss Universe Canada platform to spread light and love globally.
Sponsors:
Detroit Memorial Park, iSlayWigs, Spoiled Forever, Winks Beauty & Lash Studio, Virgin Only Hair Company, JLH Heating & Cooling, Increase Branding & Design, islaywigs, Daphne Rice, Friends & Family
Languages spoken fluently (please include your native language if English is not your native language).
English
What are your interests and what do you enjoy doing the most?
I have always been in love with media arts, so my interest include film making, writing and producing fun yet informative video content. There is nothing more invigorating than capturing a meaningful story through film and perfecting it for the world to see. Aside from film and broadcasting, I cherish the time I get to spend with family and friends. There is nothing like a nice barbeque with the people you love, laughing and creating lasting memories. Most importantly, I enjoy doing acts of service, such as, planning youth events with children at my church or mentoring girls in my community. The feeling I get from helping our youth always keeps me in a positive mindset.
List any special training you have had (music, art, drama, dance, etc.).
10 Years of Baton Twirling Training
Michigan State University Department of Theatre & Acting Training (2 years)
The Actor's Loft (1 year)
College educated and trained public speaker with training in voice over and on-camera speaking
Ballroom Dancing
Video & Editing Training
Modern Dance
In what sports, if any, have you participated?
I have participated in volleyball and soccer at the high school level.
Name one person, other than your parents, who has had the most influence on your life. Why?
The person that has had the most influence on my life would be my late grandmother, Laura Shreve. She was the epitome of a Canadian woman; loving, kind, generous, and accepting of everyone. She had faith in all she did and loved her children and grandchildren unconditionally. She held a strong marriage with my grandfather since the age of 17 and left behind a strong legacy. I would also like to mention the impact that my wonderful pastors have had on my life, teaching me that I am a winner who is limitless and has the power to change any circumstance in my life if I just believe in myself and keep God first in all that I do.
What is your proudest personal accomplishment (other than participating in this pageant)?
Throughout my life I have accomplished quite a bit of noteworthy achievements including becoming a finalist in BET's 106 & Park's search for a host, landing an international billboard, graduating from university, creating my own webseries that encourages individuals globally, and finishing my first short film this year. But I would have to say my proudest personal accomplishment is that I have found the confidence and courage to let my light shine brightly even when it's uncomfortable, not accepted, or not understood. I am proud to say that I am a woman of purity, maturity, integrity, and determination and I stick to my principles and goals in life.
What is the most interesting or unique thing that has ever happened to you and/or what is the most interesting thing about you?
The most interesting thing that has happened to me would be when I started my own internet show. This was when I really started to figure out that I have a passion for people and I get a lot of joy and excitement from helping others find their purpose and their confidence. My passion is what makes me interesting, my face lights up when I talk about serving others and helping others achieve. I get so much gratification from being a positive example and a source of information and assistance.
What is your career ambition and what are you doing or plan to do to accomplish that goal?
My career ambition is to first become a television personality, later have my own syndicated show and own my own production studio. I would also like to own other businesses that generate wealth and opportunities for under-privileged youth in the media arts and creative studies field. Currently, I am in school pursuing a masters in Media Arts and I have also started my own show as mentioned before, A Sit Down with Shanacee, aside from that I began a branding and design company with my business partner. These opportunities are cultivating me to become more business minded, well-rounded, and able to wear many hats which will later allow me to become the superwoman I have always envisioned myself to be.
What would be your "dream job" in life?
As mentioned I have a love for broadcasting, film, and philanthropy and I would love for my career to encompass all three. My dream job would be owning my own television network and hosting a show on that network, much like Oprah. The network would be focused on cultivating self-love, mental health, hard hitting topics, and content that shapes individuals to reach higher.
Are you currently a student?
Yes
If yes, where?
Area of study:
I am currently pursuing a master's degree in Media Arts more specifically in Video Production at Wayne State University.
Are you currently employed?
Yes
If yes, what is your occupation?
I am an entrepreneur.
Describe where you were raised and what your childhood was like.
I was raised in Windsor, Ontario. I would describe my childhood as pure. I cannot remember a bad day growing up! I grew up in a duplex with my parents on the top floor and grandparents on the lower level until I was 10 years-old. My family often brings up how when I was just 2 years old I would climb down the stairs with a bowl and a spoon every morning to meet my grandparents for breakfast. I was constantly nestled between two great support systems. I have always been encouraged to achieve and held to a standard of excellence by my family. My parents never let lack get in the way of providing for myself and my siblings. They taught us entrepreneurship, leadership, and to keep God first in all we do. Even at the age of 24 my family still supports me in my wildest dreams, including my pursuit in becoming Miss Universe Canada 2016.
List any interesting or unusual jobs you may have had.
I have had many "odd jobs" including being a custodian for two years, being an extra on the Batman vs. Superman movie, acting in Chapman Ice Cream and Advil commercials, modeling in billboards for Kraft's Philly Up campaign, and waitressing for two years waiting on celebrities like Kelly Rowland, La La Anthony, and CEOs of BMW and Audi. I have also interned for local radio stations and reported nationally in the British Isles.
List any volunteering you have done.
Sandwich Teen Action Group
The Windsor Downtown Mission
Progressionista Book Club
Daughters Of The Collective, Mentoring Group
Canadian Mental Health Association
Flint Water Crisis
Community Day Fundraising
Little Betties, Mentoring Group (Guest Speaker)
Tutoring
The Salvation Army Clothing Drive
Awarded The Heart & Soul Award For Outstanding Service
What is your most unusual talent?
My most unusual talent is that I am a great DIYer I can literally watch a tutorial once on YouTube and be able to do it immediately, whether it's cooking, doing makeup, doing my hair, or picking up a new Adobe Suite skill… I can do it all.
Where is the most interesting place you have been to?
The most interesting place I have been is Europe. I had the opportunity to stay in Ireland, Scotland, and London. I visited Giant's Causeway, Warner Bros. Studios and was on the set of my all time favorite film Harry Potter, I reported at parliament on hard hitting topics, and gained experiences that will last a lifetime.
What do you hope to be doing in ten years?
In ten years I hope I will have my own family, married to my college sweetheart, and dominating in the field of broadcasting. It is my hope that I will have acquired enough wealth to be able to retire my parents and financially support causes dear to my heart including depression and suicide awareness. I hope that by then I have begun a lasting legacy for family. I hope that I can be an example to people everywhere of the power of believing in yourself, a made up mind, and walking out your dreams.
Is there anything you would like to add that we haven't asked?
Yes, I would like to take this opportunity to reiterate how important this platform is for me. Winning Miss Universe Canada 2016 will not only elevate me personally but it will allow me to advocate on a large platform for depression and suicide prevention, which is a global issue. I believe this platform transcends ethnic backgrounds, nationalities, and economic status. It is a global concern that needs to be addressed and aided. I believe with faith, my platform, skill sets, hard work and natural abilities I can bring home the Miss Universe crown for Canada.