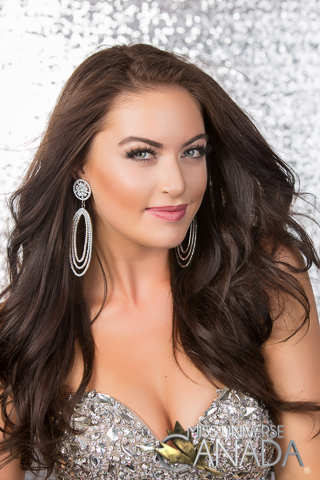 Height: 5'9″
Hometown: Moose Jaw, SK
Siera Bearchell is a law student, entrepreneur, runner, golfer, avid photographer, and proud Saskatchewan resident. Currently enrolled in her second year of Law at the University of Saskatchewan, Siera plans to use her law degree for business endeavors and to help the most vulnerable communities throughout the globe.
Siera is the Co-owner and Co-founder of Watered Down Apparel. Watered Down Apparel provides 30 days of clean water for every item sold and helps provide clean water projects in Kenya, Ghana, Ethiopia and Haiti with their partner organization, Water Is Life. Siera believes access to clean water is a right and aims to address the global water crisis in a meaningful and impactful way.
With a passion for community involvement and helping others, Siera has worked with charities and organizations such as Free The Children, the Canadian Red Cross and SOS Children's Villages. For her community work, Siera has been the recipient of the Queen's Diamond Jubilee Medal, the Peter Mansbridge Youth Leadership Award, the Deloitte Inspiration Award, and the Red Cross Young Humanitarian Award.
Having experience on the international pageant stage, Siera recently placed as 1st Runner Up at the Miss Supranational pageant while representing Canada. Siera also placed as 2nd Runner-Up at Miss Teen World in 2009. Siera aims to make Canada proud once again by fulfilling her dream of representing Canada on the Miss Universe stage.
Sponsors:
Friends & Family
Languages spoken fluently (please include your native language if English is not your native language).
English
What are your interests and what do you enjoy doing the most?
I love to run! For me, running is calming, it allows me to feel strong and I often come up with my best ideas while on the run. Running renews my appreciation for the world around me and increases my appreciation for the capabilities of the human body. I also love running with my Golden doodle puppy Gus.
I also enjoy cooking, baking, yoga and have a passion for helping others in my everyday life through volunteer experiences and business opportunities.
List any special training you have had (music, art, drama, dance, etc.).
For 13 years I trained professionally as a dancer in the areas of ballet, tap, jazz, lyrical and musical theatre. My dancing background has given me an absolute love for the stage and performing.
In what sports, if any, have you participated?
I have been a golfer for many years and was a part of my high school golf team for 4 consecutive years. I placed locally and provincially and currently golf for fun with my dad and brother.
I am also a runner and ran on my high school cross country team. Running remains a big part of my life today. I am currently training for a few half marathons happening in the spring.
Name one person, other than your parents, who has had the most influence on your life. Why?
My younger brother Leighton has been very influential on my life. We often rely on each other for advice, support and encouraging words. Leighton was one of my biggest supporters in running for the title of Miss Universe Canada as he told me that we only have so long to chase after certain opportunities and it is better to regret chasing after a dream rather than wondering "what if?"
What is your proudest personal accomplishment (other than participating in this pageant)?
Being accepted into law school and starting a business are two of my proudest accomplishments. I was also very proud to represent Canada at the Miss Supranational competition where I placed as 1st Runner-Up.
I was the recipient of the Peter Mansbridge Youth Leadership Award and the Queen's Diamond Jubilee Medal in the same year. These were big accomplishments for me for many reasons. First, I watch CBC everyday and have been a fan of Peter Mansbridge for many years. When I received the call from Peter himself to select me as the recipient as the award, I was nearly speechless. The Queen's Diamond Jubilee Medal makes me equally as proud. Both awards represent the work I did in my community from working the Red Cross after losing our family home in a fire to being the President of a Junior Achievement Company that won Company of the Year in Canada.
What is the most interesting or unique thing that has ever happened to you and/or what is the most interesting thing about you?
Although it sounds like a negative experience, losing our family home in a house fire was a unique experience that allowed me to appreciate that materialistic belongings are not what bring us happiness in our lives. It is the relationships that we have with our family and friends and the way we impact our communities and touch the lives of others that truly matter and make our lives worth living.
What is your career ambition and what are you doing or plan to do to accomplish that goal?
I have a passion for entrepreneurship and currently own and operate a business, Watered Down Apparel. I aim to own and operate several businesses in the future which positively impact the world. I also want to use my law degree to help the most vulnerable in communities around the world, as well as the environment.
I am currently tackling these ambitions by chasing my business goals and am in my second year of law school. It takes perseverance, a strong work ethic, patience and optimism to accomplish our goals, but it is always worth it in the end.
What would be your "dream job" in life?
I am an entrepreneur and law student; therefore, I want to combine the two interests by owning businesses and using my law degree to help others around the world including the environment. I don't have a specific "job" that I aim for, but rather fulfilling all of my interests via projects and business ventures and maybe even running for public office one day.
Are you currently a student?
Yes
If yes, where?
Area of study:
I am a second year law student in the College of Law at the University of Saskatchewan.
Are you currently employed?
Yes, by my own company.
If yes, what is your occupation?
I co-own Watered Down Apparel – a company where we donate 30 days of clean water for every item purchased. We provide clean water to Kenya, Ghana, Ethiopia and Haiti. A child under the age of 5 dies every minute due to contaminated water and we aim to lower and eradicate that number.
Describe where you were raised and what your childhood was like.
I was raised in Moose Jaw, Saskatchewan and it was a great place for a young person to grow up. I always had a love for dancing and the stage and was often performing for family and friends. I was fortunate to have grown up with parents who always supported me in chasing my dreams and instilled in me that anything is possible so long as I work hard and believe in myself.
List any interesting or unusual jobs you may have had.
Having an interest in health and fitness, I taught spin and yoga classes after receiving certification in both areas. A healthy body truly does lead to a healthy mind and overall happier life.
My favourite "job" that I have had is being the President of a Junior Achievement Company. We were very successful and have over $15,000 in sales in just three months and were named Company of the Year in Saskatchewan and later Company of the Year in Canada. My experience with Junior Achievement ignited my interest in the business world.
List any volunteering you have done.
Canadian Red Cross- I volunteered with the organization and did several speaking engagements on disaster preparedness and disaster relief. I was also the recipient of the Canadian Red Cross Young Humanitarian Award.
Free The Children- I travelled to Kenya, Africa to build a school and also had the opportunities to speak at We Day among many other Free The Children experiences!
Others organizations I have worked closely with include:
KidSport
Big Brother Big Sisters
Ronald McDonald House
Operation Smile
Water is Life
SOS Children's Villages
Saskatchewan inMotion
Canadian Cancer Society
What is your most unusual talent?
Perhaps this is more unique than a talent, but I am a golfer and can drive the ball pretty far on a good day. In a sport dominated by men, it's nice to give the men a run for their money now and then.
Where is the most interesting place you have been to?
Kenya, Africa- Kenya has an incredible landscape ranging from rainforest to African Savanna grasslands. The people are some of the most welcoming and kind people I have ever met and the animals in the Great Rift Valley will leave you in awe.
Upon travelling to Kenya, I imagined myself helping the people there and changing their lives by providing health care and education. What I learned was the people in Kenya taught me more than I could ever teach or give to them. While some of the most impoverished people in the world, the individuals I met taught me that happiness can stem from the appreciation of the simplest things.
My trip to Kenya taught me that education is one of the keys in breaking the cycle of poverty and it is truly one of the greatest gifts one can ever give or receive. I also learned about the importance of clean water and how serious the global water crisis really is. The lack of access to clean water has many young women walking 10km average per day taking them out of school in the attempt to find water for their families.
What do you hope to be doing in ten years?
This is a difficult question because things can change so quickly and we often end up in a very different place than we could have imagined. In ten years I would like to see myself travelling the world as a successful business woman and entrepreneur. I hope to be inspiring women around the world to chase after their goals and aspirations in the business, legal and political world.
I also hope to be impacting the global water crisis and finding ways to protect the environment with my legal background.
Is there anything you would like to add that we haven't asked?
I will briefly touch on pageants in general and the stigma often attached to pageant girls. I often attribute much of what I have accomplished to my experience in pageantry. Pageants give young women a platform to stand upon to speak on issues important to them and to make a difference in themselves and in their community. Pageants allow young women to gain speaking, communication and networking skills. Participating in a pageant is not just about winning a sash and title. The people we meet, the connections we gain and the experiences we are able to be a part of can be truly life changing.