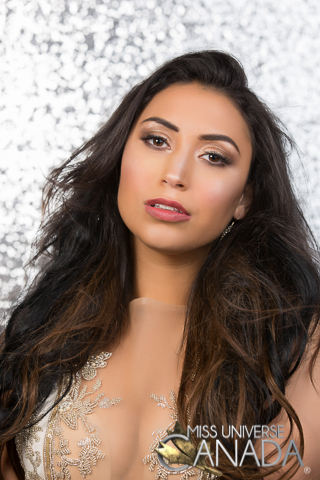 Height: 5'5″
Hometown: Niagara Falls, ON
Yirah was born in Mexico to a mother who was a top model as well as a movie star and a father who was the first man to bring a scuba diving tank into Mexico. Her father is also a political activist who fights against corruption and preservation of Mexico's sea life which is were Yirah believes she gets her passion for wanting to raise awareness for issues that are close to her heart.
Yirah moved to Canada at the age of six and became a proud Canadian citizen at the age of ten. Yirah has always felt like she has a purpose in life and when she was diagnosed with Lupus at the age of 14 she has made It her mission to try to inform as many people on what Lupus is as well as trying to bring awareness for rare diseases. She is also very grateful and feels blessed to live in a country with amazing doctors and free health care that she believes saved her life.
Yirah spends her free time volunteering at retirement homes and teaching yoga to seniors as well as bringing her dog Diesel along who is a therapy dog. She also volunteers at her local soup kitchen and believes that giving back to her community is a very important thing. She loves animals and hopes to one day be a pharmaceutical representative working along side veterinarians.
Yirah has been a Toronto Sunshine Girl twice and with a mother who was a movie star and model she has always been into fashion and has excellent style. Her father is a very adventurous man and so is Yirah, they have spent many wonderful trips together doing things like white water rafting, swimming with dolphins, travelling all across Mexico and hot air ballooning. Yirah has been through a lot of turmoil in life but she always keeps a positive spirit and is proud to be alive, Every. Single. Day.
Sponsors:
Seth Collens, C.N. Tattoos & Clothing, Friends & Family
Languages spoken fluently (please include your native language if English is not your native language).
Spanish and English.
What are your interests and what do you enjoy doing the most?
My interests are yoga, art, and music. I enjoy going to retirement homes with my dog diesel and teaching yoga to the retirees the most.
List any special training you have had (music, art, drama, dance, etc.).
I took dance for the majority of my childhood, I also took gymnastic lessons and piano and guitar lessons. I also took a couple of art classes a few years ago.
In what sports, if any, have you participated?
Gymnastics.
Name one person, other than your parents, who has had the most influence on your life. Why?
A Mexican artist by the name of Frida Kahlo has had the most influence on my life because when she became paralyzed as a teen she never let that stop her from being a productive, intelligent and talented woman. The doctors told her she would never walk again and, with determination, she eventually taught herself to walk again.
What is your proudest personal accomplishment (other than participating in this pageant)?
My proudest personal accomplishment is going every week to retirement homes and teaching yoga to the seniors. It may not seem like much but seeing their smiles when I walk in and seeing how happy they are to exercise makes it a very special accomplishment for me. I have also started bringing my dog Diesel with me because he is in training to become a therapy dog and seeing him with them, nudging himself under their legs as we do yoga so he can get some rubs is priceless.
What is the most interesting or unique thing that has ever happened to you and/or what is the most interesting thing about you?
The most unique thing and most interesting thing about me is that my father was a scuba diving pioneer and my mother was a movie star. My father is also a political activist. That alone, has always made me feel like I have a purpose in life.
What would be your "dream job" in life?
My dream job would be to act.
Are you currently a student?
Yes. I am taking an online course to get my pharmaceutical sales rep certificate.
Are you currently employed?
Yes
If yes, what is your occupation?
Customer Sales Advocate at a call center.
Describe where you were raised and what your childhood was like.
I was raised in Niagara Falls. My childhood was very tough. I has a lot of issues at home and once I became "popular" at school, I had a lot of rumors spread about me and was bullied.
List any interesting or unusual jobs you may have had.
The most interesting job I have had is the job I have now. People call in angry and I love to make them happy by the end of our call. There are also some very strange calls that take place.
List any volunteering you have done.
I have volunteered at our local cat center.
For the past year and a half, I have been going to a retirement home twice a week (Wednesday Morning and Saturday Morning) to volunteer and teaching yoga. I had to cut down to once a week (Saturday Morning) because I have a full time job now but I have now added another retirement home that I go to every week and teach yoga to them on the same day as the other one. I also volunteer at my local soup kitchen every week on Wednesday afternoons. I am also in the process of making my dog Diesel a therapy dog and he comes with me to the retirement homes.
What is your most unusual talent?
Cooking.
Where is the most interesting place you have been to?
The most interesting place I have been to is a place called "Media Luna", It is a lake in Mexico with caves to scuba dive in as well as a deep floor that actually pushes air bubbles from the ground of the lake. Another interesting fact about this place is that mammoth bones were found there.
What do you hope to be doing in ten years?
In ten years I hope to have a family and a career that I love doing.
Is there anything you would like to add that we haven't asked?
I just want to say how truly, from the bottom of my heart, grateful I am to have this opportunity. Thank you so much.