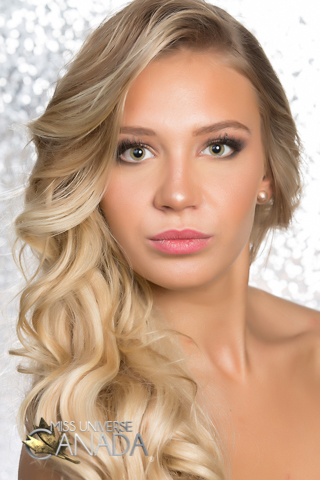 Height:
5'5
Hometown:
Toronto, ON
Languages:
English
Occupation:
Hostess
Alicia Kuszelewski was born in Toronto, Ontario and at the age of 8 her parents moved the family to Whitby Ontario. Grandparents on both sides of the family had made their way to Canada having experienced the hardships of World War II including displacement not only from their country, but also their family.  With this influence on her youngest years, Alicia has developed a strong commitment to family and is fiercely loyal to her friends.While Alicia enjoys the great outdoors up north and taking in the natural beauty and wildlife, she also played multiple sports one of her favourites hockey from 2012 to 2016, with her dad as her biggest fan.  Alicia also volunteered with the Whitby Grils' Hockey Association. where she was responsible for timekeeping, and participated as the Coach's Assistant and Team Leader. It gave Alicia the opportunity to help others, which she does naturally in so many different ways.
Alicia is just on the brink of deciding which direction to take her studies.  There are so many more opportunities and variety in courses that will lead to a future career.  Alicia loves to travel and would like to explore more of the world,  A career as an airline Flight Attendant is a strong consideration. Her options are still wide open and who knows what tomorrow will bring.
As a contestant for Miss Universe Canada, Alicia looks forward providing a louder voice in being an  advocate on  behalf of children challenged with mental health issues.  It is not only a health condition but it affects every aspect of a child's life, family relationships,  friendships and simple socialization, everything that we take for granted.
Sponsors
AA Property Management and Associates, Pool People Ltd., Decor Building Restoration Ltd.,
G.O. Tap Plus, International Brotherhood of Electrical Workers Local 353, Family & Friends
Video
Q&A
What are your interests and what do you enjoy doing the most?
Sports – Anything to keep me in shape and active! I've played multiple sports which include Hockey, Rugby, Field Lacrosse, Track and Cross Country.
List any special training you have had (music, art, drama, dance, etc.) 
Piano Lessons, Sports Training
In what sports, if any, have you participated?
Hockey, Rugby, Field Lacrosse, Track and Cross Country.
Name one person, other than your parents, who has had the most influence on your life. Why?
My Aunt. She is one of the most down to earth, kind-hearted, intelligent, beautiful and strongest person in my life. I have learnt a lot from her and I would love to be as successful as she is one day.
What is the most interesting or unique thing that has ever happened to you and/or what is the most interesting thing about you?
My green eyes – they change from a green to a blue greeny yellow!
What is your career ambition and what are you doing or plan to do to accomplish that goal?
I am hoping to pursue Dental Hygiene. I plan to go to college this year and make that goal into reality.
What would be your "dream job" in life?
For whatever I will be doing, as long as Im helping people in some manner and I am happy that is a "dream job" for me.
Describe where you were raised and what your childhood was like.
Growing up I came from a family of 4, living with my mom, dad and older brother. My parents are high school sweet hearts and are still together to date. We lived in Toronto but moved to Whitby Ont in 2008. Since then it has been difficult to make friends and there has been challenges but that's what comes with growing up. I would say I had a great childhood growing up, coming from a very loved and family oriented home. Greatest memories would be bike riding, cottage trips and fishing with my family.
List any volunteering you have done.
WGHA – Time keep/Coaches Asst
What is your most unusual talent?
I can lift one eye brow fairly well

Where is the most interesting place you have been to?
Ottawa
What do you hope to be doing in ten years?
I hope in 10 years that I am happy and successful, hopefully have started a family by then and maybe be living on an island somewhere.