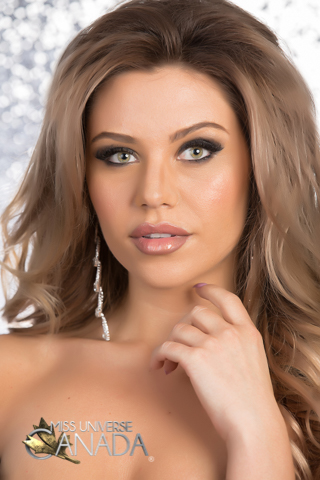 Height: 5'7
Hometown: Laval, QC
Languages: English, French, Italian
Occupation: Student at Concordia University – John Molson School of Business
Amanda Casavant was born and raised in Montreal, Canada. A proud Canadian, with an Italian heritage, is currently in the process of completing her degree in Commerce majoring in Marketing at the University of Concordia. Determined, persevering and compassion are the qualities that best distinguish Amanda. She has been completing her studies while working a full-time job at the well-known Canadian chain Browns Shoes. She believes that education is
key to success, but also thinks experience in the work field is very important and she has been blessed with the opportunity to have had both.
She is a passionate of fitness as she has been a team sport player most of her life. She enjoys the perks of having a healthy lifestyle, challenging herself into different activities and opened to learning about new trends and habits.
As for volunteer work, she has participated in many fundraisers and performed volunteer work such as an organization in her community named Moisson Laval which is food a bank for the needy. She will also be doing the Ride to Conquer Cancer in July which is a three-day bike ride that raises funds for Cancer research. Her ultimate goal is to help make a difference in the world, show her values, personality and confidence to young girls and aims to have a positive impact and influence their lives in a positive way.
Video
Q&A
What are your interests and what do you enjoy doing the most?
What I enjoy the most, with the limited free time I have is fitness. I enjoy learning new ways to having a healthy lifestyle such as new foods as well as trying out new training programs such as pilates, yoga and running. As for my other interests, I am also a foodie. I enjoy trying out new recipes as well as finding new ways to eat healthy. Another one of my interests is traveling. I enjoy learning and exploring new cultures. A new interest that I have recently picked up on is a form of blogging. As social media has become the essence in today's society, I enjoy keeping up with trends, learning about them as well as building my personal profile on social media. Finally, I don`t have any special training or have studied photography, but I am extremely passionate by it and wish to build on that skill in the near future.
List any special training you have had (music, art, drama, dance, etc.)
I learned to play the piano at the age of 7. I also tried out ballet and dance classes, but I soon realized I was more athletic and got into several sports. Also, I attended Italian school throughout primary and high school in order to perfect the Italian language as it is part of my culture. I received my diploma from the Italian school board. A couple of years ago, I also got a diploma in nail art as this was something I planned on doing as a part-time job throughout school.
In what sports, if any, have you participated?
Ringuette, soccer, basketball, swimming, "weight training" and pilates
Name one person, other than your parents, who has had the most influence on your life. Why?
A person whom has had a huge influence and impact on me in the past year is Siera Bearchell. I believe she is truly inspiring. She has gone beyond norms and proved that confidence is the best asset a woman can have. She was judged on social media and proved everyone that her confidence and beauty was more important than a typical body shape that is instated in the minds of the public when it comes to pageants. Beauty is different and everyone holds their own type of beauty, and she has brought a lot of confidence and a different view to the pageant community and to me personally, it is truly inspiring.
What is your proudest personal accomplishment (other than participating in this pageant)?
To be in the process of completing my university degree with a full time job. It was in me since the age of14 that I was a hard worker. I needed to keep myself busy and I did not believe it was not possible to work and go to school. My determination surprised everyone around me, asking me "How do you do it?". Juggling a full time job throughout cegep and university definitely took a toll on my social life, but now I see what the perks are of having actual hands on experience in the work field with an education. Financials were never the reason for me working throughout my education, it was the mind set I had as well as the determination in achieving the highest possible position in my field of work.
What is the most interesting or unique thing that has ever happened to you and/or what is the most interesting thing about you? 
I believe that the most unique thing about me is my restless drive to achieve my goals. I simply won't accept that I cannot achieve something I put my mind too. I am an extremely determined and hard working person to a point where I overwork and at times put on too many responsibilities on me, but at the end of the time, there are so many aspects of life I have not yet experienced and so many goals I have to achieve and nothing will stop my drive and determination to achieve them.
What is your career ambition and what are you doing or plan to do to accomplish that goal?
I wish to become a marketing director in a firm. Currently, I work for Browns shoes and I plan on working with the marketing/buying team. I believe that career goals change everyday as we should always be looking at the next best opportunity and always set new goals therefore my career goals might change as I come closer to achieving them.
What would be your "dream job" in life?
I aspire to build myself as a brand and business. I would like to become an inspiration for women and young adults by creating a strong and confident personality, creating my own organization as well as inspiring young adults to become whatever they wish to become.
Describe where you were raised and what your childhood was like.

I was born in raised in Laval, Quebec with my parents and grandparents. I was extremely fortunate to have grandparents who were very close to me and helped raise me. I never attended daycare and until this day, I consider my grandparents as my second parents. Both my parents are university educated and they always encouraged me to stay in school and achieve the highest possible degree I was capable of achieving. They helped me make the right decisions but never controlled or stopped me from doing anything I wished or wanted to do. They always truly believed in me, and whatever goals or mindset I had in mind, they helped me achieve it and this has shaped me to be the extremely determined person I am today. I was blessed to grow up in a loving and united family and environment.
List any interesting or unusual jobs you may have had.
I did not have many unusual jobs, but I must say the part-time job that was most unsual to me ,was working at a telemarketing company selling lawn care. It was not a very interesting job to me and I did not last more than a summer there!
List any volunteering you have done.
Moisson laval: I have been doing this for years, helping out my mother who is in charge of collecting and delivering Christmas food baskets to families in need in the area of Laval.
Ride to conquer to Cancer: A 3-day bike ride until Quebec City where each participant needs to collect 2000$ in order to ride and all funds go to the cancer research of your choice. This will be the first year I will be doing this, and this requires extensive training beforehand as it is very physically demanding.
I have also participated in many fundraisers to raise money for organizations such as the Montreal Children Hospital, the Heart and Stroke Foundation, The Breakfast Club and The Palliative Care Association.
What is your most unusual talent?

I would have to say my most unusual talent is that in the morning I can get ready in less than 10 minutes and can look like I took an hour! I consider this to me one of my talents because I love to sleep and over the years I have seriously built on this skill….
Where is the most interesting place you have been to?
The most interesting destination I have visited has to be Italy. The culture, the lifestyle, every aspect of the country is so different and beautiful. People are more laid back, are less work-centered and simply try to enjoy family time and life in general. Businesses are closed between noon at 3pm as people get together with their families, enjoy lunch and take naps. Not many people work over 20 hours per week. I am in love with the culture, the history behind this wonderful country and obviously the food!
What do you hope to be doing in ten years?
I hope to have become an influence on others. My ultimate goal in life is to make myself a better person and have a positive effect on the people who surround me. I hope I will have contributed in making the world a better place, bettering myself as a person and succeed in all the aspects I wish to achieve.
Is there anything you would like to add that we haven't asked?
The opportunity for me to compete in the Miss Universe Canada 2017 pageant is something huge for me. The chance for me to make a difference, show my true values, personality and beauty as well as meeting other incredible women is something I am truly grateful for.