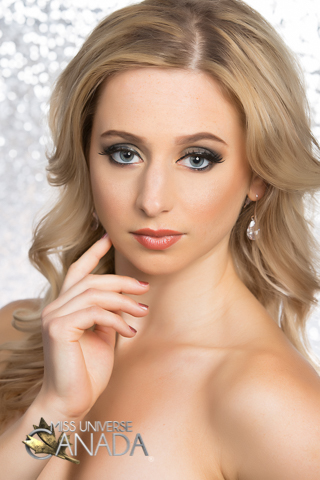 Height: 5'5
Hometown: Aurora, ON
Languages: English
Occupation: Student at York University
Amanda is courageous, confident, compassionate, and an optimistic young woman who strides to make a difference in others' lives. Amanda has volunteered in her community for many organizations.  Working with Roger's Television gave her the opportunity to participate as a panelist on a teen talk show to help teens deal with problems such as depression, anxiety, and body dysmorphia. She has raised money for such organizations such as the OSPCA and Jump Rope for the Heart; and has helped to host the Aurora and Newmarket community jazz festival.
This young lioness is one tough girl as she trains Muay Thai and competes competitively in Brazilian Jiu Jitsu. Amanda has won two bronzes medals and one silver in her Brazilian Jiu Jitsu tournaments, but unfortunately dislocated her shoulder in her last tournament and is now recovering from her injury. Nothing will stop this girl as Amanda continues to train martial arts through her recovery, and is currently aiming for a gold medal at her next Brazilian Jiu Jitsu tournament.
In her free time, Amanda loves to study history.  She once completed a 120-hour co-op working for the Ontario Jew Archive as an archivist. This history junky especially loves to learn about different historical myths and architecture around the world. Amanda also loves to travel as she has an adventurous soul, and loves to explore and try new things. Amanda said that traveling keeps her humble as she realizes the different living conditions around the world, and she is grateful to live in a country like Canada that offers freedom, diversity, and clean drinking water. Like Christopher Columbus, Amanda always ends up finding her way off the beaten path and discovering a new world.
Amanda has just completed a degree from York University in the Social Sciences, she is the first in her family to graduate with a post-secondary education. School was never easy for Amanda, growing up as she struggled with a learning disability, however she never let her learning disability stop her from obtaining an education. Academics is very important to her and she is grateful that she had the opportunity to attend school. Amanda hopes to use her education to obtain her dream job as a Public Relations representative at a sports networking organization. However, this girl's current dream to become Miss Universe Canada is strong as she knows it would make a great platform to educate her local and global community about violence against women.
Sponsors
JG Makeup Artistry, Family and Friends
Video
Q&A
What are your interests and what do you enjoy doing the most?
I live a simple life where I believe that the only things you need to have in life is good food, good company, and dancing to keep you healthy.
I enjoy cooking, dancing, studying history, meeting new people, and traveling. Traveling is one of my passions because I have an adventurous soul, love to explore and experience new things. Like Christopher Columbus, I always end up finding my way off the beaten path and discovering a new world.
I like to consider myself as a tough girl, like a modern-day wonder woman. My main interest is in martial arts, I train Muay Thai and Brazilian Jui Jitsu but I especially love training Muay Thai as I find it calms my soul. When I'm punching the bags I think about my day, things I failed and succeeded at, I think about ways that I could improve my life and the people around me.
I have a passionate soul, everything I do I work hard for and always try my best. Muay Thai and Brazilian Jiu Jitsu challenges me mentally and physically to be the best person I can be. Martial arts has allowed me to be the confident woman that I have always wanted to be. When I fight or train I put my heart into what I do, I never quit.
When I go to the gym and train hard it makes me feel strong. As a smaller young woman I was always looked at as weak and defenseless, but when I fight I don't feel that way. Martial arts has empowered me and made me stronger. This is how I want women around the world to feel because I believe that women are truly tough as nails.
List any special training you have had (music, art, drama, dance, etc.) 
Muay Thai
Brazilian Jiu Jitsu
Wrestling
Flute
Traditional Indian dancing
Salsa
Ballroom
Ballet
Public speaking
In what sports, if any, have you participated?
I describe myself as the girl on the go because I am very athletic, I have participated in many different types of sports for example, swimming, volleyball, soccer, tennis, track and field, dance, gymnastics, innertube, and flag football. In high school, I use to play for the girl's flag football team, I'm a real tom boy at heart.
Although I have played a variety of sports my passion is in fighting, I first started to train martial arts to learn some self-defense moves but I ended up falling in love with the sport. I have trained martial arts for over five years, I train Muay Thai and compete competitively in Brazilian Jiu Jitsu. I feel that it is important to participate in sports because it helps build confidence, strength, friendships, and creates a healthy life style.
My participation in sports has helped me develop a strong disciplined​ mind set. I learned that it's not how good your skills are, it's how good your skills are to you.
Name one person, other than your parents, who has had the most influence on your life. Why?
I would say my grandma left a huge impact on my life, my grandma has and will always be my hero. When I was only 9 years old my grandparents got in a severe car accident, they both survived but my grandma injured her spine in the accident and became paralyzed from waist down. My grandma suffered a lot after the accident, I saw her in pain both physically and mentally at times she would get depressed and tell me that she didn't want to live anymore.
It was hard as a child to hear my grandma in pain and see her unhappy, however my grandma learned how to cope with her disability, this is why my grandma is my hero. She fought for her life and learned how to live life in a new way. Just being around her I learned how to enjoy the simple things in life and how to be grateful for each day I am here on this earth. My grandma was so strong in my eyes because through all the pain she found strength and courage, she became a fighter in my eyes. Whenever something does not go my way in life or I get upset I think about my grandma and realize that there is so much more to life.
What is your proudest personal accomplishment (other than participating in this pageant)? 
I would have to say graduating from university, the reason for this is because throughout my whole life I was told that I could never attend university. When I was in elementary school I was diagnosed with a learning disability, whenever I did my homework it took me double the amount of time to complete it. I was always told that I could never handle the work load in university but those voices were wrong. I am very proud of this accomplishment because I got through school and never once let the negative voices change what I wanted to do with my life.
What is the most interesting or unique thing that has ever happened to you and/or what is the most interesting thing about you?
I think one interesting thing about my self is that I like to go cliff jumping, whenever I am away on vacation I always find myself jumping off a large rock or cliff. It's crazy because I am not a big fan of heights, however something about jumping into an ocean or large body of water excites me and frees me from my fears. I recently traveled to the Dominican in January, while I was in the Dominican I went on a waterfall tour, at the end of the tour we all jumped off a large water fall. I was so scared and my heart was beating so fast however somehow I managed to take a leap of faith and jump, I felt so alive after because I overcame my fear.
What is your career ambition and what are you doing or plan to do to accomplish that goal?
My career goal is to work as a public relations representative for a sports networking company. In order to achieve this goal, I specialized in communication while I attended university and I have completed multiple volunteer internships that has helped me gain experience for this job. I plan on spending my summer getting experience working for a local or downtown public relation company, I hope to gain experience while moving up in my work field.
What would be your "dream job" in life?
Currently my dream job is to work as a public relation representative for a sports networking organization. I want to work with athletes because I admire their strong mind sets and determination to succeed in their passion. I hope one day in the future to work for the UFC organization as a public relation representative.
I think this line of work is great for me because it allows me educate myself and promote a healthy life style to the public. I believe that we live in an era where unhealthy eating is so common and easy to do. I want to change that for future generations and I believe the only way to change that is through educating individuals on what healthy eating means.
Describe where you were raised and what your childhood was like. 
I had a simple childhood growing up I was raised in a small town with a middle-class family. I have two younger brothers and one older step brother, I wanted a sister growing up but instead I got some amazing bros that always have my back. I think the reason why I am such a tom boy is because of my brothers, as kids we would play outside every day. We would always do things like play hockey, soccer, tennis, skateboard and even ride bikes together. I remember making up this crazy games with my brothers, for example once we tied a skipping rope to the back of a bike and then one person would ride a skateboard on the other end. It was fun to see how long the person on the skate board could hang on to the rope.
My mom is a stay at home mom and my dad is a construction worker, I grew up in what you would call a blue collared family. My mom is very sweat and outgoing, she taught me how to be kind to strangers and how to stand up for myself. My dad is a tough guy with a big heart, he taught me how to work hard for things I want in life, he also taught me how to create and build things from scratch using my own hands.
I love my family with all my heart, they were always very involved in my life. I have a very close family so I know no matter what happens in life my family will always have my back and I will always have theirs.
List any interesting or unusual jobs you may have had. 
When I was in high school I took an automotive class, I remember being given a job where I had to work on a teachers' car. While working on that car I had to change the tires so I put the car on the lift, when I started lifting the car up on the lift I realized that it was tipping off the lift. After getting the teachers help I was able to bring the car down safely, let's just say that after this experience the teacher didn't let me work on his car again.
List any volunteering you have done.
Rogers TV
Aurora community cleanup crew
Fundraised raise money for stand for autism
Aurora/Newmarket Jazz festival MC
Aurora food bank
Ontario Jewish archives, archivist
Ontario OSPCA
Jump rope for the heart
What is your most unusual talent?
When I was young I broke my arms multiple times because of that I am now double jointed in my arms.
Where is the most interesting place you have been to?
I would have to say Albania and that was because the culture and society is so different then from what I know here in Canada. When I was in Albania I lived on a farm with a friend's family, the experience was eye opening. The people in the village lived a very simple and hard life, everything they had they made with their own hands. I remember as a woman in the village I was not allowed to leave the house after sunset and I could not be seen walking around without an elder or male escort.
The experience opened my eyes as a woman and made me realize how fortunate I was to have the freedoms and rights that I do in Canada.
What do you hope to be doing in ten years? 
I think that the path I am heading down now I could see myself step foot on every continent, finally learned how to speak fluent Spanish, educating women around the world about simple self-defense moves, and training martial arts every day.
I see myself continuing to live a healthy active lifestyle, I hope I'll be happily living on a beach married to the love of my life and surrounded by my loving family. I also see myself working as a brand ambassador promoting athletes and healthy living to the public.
It's hard to say what my life might be like 10 years down the road but the one thing that I see myself accomplishing is inspiring others and spreading positivity.
Is there anything you would like to add that we haven't asked?
I would just like to add that am grateful to be given the opportunity to compete in Miss Universe Canada 2017. I hope that my work as a delegate with the Miss Universe Canada organization will make a difference in people's lives.
I believe Miss Universe Canada is a strong, fearless, wise, intelligent, courageous, and an elegant young woman who can make a difference in our local and global society. Having the ability to be a role model and effect multiple lives is truly a gift, I think miss universe Canada is a woman that can make a positive difference in our world today.