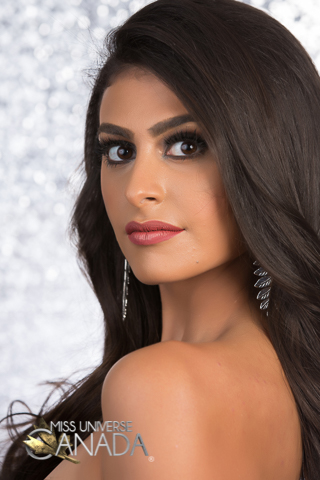 Height: 5'6
Hometown: Montréal, QC
Languages: English, French, Lebanese Arabic
Occupation: Developing a startup.
A lover of this beautiful life, Andy is a proud Canadian citizen from Montreal, Qc, who is fluent in French, English and Arabic. Andy has lived in Lebanon prior to immigrating to Canada, and she is very proud of her Lebanese heritage and cultural background. Andy's experience in a third world country has deeply influenced her perception of life. It has deeply increased her appreciation and gratefulness to the Canadian government's transparency and investment in its people. For this reason, she believes that she would be a great advocate for Canada and would perform the Miss Universe Canada duties wholeheartedly, especially when it comes to human rights, health care and education. Andy refers to her education as her most valuable asset. She has graduated from the International College in Beirut in 2014 on the Honors' list as she ranked first in the International Baccalaureate Diploma program. Her intellectual curiosity and creativity were also acknowledged at school as she has earned the Theater and Economics prizes. More recently, Andy graduated from McGill University with a Bachelor of Commerce, majoring in Marketing Management and minoring in Entrepreneurship. She is very proud of her achievements at university, especially on being a National Finalist for the L'Oreal Brandstorm competition which required her to revolutionize the men grooming industry with a new product and service.
However, Andy would have not been proud of her academic achievements if they had prevented her from being a balanced individual. Andy's main outlet for expression is the performing arts. Andy is a dancer since the age of four, and she has taught dancing at Caracalla Dance School and participated in their production "Kan Ya Ma Kan" in the International Beiteddine festivals in 2012. She was also the Lebanese Champion in Latin and Ballroom dancing for the Juniors category for three consecutive years: 2007 to 2010. In May 2014, Andy earned her Zumba fitness certification to combine her love for dancing and fitness. Andy is also a theater lover, having written two plays and produced one of them. She also traveled to the Moscow Art Theater in 2014 to take advanced theater lessons with some of the world's most appreciated thespians.
To combine her business educational background and her love for the arts, Andy is currently working on a startup with a vision to reduce and eliminate artist underemployment and unemployment. Other causes that Andy deeply cares about are microfinance, women empowerment and childhood education. Andy is a proud ACEM volunteer as she helps entrepreneurs with their business strategy and web presence. She is also a proud volunteer at the YWCA for women and kids.
Sponsors
Photography by Alain Dahan
,
Coiffure Blunt
,
Altitude Connections
,
Chrystelle Atallah Haute Couture
,
BEDO
,
YEPREM
,
Runway Beauty Bar
,
Rock Marble Granite
,
Midtown Le Sporting Club Sanctuaire
,
Web en Direct Broadcasting
,
Ahmed Yassine Film Director
, Family and Friends
Video
Q&A
What are your interests and what do you enjoy doing the most?
I love engaging in creative activities such as cooking, drawing, writing, listening to music, dancing, and reading (especially non-fiction). I also have a passion for working out: nothing clears my mind and makes me feel as alive, happy or calm as a good session of sweat – whether it is dancing, running, resistance training or simply yoga. In addition, I love to travel. It allows me to discover new places, cuisines, cultures and to meet new people. Traveling reminds me to always look at the bigger picture. I am also really interested in Marketing and Business, and I have pursued a Bachelor of Commerce with a major in Marketing and a concentration in Entrepreneurship at McGill University. I love my area of study because it keeps evolving and only highly adaptable people are able to succeed. I love to reflect on company strategies and learn from their mistakes and successes. Finally, I love to stay updated with the news and current affairs. You cannot make a strategic career move or make a change in the world if you are unaware of the current happenings. I am actually an ambassador for theSkimm, a free service for a summary of the news straight to your email inbox every day – and I love spreading the word about it as it really fits into the busy lifestyle of the youth of today.
List any special training you have had (music, art, drama, dance, etc.)
I've spent a week in the Moscow Art Theater as I was part of the International Baccalaureate program and I took higher level theater. I got the chance to be part of a program that only Harvard Graduate Students usually get to experience, and take lessons with some of the best reputed Theater masters. I've also watched so many pieces that have left me nothing less than speechless.
In addition, I am a dance instructor since the age of fifteen. I have started teaching at Caracalla Dance Theater in Beirut, one of the most dances schools in the Middle East. I taught children between the ages of 4 and 12 "Creative Dancing for Children," designed to introduce the little ones to the magic world of Dance, as well as "Funky Jazz" for the 10 to 12 year olds. In addition, I got to participate in one of the productions of the Caracalla Company that took place in the 2012 Beiteddine International Festivals as part of the Dance Troupe.
I am also a certified Zumba Fitness Instructor. Teaching Zumba is one of the things that makes me the happiest. Not only do I get to exercise and enjoy the very well-known benefits of physical activity, but I also get to use my creativity when creating new routines for my participants and discover new music from all around the world. Last but certainly not least, I get to connect with many people and be part of their journey to a healthier, happier life. Nothing makes me happier than knowing that I am influencing other people's lives positively.
In what sports, if any, have you participated?
I have discovered dancing at the age of 4 years old with Ballet, and was hooked since! I gave it all of my free time, and I've found myself in it so much that every time I've tried a new sport, I soon replaced it with a new kind of dancing. Besides Ballet, Jazz, some Folklore and Hip Hop, I competed in the Lebanese National Championships in Ballroom and Latin dancing, sometimes finishing with the cup or the title of national champion.
I am very thankful for my dance background. Dancing has taught me to be a very hard worker and be patient at the same time. In all forms of art, perfection is unattainable: mastering a dance choreography does not come over night. Dancing has therefore also taught me to focus on little improvements over time rather than seek perfection. This what Dr. Carol Dweck refers to as the "growth mindset," and is an extremely important indicator of success in life. I am proud to have a growth mindset, thanks to dancing. This very mindset also allows me to always learn from my failures and successes equally.
Name one person, other than your parents, who has had the most influence on your life. Why?
Dilara Dzafic was my Retail Management professor at McGill University. She is an exceptional woman as she is not only highly educated (she speaks over 7 languages and has an MBA), but she also has tremendous experience at managing multinationals such as L'Oreal & Nivea. Dilara is also a fashionista, proof that femininity and love for fashion and beauty does not make a woman less smart or capable. However, what I love the most about Dilara is her involvement in her community and her helpfulness. She is on the board of a refugee community, and is always willing to further help her students with their career journey. She is also very humble as she highly regards all of her students, always taking our opinions into account when it comes to debates and business analyses. Personally, Dilara's belief in me has empowered me to take risks and steps in my personal and professional life that I otherwise would not have taken.
What is your proudest personal accomplishment (other than participating in this pageant)?
I am very proud of my academic achievements. I graduated from the International College in Beirut with a High Distinction, ranked first over 60 students in the International Baccalaureate Program. I also graduated from McGill University, and I was also chosen as a National Finalist to L'Oreal's Brandstorm competition where my team and I have created a product and a service that were meant to disrupt men's grooming industry.
However, my academic achievements would not have meant much if they had prevented me from being helpful to my community and being a balanced individual. I have been teaching more than 3 dance and Zumba classes a week and taking more than 5. In addition, I was chosen as the winner of the Hala Al Yafi community service reward out of all the students in my secondary school in 2012, and I am now a proud volunteer at the Women's Y in Montreal and ACEM, a microfinance institution in Montreal. Finally, when talking about balance, we often ignore the social aspect, but I find that I learn much more from people than from books. I have a vast network of friends with whom I like to unwind, travel and have a good time with at least twice a week.
I am happy to say that while my diplomas are the most valuable things I have, they have never and will never prevent me from being a balanced individual who is helpful to her community and enjoys the little pleasures in life.
What is the most interesting or unique thing that has ever happened to you and/or what is the most interesting thing about you?
I believe that the most unique thing about me is my proactivity, the 1st habit stated by Stephen Covey in the 7 habits of highly effective people. Maya Angelou said "If you don't like something, change it. If you can't, change your attitude." I truly live by these words and always seek improvement in the things that I have control over. However, for the things that go beyond my control, I always focus on interpreting my failures as learning lessons, and look at the positive side of every story. In addition, doing so allows me to be grateful for the gift of life and teaches me not take anything I have for granted.
I am certain that if I have the chance to be Miss Universe Canada 2017, I will not only perform my duties, but I will go above and beyond to make a difference in my community. I will not only be productive and work as hard as I can, but I will also do it wholeheartedly. I know that I have the potential to make a difference.
What is your career ambition and what are you doing or plan to do to accomplish that goal?
My career ambition is to be a serial entrepreneur. Not only does entrepreneurship satisfy my need for innovation and creativity to be a daily part of my life, but it also has a social value in creating employment in the Canadian economy. I am currently working on my very first startup, ARTST, a platform that facilitates communication, collaboration and creative work management between artists. I hope to be able to take this idea further as it will also help a cause I truly and deeply care about: fighting artist underemployment and unemployment.
What would be your "dream job" in life?
My dream job would simply be the career ambition that I have listed above. Dreams are nothing but long term goals in my opinion. Life is too short to say "what if" and we often regret things we did not do rather than things we did wrong.
Describe where you were raised and what your childhood was like.
I was raised in Beirut, Lebanon. I believe that I am the woman I am because of the happy childhood that I have lived. I am the eldest in my family. This has taught me to always be proactive, as I did not have an older sibling or even an older cousin to look up to.
Growing up in Lebanon, I learned to value my family a lot. I am very close to my grandparents, aunts and their families too. We often gathered to have lunch or dinner together, and this has taught me the value of sharing. I was lucky enough to go to a trilingual school and have had some of the smartest and the most inspirational teachers.
Moments that have market my childhood include my title of "Miss Oasis 1999" & "Miss Oasis 2003," being the winner of the pageant of my age category in the summer camp twice. I have also received the title of "Miss Amitié 1999" who is a title given to the friendliest person in each age group. Teachers have chosen me because of my friendliness, kindness and respect to all of my classmates. This has taught me that hard work and kindness always pay off.
In addition, Mrs. Gretta Ghantous Khoury, my theater teacher, has chosen me as the main role in the short theater "Cleopatra" where I have played the role of Cleopatra at just 7 years old. The theatrical piece was broadcasted live on National TV.
I have also done many video and photo advertisements which include having my photos on the Nivea creams in the middle east. I have undoubtedly known since a very young age how much I loved being on stage and in front of the camera.
When I changed schools at the age of 14, it was not easy. Students at my new school were not welcoming, and I found myself losing touch with my old friends. I have spent a few lonely years where dancing and the arts where my main outlets of expression. However, I persevered and kept focusing on the positive until I've marked my role at school. I went from being the girl who was unaccepted to the girl who was proud of her differences. I quickly created my place rather than focus on fitting in, and I became highly involved in my new school by participating in the school's fashion show, community service network and theater club.
In conclusion, I am very grateful for my childhood and I hope to create a safe environment to all kids in Canada to be who they want to be while finding their unique space in society.
List any interesting or unusual jobs you may have had.
I danced in a show for a company dinner here in Montreal, Moulin Rouge style. I was wearing the big red&black skirt and a short hair wig! I had to go dance with complete strangers, members of the audience – which is what we call in theater "breaking the fourth wall"! It was so much fun and really took me out of my comfort zone. I personally love adventure and I believe that moments like this really create the best memories, push your limits and teach you the most about yourself.
List any volunteering you have done.
A lot of the volunteering that I have done revolves around kids. As cliché as it may sound, they are the future. I also think that I am the person I am today because of my childhood. I volunteer with kids at the YWCA in Montreal. I teach them dancing and theater, and constantly remind them of the importance of creativity. I always try to push them to create new combinations of dance moves for examples, and get them out of their comfort zone. My classes have always been very interactive and I pay attention to each and every single one of the kids. My goal is always to make them feel special. I've also done the same in various charities in Lebanon.
When I was in high school, we ran part of the marathon for Animals Lebanon, as well as the Brave Heart foundation. I always find it sad that we tend to neglect animal rights – so I was happy to spread that awareness with my classmates. Brave Heart, on the other hand, is a charity that deals with giving kids heart surgery, and I was happy to be a part of spreading awareness to increase donations.
I also volunteered at ACEM, a microfinance company here in Montreal, Qc. I have worked closely with entrepreneurs on their social media and online strategy, and try to answer their business questions to the best of my abilities. I am also an awareness ambassador and I try to recruit other volunteer, and encourage buying local produce in my community from ACEM entrepreneurs.
Finally, I am currently working with the YWCA in Montreal for Women Rights. My Social Context of Business class has really helped shed light on the inequality that still currently exists in the world. We are collaborating to come up with a project that I hope will make a difference.
I would like to take the opportunity to add that whenever we are helping, we end up receiving much more. Volunteering is always a win-win situation. For example, working with kids always reminds me to listen to the inner child in me and stay true to myself. Kids also bring back the "joie de vivre" in me in moments of high stress. When it comes to marathons, while raising awareness for great causes, I get an amazing workout that benefits my mental and physical health. Last but not least, working with ACEM entrepreneurs helps me learn more about entrepreneurship in Quebec and gives me a chance to apply all the theoretical knowledge I learn at school in a practical, real life context.
What is your most unusual talent?
Drawing mandalas and coloring them creatively! I've done this since I was very little, way before the coloring book trend happened! Doodling makes me feel relaxed, happy, and creative. Sometimes doodling for a few minutes is all I need before getting back to work to boost my productivity. I also do it as a way to reduce stress. In addition, doodling and coloring really remind me that it is about the journey, not the destination. The end design is never as extraordinary as the feeling of happiness, relaxation and creativity I feel while doing it.
Where is the most interesting place you have been to?
Lebanon is probably the most interesting place I have ever been to. I am very proud of my Lebanese heritage. Lebanon has been colonized by the Romans, the Phoenicians, the Ottoman empire, and the French, which makes it have a very rich cultural variety. Lebanon also has a great tourism industry because of the great nightlife and the relatively cheap services which makes it very attractive to tourists, who in turn continue to enrich the Lebanese culture as they come. Lebanese people are also very welcoming and they are known for their hospitality. In addition, despite Lebanon being one of the smallest countries in the world, it has many famous destinations such as Jeita Grotto, which has been nominated to be one of the 7 wonders of the world. Last but not least, Lebanon has the 4 seasons. You can even sometimes ski and go to the beach in different regions on the very same day around spring time!
What do you hope to be doing in ten years?
In ten years, I hope to have reached my "dream job." However, as much as I prioritize and care about my career, it is only one part of my life.
I also hope to remain the balanced individual that I am, constantly caring about my mental and physical health and fitness. I also hope to remain humble, adaptable, proactive and learner I am today. In addition, I would also want to keep helping my community through volunteering and mentoring youth and sharing my experiences with them. Lastly, I hope to always deal with whatever life throws at me with an open mind and a grateful heart, always focusing on the positive side of things.
Is there anything you would like to add that we haven't asked?
Being Miss Universe Canada 2017 would be a dream come true. The title would not mean that I am the most beautiful face, mind or heart in the competition. Getting the crown or not, I will not feel more or less worthy – because I know that before being a contestant for this competition, a McGill graduate, or a dancer, I am a human being first. Being a human being on its own makes me feel worthy – and so I look at everyone as a human being first, before all else: before their socio economic, racial or religious background, before their gender or their sexual orientation.
The reason behind my wanting to be Miss Universe Canada though is that I know that I will putting my heart, mind and soul in every duty that I will have. I will approach every task with an open mind as I am an avid learner from even the most mundane tasks. Not only will I get to work on many causes, but I will be part of the positive movement about redefining beauty. Beauty is not about a shape, a size, a length or something mundane that fades away. Beauty is a lifestyle of open mindedness, confidence and empowering yourself and others. I believe that the more beauty you see in others and around you, the more beautiful you become.
Having lived in a third world country, I believe that my experience will be of great value to Canada and developed countries where people may not even be able to imagine life without public transportation, an even bigger gender gap and lack of resources to even the most basic things such as food, electricity and water.
There is nothing in the world that would make me prouder than representing my beloved country Canada. I truly stand for Canadian values such as inclusion, respect to all and diversity. There is no country that embraces human rights like Canada does, or that gives a chance to everyone to shine, especially through investments in healthcare and education. I know how much I embody these values. I have a lot to give, and I pray I will have a chance to do so.
Thank You Notes:
To Gretta Ghantous Khoury: thank you for being the very first person to believe in me at the age of just seven. Thank you for always reminding me of my talent, making me push my limits, and making me fall in love with being on stage. I will forever be grateful and I will always remember this. You make me believe that teaching is not just a job, it's a calling.
To my sister, Tracy, you're my rock. I couldn't do it without your constant belief in me and your push.
To the one who makes me smile wholeheartedly every day, you know who you are. Thank you for actively listening to me and challenging me.
To my parents, family, friends, and supporters, I love you. There are no words that I can express to thank you. To me, independence is about not basing your self-worth on other people's opinion of you, but also about realizing that we are all dependent on each other at the end of the day. With that being said, I have gotten to where I am today not just because of my efforts, but because of your belief in me, advice, support and constructive criticism.
To the Beauties of Canada Organization, thank you for believing in me and choosing me as a National Finalist. I will be more than happy to work with you and more than proud to represent your values, which I deeply believe in.
To you, thank you for taking the time to read my interview. I appreciate it. Feel free to get in touch on andy.rahi@hotmail.com. I appreciate constructive criticism and advice. I am always willing to learn from you and/or collaborate with you.