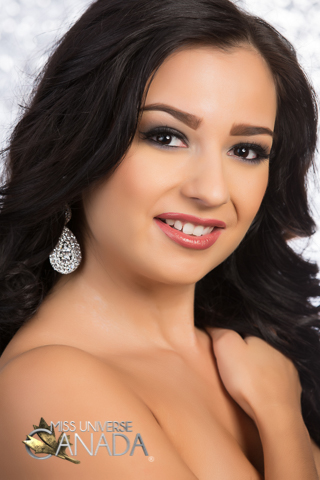 Height:
5'4
Hometown:
Moberly Lake, B.C
Languages:
English
Occupation:
Secretary
Augustina is a woman with ambition and compassion. She was raised in Moberly Lake, B.C.  Having an Italian and First Nations back round, Augustina keeps herself grounded by her culture. She enjoys doing traditional activities with her mother who continues to teach her. Growing up in a small town, she always dreamt of making a difference and chasing her dreams. Augustina's interests are anything that keeps her active, from skateboarding, hiking, snowboarding, to training in the gym. She has competed in bikini fitness bodybuilding shows within British Columbia, and has placed top 5 in her class. She became passionate with fitness and completed her certified personal training certificate. Augustina strives to be a role model for not just for her area but for all the First Nation girls on and off reserves. In her spare time, Augustina is an artist and pianist.
She was the North East Youth Representative for the Northern BC First Nations HIV/AIDS Coalition for five years. And later, was selected to be a part of a youth video project promoting healthy and cultural lifestyles.
She is goal-orientated and very driven. She strives to live each day to the fullest. Having the opportunity to be able to compete for the Miss Universe Canada title is an honour.
Sponsors
West Moberly First Nations
, Any Time Is Snack Time, Treaty 8 Tribal Association, Saulteau First Nations,
B.C Hydro, Alpha2 Oil Field Services LTD., Family and Friends
Video
Q&A
What are your interests and what do you enjoy doing most?
I have a strong passion for anything that keeps me active. But my most favorite thing would have to be being in the gym.
List any special training you have had?
Piano lessons
In what sports, if any, have you participated?
BCABBA – Bikini Fitness
Golfing
Name one person, other than you parents, who have the most influence on your life. Why?
My cousin Carmen, she is a biologist and loves to travel. She continues to help me be the woman I am today and enjoy the little things in life to the fullest.
What is the most interesting thing about you?
That I am an artist.
What is your career ambition and what are you doing or plan to do to accomplish that goal?
To be successful in the fitness or modeling industry. I am a very determined girl. I am continuing to get myself out there and compete in fitness shows.
What would be your dream job in life?
To be a fitness/ model
Describe where you were raised and what your childhood was like.
I grew up in a small northern town in B.C. Spent most of my childhood doing cultural activities such as fishing, camping, berry picking. I was fortunate to have the support of my mother who believed in me in whatever hobbies I took up.
List any interesting or unusual jobs you may have had.
Tour guide at a hydroelectric dam.
List any volunteering you have done.
Youth Rep for the Northern B.C First Nations HIV/AIDS Coalition
What is your most unusual talent?
That I am knowledgeable with BMW vehicles
Where is the most interesting place you have been to?
The Royal Tyrrell Museum
What do you hope to be doing in ten years?
I hope to be healthy and happy. As for career wise I hope to be in a job that makes me happy, and to be helping others through volunteering.