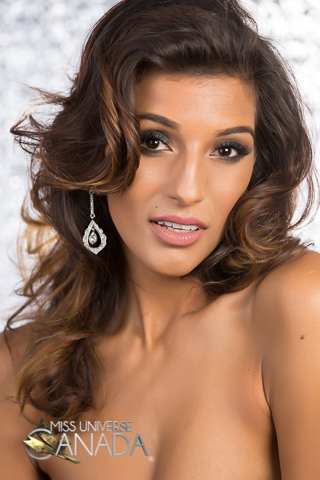 Height: 5'10
Hometown: Burlington, ON
Languages: English
Occupation: Model & Actress
Chanelle Preradovich is a Burlington native who now calls Toronto her home. The current Miss West Indian Canadian is a model and actress whose community involvement and athletic background inspired her to pursue a career the wellness sector as a certified health and lifestyle coach. After enjoying her time as a professional volleyball player, Chanelle uncovered her passion for helping others through mentoring young girls as a coach. The humbling role allowed her to further develop her leadership skills and make a positive impact on others.
From helping girls hone their skills and showcase their talents through sports as well as encouraging them to embrace themselves as they are, Chanelle's efforts to inspire others don't end there. An activist at heart, she has found ways to combine her love for helping others with her desire travel and to see the world. In addition to mission trips to help build homes in the Dominican Republic, she has used her platform to bring awareness to charities like Operation Smile. A busy summer lays ahead as she prepares to host events and fundraisers prior to the Miss Universe Canada pageant such as the Charity Boat Cruise Fashion Show in August.
Sponsors
Facility Plus, MARANT Construction Limited, Paragon Security, SAAACTIVE, Aristo the Mortgage Man, D Hot Shoppe,
The Elements Toronto, Parisha Law, WiCanadian, Family & Friends
Video
Q&A
­What are your interests and what do you enjoy doing the most?
I am multi-faceted, which has stemmed from my interests and involving myself in different aspects of the community. A few of my main passions are travel, tourism, and volleyball. My future goals are to partner with Tourism Canada to promote and grow the tourism industry. I love to travel and learn about other cultures, animals (especially dogs), dance routines, beauty practices, fashion, and food.
As an athlete I want to continue my efforts as a volleyball mentor and coach to youth, encouraging more young girls to participate in sports within our community. Sports has always been a part of my routine, it gave me the opportunity, confidence, and discipline to become the strong, independent, and hard working woman I am today. I would love to encourage and inspire more youth to seek out other cultures and travel, and speak to them about the passion and discipline that is required in building what it takes to be an athlete.
List any special training you have had (music, art, drama, dance, etc.)
Extensive Acting Training (monologue, cold read, scripts, comedy), Model Training (Runway, Posing), Flare Bartending, Salsa, Zumba Certified, First Aid, Smart Serve, Food Handling Certification, and FIrst Aid
In what sports, if any, have you participated?
Volleyball, Beach Volleyball, Fencing, Soccer, High Jump, Long Jump, Cross-Country/Track and Field, Badminton, Tennis, Snowboarding, Cross-Country Skiing/ Skate Skiing, Flag Football,Yoga, and Lifting
Name one person, other than your parents, who has had the most influence on your life. Why?
The person who has had the most influence in my life would be my Granny (Carmen Clarke). She is not my blood relative, but when I was born she raised me as her own granddaughter. She is an incredible woman, who dedicated her life to others as a nurse, with a focus in mental health. As a West Indian woman she fought against the stigma people had about mental health and furthered her studies to be able to help the most she could. Retiring as head of the North York General Hospital Psychiatric Outpatient Unit . She to this day still puts her family first and does whatever she can to help others. She is the strongest person I know, who at the age of 80 honestly looks and lives her life like she is in her 40s. I live my life so grateful that she is apart of it and I strive everyday to be even half the incredible woman she is.
What is your proudest personal accomplishment (other than participating in this pageant)?
My proudest personal accomplishment would be my final year of University and volleyball at Mount Saint Vincent University. At the end of the year I was awarded 'Academic all Canadian', which is an award given to student athletes who are able to maintain honour roll status and within their sport be awarded on the first conference team. As as student athlete this is the biggest honour as I finished at the top of my volleyball career, while maintaining my honour roll status. This is my proudest moment as it was very hard to do, but I truly was honoured to end my university career with this award.
What is the most interesting or unique thing that has ever happened to you and/or what is the most interesting thing about you?
One of the most interesting thing that has ever happened to me would be my opportunity to work in San Francisco as a Food and Beverage Manager with the Intercontinental. Within one month I was offered a two-year position on a J1 visa, and decided to take the leap and go. Leaving to a new place across the country I knew absolutely no one. But ended my years there with new family and friends. It was an incredible experience living in the heart of San Francisco and learning the ins and outs of a 5 store property as a food and beverage manager. The stories and experiences I gained were life changing

The most interesting thing about me I would have to say is my background. Every single day I am constantly asked what is your background. And I am always proud to tell people, "I am French, German, Serbian, Native and Bajan".
What is your career ambition and what are you doing or plan to do to accomplish that goal?
Being one of the older girls in this pageant I have had time to go through various career goals and have finally found my dream. Becoming a health and lifestyle coach has encompassed all my skills and strengths, and even being my own boss. But above all I am in a career where I get to help others be the best person they can be and in turn bettering myself. I have found a career that allows me to help others and make a difference.
What would be your "dream job" in life?
Besides already doing what I am doing, which I would not change. My other "dream job" would be a secret resort and hotel guest. Travelling the world visiting various properties and writing reviews for each one. After I graduated with my Tourism degree this was actually the job I always dreamed of, but to this day I still can't figure out how to get into this field. So always open to adding this to my life since, as a health and lifestyle coach I can work anywhere in the world.
Describe where you were raised and what your childhood was like.
I was born and raised downtown Toronto. Raised by my single working mother, and I was given all the opportunities life has to offer. She always found a way to have me involved in every sport imaginable. Working full time, I learned independence and respect for others and various religions as I was very fortunate to have babysitters from various parts of the world. Having a mother so strong and independant honestly made me the woman I am today, to understand in life anything is possible. One can have everything they want when they put their heart and soul into it.
While growing up I never felt like I was missing something, as I was surrounded by so many people who helped my mother and raised me as their own. People that I call my family, blood related or not, family are those who love you unconditionally. And I was very fortunate to have that growing up. Now in my 20's I have met my biological father which has been a very difficult life changing moment. But growing up with my mother and watching her strength, I have been able to channel that and have the strength to understand and forgive. Life is too short to hold hostility or anger. So I have open my heart to let in even more people into my life, and keep learning and growing,
List any interesting or unusual jobs you may have had.
For all those who know me are fully aware I have literally worked every job imaginable! And have gained so much from all of them. Main reason being I have moved a lot, and honestly love change. Working in so many fields and positions as truly rounded me as an individual and has allowed me to find what I truly want to do in life. To list some of my interesting and unusual jobs:
Animator at Dreams Resort in Cancun (responsible for all sports in day and taking people to all the clubs at night)
Started my own dog walking company
Dollar store (basically ended up running this dollar power solo on weekends in high school)
Dish washer
Bartender (private events, industry parties, festivals, golf course and restaurants)
Food and Beverage Manager for Intercontinental in San Francisco
Promotional Model (literally working for over 30 different brands)
Model + Actor (also working within the Bollywood market)
Arbonne Consultant (my favourite skin care products!!)
Those are to list only a few

List any volunteering you have done.
Coach​ Dynamos U16 Girls Volleyball OVA Burlington, ON
Coach​ Youth Volleyball Camps Saint Mary's & Mount Saint Vincent University Halifax, NS
Dreams Mission Trip​ Rebuilding Homes Post-Hurricane 2010 Dominican Republic Coach​
Track & Field – Specialization in High Jump Burlington Track & Field Club Burlington, ON
Advocate (Miss Wi Canadian) ​ ​Mental Health Awareness ​ Canadian Mental Health Association
Marathoner ​ AIDS 10K Walk for The Cure San Francisco, CA Volunteer ​
St. Anthony's Soup Kitchen + Intercontinental Mark Hopkins San Francisco, CA
What is your most unusual talent?
This is a hard one. I would have to say my most unusual talent would be the ability to run in heels! Probably from all my modelling, but I have worn the highest and most difficult heals and literally could run in them

Where is the most interesting place you have been to?
The most interesting place I have been to would be Zurich, Switzerland. I spent part of one of my trips to Europe there at my friend's grandfather's sheep farm, it was such a surreal experience. I would move there in a heartbeat!
What do you hope to be doing in ten years?
In ten years I hope to have my health and lifestyle business doing very well, have written a women empowerment book, working with Tourism Canada to promote tourism, still playing volleyball the sport I love, but above all ten years from now I plan to be happy even if none of these things happen. Ten years is a far way from now and alot can change in ones life, so no matter what path my life takes ten years from now I WILL be HAPPY.
Is there anything you would like to add that we haven't asked?
Miss Universe Canada is more than a title to me, it is an opportunity. It is an opportunity as a young woman to develop and grow, to challenge myself, and push to the next level of my life. As a multicultural woman born in Canada, I am the true representation of the strength of our diversity. In light of recent events politically, it is more important than ever to encourage unity and strength within the community. I want to use the platform of Miss Universe Canada to be a voice for a nation that I am so proud to be a part of.