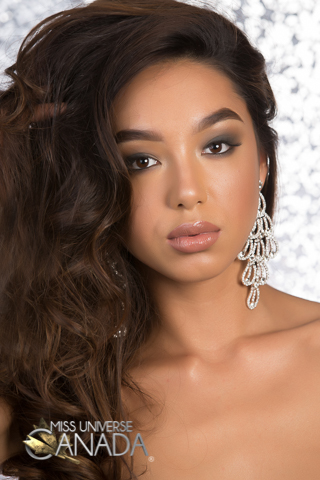 Height: 5'10
Hometown: Calgary, AB
Languages: English, Russian, Ukrainian
Occupation: Student at Southern Alberta Institute of Technology (Administrative Information Management).
Born and raised in Ukraine, Diana immigrated to Canada back in 2011, at the age of 15. Coming from quite a multicultural background, Ukrainian-Vietnamese, Diana quickly fell in love with Canadian culture, diversity and equal opportunities for everyone. From the very young age her values were shaped around mutual respect, compassion, strength of a character and the importance of meaningful purpose in life.
Education has always been a priority for Diana. She has recently graduated with honours diploma in Administrative Information Management at SAIT. Diana plans to work in the industry for a few years and then return to online schooling for her Psychology degree. It is a big dream of hers to utilize the excellent listening skills and the gift of understanding one's emotions towards helping others and making people's lives better. Charity has also a very special place in Diana's heart and she has been incorporating it into her entrepreneurial ambition. Together with her partner, she has been working on a very exciting project – The Wild Apparel, a social enterprise startup with 50% of profits going towards animal welfare. She strongly believes that "only a life lived for others is a life worthwhile" and the key to happiness in being grateful for what you have and committed to giving back.
Diana's ultimate life goal is to make a positive impact. The topic of poverty, humanitarian help and refugees gets very personal, as most of her family resides in Ukraine, the country that in the past few years has been brutally affected by war. It truly hurts her heart to see technologically advanced humans of 21 Century living in abundance of everything, and yet, somewhere in the developing country children are dying of malnutrition. She wants to work on helping those in need and raising awareness about this social issue throughout the world.
The title of Miss Universe Canada is not only about the physical beauty and health, what is even more important, is that it represents intelligence and the beauty of a generous heart. Diana likes to share her life experiences and inspire others through her social media platforms and videoblogging. She is an excellent role model and living example for young women to believe in themselves and pursue their dreams. Her life motto is that anything is possible if you are passionate, dedicated, and work hard enough for it.
Sponsors
SuperTkani, The Wild Apparel, Little Berries Daycare, UNDRCARD Boxing Studio, Tuan A. Hoang Professional Corporation,
The Spa Ritual, Beyond Bronze Tanning Salon, Lashbar by Polina, Pustura, Organic Nail Bar, Family and Friends
Video
Q&A
What are your interests and what do you enjoy doing the most?
I am passionate about beauty, fashion, photography and videoblogging, physical and mental wellbeing, fitness, travel, and food. In my spare time I enjoy modeling, cooking and baking, working out, and exploring new places.
List any special training you have had (music, art, drama, dance, etc.) 
At the age of 13 I have graduated from the modelling school, where I took runway, drama, dance, fashion styling, and makeup classes for a year.
In what sports, if any, have you participated?
I have always been fit and active as a child, but unfortunately never got to try myself in team sports outside of regular PE classes at school. I used to professionally play tennis for 4 years when I was younger and this is something I enjoy to this day.
Name one person, other than your parents, who has had the most influence on your life. Why?
My brother. Even though I have 4 younger siblings, I think that my first brother had the most influence on my life. For a long time, I was the only child in the family, and when I was 9, my little brother was born. This experience has taught me to be less selfish, share, protect, and take care of someone very fragile. As we were growing older, I became a role model and "mother figure" to all my siblings. And these are really important features of my personality today.
What is your proudest personal accomplishment (other than participating in this pageant)?
Immigrating to Canada is so far my proudest accomplishment. It was never an easy decision for a fifteen-year-old teenager to make. I had to leave my family and friends behind to start a new life in a new country. I am proud that I found the strength within myself to come here, settle down, obtain the education and continue working towards achieving my goals. I am forever grateful to Canada for being the country where I found myself surrounded by precious opportunities and participating in Miss Universe Canada is one of the ways for me to give back.
What is the most interesting or unique thing that has ever happened to you and/or what is the most interesting thing about you? 
At the age of 15, only two weeks after immigrating to Canada, I accidently won a Stampede Model Search and signed a contract with my current agency. It was such a unique and pleasant experience for me, and one of my earliest memories of Canada too. Back then I barely spoke any English and my auntie took me out to show me the famous Calgary Stampede. I got pulled out of the crowd by one of the representatives and they offered me to compete and walk the runway in 10 minutes. I was very hesitant and shy, but they convinced me to try it just for fun. I am glad I overcame my insecurities and pushed myself out of my comfort zone because the result was so worth it. Now every time I am hesitant to try something new, I would reflect back on this experience and it often helps me to make wiser choices in life.
What is your career ambition and what are you doing or plan to do to accomplish that goal?
I am currently graduating with Administrative Information Management Diploma from SAIT. My plan right now is to work in the industry, get the taste of professional life and some experience before moving on to my ultimate career ambition – becoming a Psychologist and helping others. I will enroll into online Psychology program while working as an Administrative Professional. This will allow me to pay off my student loan as well as provide for my living.
Also, for the past year, my partner and I have been working on a social enterprise startup, The Wild Apparel, with 50% or profits going towards animal welfare. I am planning to continue working on this project and one day it will become a successful business.
What would be your "dream job" in life?
My "dream job" in life is doing what I love, and loving what I do. I think right now I am on the right path of finding what it is, challenging myself to try many different things and taking every opportunity that comes on my way.
Describe where you were raised and what your childhood was like.
I was born and raised in Kharkiv, rather a big city in the East of Ukraine. My mom is Ukrainian and my dad is Vietnamese. I grew up in a very multicultural environment full of respect, unconditional love and belief in one's inner potential. Even though my parents divorced when I was only 4 years old, they always remained close friends, both got remarried and now I am blessed with two amazing loving families instead of one and many-many siblings. I had a happy childhood, never causing much trouble to my parents, having fun with my friends and good grades in school.
List any interesting or unusual jobs you may have had. 
I was lucky enough to experience modeling industry since a very young age. I do runway shows, photoshoots and commercials.
I started when I was only 9 years old with a kids model agency back in Ukraine. During this vulnerable period of peers becoming cruel to each other and endless bulling, my new hobby helped me with my self-esteem and confidence. Ever since, I have been working in the fashion and beauty industry that in fact has both sides to it – one day it can boost your confidence, and another day you hear "You are too fat", "Too Asian looking", "You smile too much". And those words can strip you of any belief you ever had in yourself, so it is important to stay strong and never let others define who you are.
List any volunteering you have done.
I have done volunteering with Heart and Stroke Foundation, Calgary Health Trust, Dress for Success, ACFA Calgary and SAIT Polytecnic.
What is your most unusual talent?
My most unusual talent is compassion that lives in my heart. It brings out the devotion to leave the world a better place than I found it.
Where is the most interesting place you have been to?
To this day the most interesting place I have ever been to remains Cuba. It is fascinating how people there live in such poverty yet still their positivity and lust for life shines through, spreading the energy to even the grumpiest visitors. We all should learn from them to be grateful for what we have and find our happiness in simple everyday blessings.
What do you hope to be doing in ten years?
In ten years, I first of all hope to be a loving wife and mother. Family has always been first for me, and I would love to have one of my own. To fulfill my career ambitions, I hope to be a practicing Psychologist and Entrepreneur. I also see myself committing my time working with charities on humanitarian help for those less fortunate.
Is there anything you would like to add that we haven't asked?
I would like to express my gratitude for this opportunity to share my little life story and experiences through my bio and this questionnaire.