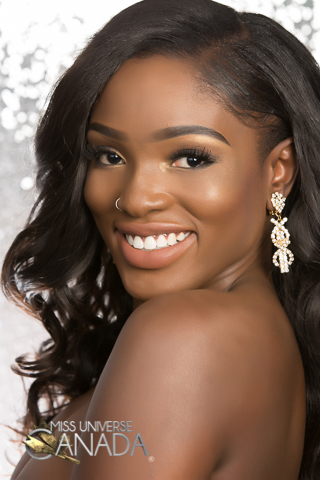 Height: 5'7
Hometown: Etobicoke, ON
Languages: English
Occupation: Legal Administrator
Eliane Johnson is an identical twin born in Toronto, Ontario, raised in Etobicoke. She attended Mohawk College and studied legal administration.
Eliane Johnson is an identical twin born in Toronto, Ontario and raised in Etobicoke. She is an energetic, strong, independent and passionate young woman that perseveres even when faced with many challenges. She is determined and dedicated to achieving her goals regardless of the problems that may arise.
Growing up in Etobicoke was tough for Eliane. She switched schools every three years. The area she grew up in and the crowd she used to hang out with was not always a good influence on her. Kids would bully her in middle school because she looked different or she was too dark. Some of her teachers also told her that she would end up going "nowhere" in life. Eliane always told herself that one day she would prove anyone who ever doubted her wrong. At fourteen, Eliane and her twin sister were kicked out of their house. They were taken in by a community friend who helped provide a home for them for a few years.
Eliane strived to excel in whatever ways she could. She played on sports teams for school and outside of school and a student leader at her school Lakeshore Collegiate Institute on school trips to Camp Olympia and Albion Hills. Eliane attended Mohawk College and studied legal administration. During college, Eliane has worked two jobs and was a part time model for a modelling agency in Toronto, Ontario. Eliane had the opportunity to be in a music video with an upcoming Canadian artist. Eliane is an incredibly hard working person in hopes that she can be a role model to young people she meets proving that they too can be successful if they are able to work hard and stay driven.
Currently, Eliane works at a personal injury law firm in downtown Toronto called MazoChowbay Personal Injury law firm. She plans to continue her studies and enter law school. She is enthusiastic about life and all that it has to offer. She is looking forward to the future and becoming a role model for anyone who needs inspiration, support and advice. This is Eliane's first time competing in a pageant and she looks forward to competing in many more. Knowing that life is full of surprises and challenges, Eliane manages to remain a motivated, independent and strong young woman. Her strong faith has carried her through many difficult times and she knows that whatever challenges she is faced with, she will come out a better person. She believes that once fallen is not the end, it's the beginning… keep going.
Sponsors
Video
Q&A
What are your interests and what do you enjoy doing the most?
My Interests are working out and cleaning. I enjoy working out and taking good care of others and myself around me. I also enjoy eating, I love food but I can be a very picky eater. Working out helps me feel confident and be the best person I can be in every aspect of my life. Cleaning makes me feel organized and disciplined. Cleanliness is not only for our physical being; it is also a state of mind. A peaceful, healthy state of mind can help us conquer our dreams, hopes, and wishes.
List any special training you have had (music, art, drama, dance, etc.) 
Rumble Kidz – A church choir that incorporates singing and dancing. I have travelled with the group for five years from 2007-2012. We performed at different churches in Ontario such as Paris, Windsor, St. Catherines, and numerous churches in the GTA. It helped me become confident and positive performing in large audiences. I have also attended modelling and acting classes. We were taught different routines for fashion shows, how to walk a runway, as well as the necessities needed in our model handbag.
In what sports, if any, have you participated?
Sports I have participated in are basketball and softball. I have played both sports throughout my high school years. My basketball team made it to the championship game in my final year. Unfortunately, we lost by two points in the last thirty seconds of the game. I also played softball on a rep team outside of school for three years and I excelled at this sport. I didn't think I would be good at this sport but was surprised at how well I managed to overcome my insecurities. Seizing opportunities, although uncomfortable at first, have proven to be beneficial in the long run.
Name one person, other than your parents, who has had the most influence on your life. Why? 
My former high school secretary, Ms. Adams. She has always encouraged me to do my best even when I was discouraged and felt like I could not accomplish my goals. She supported me in all that I wanted to do, such as finishing high school, participating in extracurricular activities, getting into modelling and attending college. She pushes me to do better and I know that she will never give up on me. She continues to support me in all that I want to achieve, and for that, I am very thankful to have her in my life.
What is your proudest personal accomplishment (other than participating in this pageant)? 
I was selected through my modelling agencies in Toronto to participate in a music video with an up and coming Canadian artist. I feel as though this is a proud accomplishment because it brought me out of my comfort zone. It built my self-esteem, as by nature, I tend to be somewhat shy when performing in front of others. Following through has made me overcome my shyness.
What is the most interesting or unique thing that has ever happened to you and/or what is the most interesting thing about you? 
I feel that a few things set me aside from others and make me interesting. One is that I am a twin and the other is that I have an "outtie" as a belly button. The uniqueness about having a twin sister is that I never feel alone. Words cannot express the special bond we have. Although we do have our ups and downs just like every other sibling, having our ups and downs only brings us closer together. I feel as though I can conquer anything with her by my side. She has always provided me with good advice, when I was feeling down or second-guessing myself. The hardest part of being a twin is being separated. When we graduated high school, our lives took different paths. She attends a Christian University in Bethany, Oklahoma and I remained in Hamilton at Mohawk College. Even though life took us in different directions, our bond is unbreakable.
My "outtie!" As a young child I was very insecure and self-conscious about my belly button. Going swimming was an ordeal; I felt as though everyone was looking at me, staring at me in disgust. I remember looking at others and comparing myself to them. At the pool or the beach, I would cover up with a long t-shirt or a towel so that no one would stare at me or talk about me. Today as an adult, I am proud of who I am and understand that we are all created differently, that is what makes us interesting, special and unique. By sharing my story, I hope to help young women around the world embrace who they are, to stand tall and not shy away from things that are beyond our control.
What is your career ambition and what are you doing or plan to do to accomplish that goal? 
My career ambition is to become a lawyer in family law. I feel that it is important to understand the negative impact divorce plays on children. Although I am aware that sometimes divorce is necessary. I would like to help parents help their young children cope with the ordeal. Having first hand experience with this, I now have come to realize the importance of having both parents actively involved in their children's upbringing. I plan to accomplish this by continuing my studies in law and volunteering at local community centres in predominantly single-family homes. Children need to be able to freely express their feelings about divorce.
What would be your "dream job" in life?
My dream job would to become a CEO of my own family law firm helping potentially divorcing families put their children first.
Describe where you were raised and what your childhood was like.  
I was raised in Etobicoke, Ontario. My childhood was difficult, from dealing with my parents' divorce at such a young age to being bullied in elementary school. I did not see light at the end of the tunnel, but I somehow manage to push through life struggles. I learned to perserver and to be patient. I am grateful for my mother's lessons of discipline, wisdom and the importance of cleanliness. These life lessons have remained with me throughout my life. I feel that, although life was difficult, I have learned a lot from my past and will continue to learn as long as I live. Life's struggles are what help us grow.
List any interesting or unusual jobs you may have had. 
The interesting job I had was working at a family waterpark hotel in Niagara Falls as a housekeeper. I found this interesting because I had never pictured myself working in this position of a job but I thoroughly enjoyed it. Again, seizing opportunities!
List any volunteering you have done.
I volunteered at:
Braeside Camp – Children's Camp Leader
Liberty International Church – Children's Leader
Lakeshore Collegiate Institute
Student Council – Grade 12 Rep
Albion Hills Leader
Leader at school fun fair
MC for Black History Month event
What is your most unusual talent?
My most unusual talent is cleaning, cleaning my car, cleaning my house and cleaning the office.
Where is the most interesting place you have been to? 
The most interesting place I have been to is Bethany, Oklahoma. Since I grew up in Toronto, I tend to expect a lot when travelling to difference city or countries. The little town I was in shocked me. I expected to see what I see here in Toronto… a big city, lots of tall buildings and especially the traffic. I am glad for the experience in Oklahoma, but I love Toronto.
What do you hope to be doing in ten years? 
I hope to be married, have my own family, happy and successful in all that I set out to accomplish. I especially would love to become a role model for young children. I would like for them to realize their full potential and never give up on their dreams.
Is there anything you would like to add that we haven't asked?
Thank you for the opportunity to be a part of Miss Universe Canada! I will definitely cherish this experience. I would like to add that a positive outlook on life and sought out dreams are in everyone's reach… you just have to take the appropriate steps and the courage to go after it.