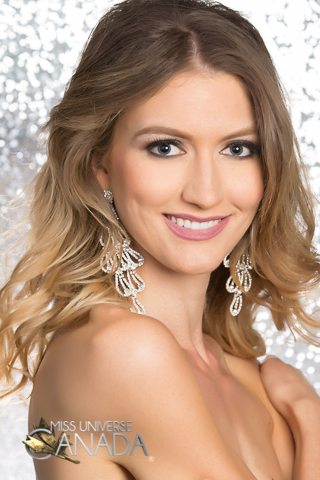 Height: 5'10
Hometown: Toronto, ON
Languages: English
Occupation: Flight Attendant
Emma Pearson was born and raised in Bewdley, a small rural community in southern Ontario. She graduated from Trent University, completing her studies in Human Geography. Following university Emma backpacked through Europe for a month with three girlfriends, a trip that would cement her hopes and aspirations for the future. It is was following this trip that she set her mind to becoming a flight attendant, a profession that had been a dream of hers. This career would allow her passion for travel, people and geography to unite. Being twenty-four and employed in her "dream job" she admits that it still feels surreal at times. Currently, Emma resides in Toronto where she is based at Toronto Pearson International Airport.
From taking her dog for a walk and being a member at various Barre studios in Toronto, Emma enjoys living a healthy and active lifestyle. She gains the most fulfilment in her life from spending time with family and friends. Her favourite moments are summer days spent on her family's boat on the lake she grew up on. Emma is very passionate about breast cancer research. Her mother is a currently a survivor following a year and a half course of treatment. This frightening diagnosis shaped Emma's outlook on living life to the fullest and embracing every new experience.
Emma is both excited and humbled to have the opportunity to be a delegate in the 2017 Miss Universe Canada pageant.
Video
Q&A
What are your interests and what do you enjoy doing the most?
I have many interests and I enjoy leading an active and healthy lifestyle. I get the most fulfillment in my life from spending time with my family and friends. I love spending summer days on my family's boat on the lake I grew up on. I love walking, going to the gym and fell in love with barre classes several years ago. Following each barre class I feel strong and empowered with a new appreciation for my body and its abilities. I love traveling, meeting new people and always willing to try new things.
List any special training you have had (music, art, drama, dance, etc.) 
I participated in ballet growing up. As well I completed modeling courses through an agency as a teenager.
In what sports, if any, have you participated?
Growing up I was very active participating in ballet, figure skating, soccer and volleyball.
Name one person, other than your parents, who has had the most influence on your life. Why?
The one person, other than my parents, who has had the most influence on my life is my nephew Denver. The moment Denver was born and I looked at him I knew exactly who I wanted to be in this life. I wanted to be someone he could grow up being proud of and looking to as a role model and confidant. I wanted to be there for him, every good day or bad day and every milestone of his life. And of course I wanted to be the 'cool, fun aunt' he wanted to spend his time with. I never imagined the title of 'aunt' to be so impactful on my life but since he was born my life has changed tremendously. Becoming "Auntie Em" has been the greatest gift I have ever received and the most rewarding experience. He is the light of my family's life, enriching our days with more fun and laughter than we ever thought possible.
What is your proudest personal accomplishment (other than participating in this pageant)? 
My proudest accomplishment, other than participating in this pageant, was when I was hired as a flight attendant. It had been a dream of mine for a long time so when I got the call that I was invited to attend training I screamed at the top of my lungs into the phone. I still to this day feel bad for the person on the other end of the call. I just couldn't believe it. I still pinch myself sometimes.
What is the most interesting or unique thing that has ever happened to you and/or what is the most interesting thing about you? 
I think I live my life a lot differently than a lot of people my age. During the second week of my fourth year of university, my mother was diagnosed with stage two breast cancer. After that moment, any "five-year" or "ten-year" plan I had ever had for myself was no longer my focus. The focus was the present and living in the moment and taking everything 'day by day;. My mother's diagnosis changed my family and I's overall outlook and perception on life. We truly do not know how long we have together and when you embrace that reality and appreciate it for what it really is, it changes the way you live your life.
What is your career ambition and what are you doing or plan to do to accomplish that goal? 
I am currently employed in a job that I presently plan to make a lifelong career of. I strive to put forward my best self each time I present myself at work and always give my career 110%.
What would be your "dream job" in life?
I am incredibly fortunate that I am already employed working in my dream job. I am blessed to be able to travel for a living seeing places I had once before only dreamed of. I work with the most inspiring and compassionate individuals and I look forward to going to work. There is truth to the saying "do what you love and you will never work a day in your life."
Describe where you were raised and what your childhood was like.
I was raised in rural southern Ontario in a beautiful community named Bewdley situated on Rice Lake. My hometown is without a doubt my favourite place in the world, home is where the heart is and my heart is in Hamilton Township. I take a lot of pride in both where and how I was raised and it holds the deepest place in my heart.
I am the youngest of three children, making me the baby of the family. I most definitely grew up being babied by my older siblings, something we continue to laugh about today. Everyone in my hometown is very close-knit, living by the statement 'family isn't just your blood'. I still have the same best friends from elementary, middle and high school, having several "second families" and "second homes". I am a very fortunate and blessed individual and I recognize I owe all of that to my amazing family and friends. I think a true testament to how fortunate I feel to have the upbringing I did is that I hope one day when I have children of my own they get to experience a childhood like mine.
List any interesting or unusual jobs you may have had. 
When available I work as a background extra on television shows. It is incredibly interesting to see how a production comes together and witness how much hard work and effort goes into each and every shot.
List any volunteering you have done.
I have volunteered with:
Northumberland Humane Society
Best Buddies Canada-Guelph Chapter
What is your most unusual talent?
Growing up I was obsessed with the television show 'Friends' and still to this day I can recite entire episodes.
Where is the most interesting place you have been to?
The most interesting place I have traveled is Rome, Italy. I fell in love with the magic and energy of the city when I was backpacking Europe with three of my girlfriends. There is such immense history to the city and you are surrounded by it with everywhere you go from the Vatican, the Colosseum, and the Roman Forum to name a few. From the architecture, fountains and squares to the people, vespas and of course the gelato, Rome is the most interesting and exciting place I have had the pleasure of traveling to.
What do you hope to be doing in ten years?
I think that is an incredibly difficult question to answer as I have experience with how quickly life can change and the world can throw you for a loop. I think we so often end up where we never thought possible doing things we never saw coming. I hope that wherever I am, whatever I am doing and whomever I am with, I am unconditionally happy and surrounded by love. I hope I am continuing to live a life that is good and I hope that I am as happy in my life 10 years from now as I am presently.
Is there anything you would like to add that we haven't asked?
I just want to express how blessed I feel to be a 2017 National Finalist Delegate. This is an incredible once in a lifetime opportunity that I hold to the highest regard. I have wanted to be a part of something this extraordinary since I was a little girl strutting around my home in plastic heels and a sash pretending I was on a pageant stage. Pageants help build confidence, instill discipline, introduce delegates to inspiring women and role models and offer educated woman a platform to speak about matters closest to their hearts. This is an honour and a privilege and I am truly living out a dream of mine.