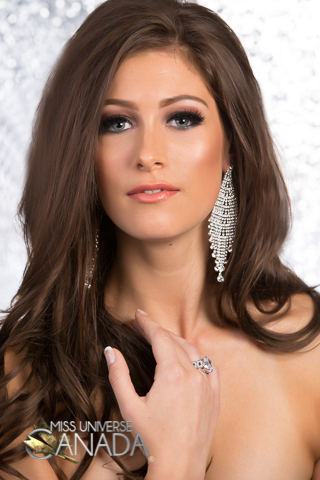 Height: 5'10
Hometown: Ottawa, ON
Languages: English, French
Occupation: Outreach and Engagement Advisor. Treasury Board of Canada Secretariat.
Erin Chapman is an outgoing, artistic and driven individual who believes in living life through experiences. Erin attended an all-girls private school in Ottawa, Ontario and she believes that the experiences she gained helped her become the strong, independent, and enterprising woman she is today.
Erin recently completed her Bachelor of Arts Degree with Specialization in Communication from the University of Ottawa and is the Class President for the graduating class of 2017 where she will speak at her convocation. She currently works for the Treasury Board of Canada Secretariat as an Outreach and Engagement Advisor. Outside of work, Erin is a dancer for the Ottawa REDBLACKS CFL team and she is an aerialist competing across North America. Erin loves mixing her passion for business with creativity. She currently operates a platform for artists to submit their work surrounding issues of mental health.
Erin has always been extremely passionate and involved with helping the community. Throughout her high school experience she was the Head of Nightingale Prefect organizing events for The Make A Wish Foundation, The Run for the Cure, and the Shepherds of Good Hope to name a few. Throughout high school she also completed her Duke of Edinburgh Gold Award and received her International Baccalaureate Diploma. At University, Erin was the Vice President of Philanthropy of the Communication Students' Association organizing events and raising community involvement with Shinerama (Cystic Fibrosis Research), Movember (Men's Prostate Cancer and Mental Health), Relay for Life (The Canadian Cancer Society), KidSport Ottawa, CHEO, and the Ottawa Mission. Following her two years as the Vice President of Philanthropy Erin was President of the Association and she represented the Faculty of Arts on the Board of Administration for the Student Federation of the University of Ottawa. Erin currently volunteers for a number of various community events through her participation with the REDBLACKS.
Erin hopes to utilize the Miss Universe Canada platform to lead by example and empower young girls to embrace leadership and creativity. If we can learn to be confident with who we are and learn to work together with people possessing different skill sets, the possibilities are endless!
Video
Q&A
What are your interests and what do you enjoy doing the most?
I love dancing. I have been dancing since I was one and a half years old, and I began competitive dance when I was 5. I am currently a dancer for the Ottawa REDBLACKS CFL Team. I have incorporated my passion for dance and performance by becoming an aerialist; I compete across North America. Apart from performance and exercise, I love being involved in my community.
List any special training you have had (music, art, drama, dance, etc.) 
Dance: ballet, tap, jazz, lyrical, contemporary, modern, pointe, hip hop, musical theater.
Drama: Cappies award dinner
Aerials: silks, hoop, pole, static trapeze, cube
In what sports, if any, have you participated?
Dance and aerials are my main sports.
Name one person, other than your parents, who has had the most influence on your life. Why?
I would have to say my dance teachers. Things weren't always easy and pleasant being a competitive dancer but they gave me the opportunity to gain skills in working hard, striving to do your personal best, and to develop a thick skin and be confident with who you are.
What is your proudest personal accomplishment (other than participating in this pageant)?
I have been very fortunate with the opportunities that have been presented. If I had to choose three proudest moments I would have to choose completing my Duke of Edinburgh bronze, silver, and gold, being selected as the only non-American to attend the Rockette summer intensive program in New York City, and making the REDBLACKS dance team as we host the Grey Cup in Ottawa this year.
What is the most interesting or unique thing that has ever happened to you and/or what is the most interesting thing about you? 
An interesting fact about myself is that I attended an all-girls private school from grades 8-12. Through my years at Elmwood School I had the opportunity to participate in the Duke of Ed program, I completed my International Baccalaureate Diploma, I won Cappies awards for acting in the school play, and I was the Head of Nightingale House Prefect. Our school operated like Harry Potter, we had four houses (and a sorting hat)! I was elected as the Head of Nightingale house, named after Florence Nightingale, and I had the opportunity to work with the Make A Wish Foundation throughout the year.
What is your career ambition and what are you doing or plan to do to accomplish that goal?
My career ambition mixes my passion for the arts with business. This can take many forms including advertising, film production, or even public relations. I recently completed my undergraduate degree in communications at the University of Ottawa and I am heavily involved in the artistic community in Ottawa. I am currently working at the Treasury Board of Canada Secretariat in Outreach and Engagement which is giving me the skills necessary to further my career.
What would be your "dream job" in life?
I can't say that I have only one "dream job" because there are so many things that I would like to do. If anything, I would like to be an entrepreneur. Whether I have a company or market myself as a brand this will give the flexibility to work hard but also allow myself the time to experience other aspects of life.
Describe where you were raised and what your childhood was like.
I was born and raised in Ottawa, Ontario. I have sister, Stephanie who is four years older than I am. My mother was a stay at home mom until I entered high school and my father owned his own facilitation company. My mother was a professional dancer and so when she found me climbing a bookshelf when I was one and a half years old she said this child needs an outlet! I started dance immediately and I have never stopped. I began dancing competitively at the age of 5, averaging about 25 hours a week of dance training.
List any interesting or unusual jobs you may have had. 
I'm not too sure if these are unusual or interesting but my past jobs included being a dance teacher and a brunch server at a local restaurant. I have also been a go-go dancer at events and one particular performance included me being a dancer in a panda mascot outfit. I have also been mascots for other events including the Elmwood Eagle, and the Natural Resources Canada NRCat.
List any volunteering you have done.
Redblacks dancer- includes at least 4 community events per month
Creator of the Ventilation Movement, a website to address metal health in the artistic community
Faculty of Arts representative for the Board of Administration, UOttawa
Senior Advisor to the Communication Students' Association, UOttawa
President of the Communication Students' Association, UOttawa
Vice President of Philanthropy (2 consecutive terms) for the Communication Students' Association, UOttawa organizaing events for Shinerama, Movember, Relay for Life, the Ottawa Mission
Sponsorship coordinator and outreach advisor for the KidSport Ottawa Beach Volleyball Tournament
Model for the CHEO Runway for Hope
Elmwood School Head of Nightingale House Prefect organizing events for The Make A Wish Foundation, Breast Cancer Foundation, Shepherds of Good hope, Max Keeping Foundation, Elizabeth Fry Society, Canadian Guide Dogs for the blind
Junior School Big Sister Program
What is your most unusual talent?
For me it is completely normal, I would have to say that my aerial skills and contortion abilities would be unusual to most.
Where is the most interesting place you have been to?
I have never travelled outside of North America and when I do travel it is usually for a dance or aerial competition. Out of those places I would have to say that I have enjoyed Chicago the most. It reminds me of a cross between New York City and Canada. There is an urban jungle vibe but it is also stunningly beautiful with all the horticulture, the lake, and the amount of street art.
What do you hope to be doing in ten years?
In 10 years from now I hope that I have taken the opportunity to travel and explore the world. I hope that I have taken chances with my career and left my comfort zone to explore new opportunities. I would still like to be working on the Ventilation Movement so it can become an artistic platform to discuss mental health. I would also like to hope that in 10 years from now I am still taking care of my body by dancing and doing aerials regularly.
Is there anything you would like to add that we haven't asked?
I would like to thank my mother for all her support and encouragement with everything that I do. She is an incredibly strong women with a heart of pure gold. She has shown me by example how to be a strong and independent woman.