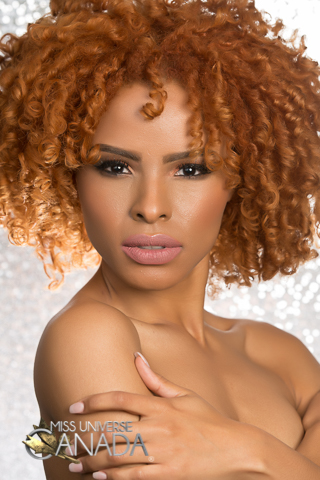 Height: 5'7
Hometown: Ottawa, ON
Languages: English, Creole, French, Spanish
Occupation: Student at University of Ottawa (International Development and Civil Law)
Born from a Haitian Congolese father and a Dominican mother, Gabriela was raised in Haiti where she was taught how to speak French and Creole. In her teenage years, she moved again with her family to Canada. Today she is a proud Canadian citizen residing in the Nation's Capital, Ottawa. Gabriela is currently in her final year of university studying International Development and Civil Law at the University of Ottawa. Along with her education, she works for the Federal Government at the Innovation Intellectual Canadian Property.
Gabriela has always dreamed of being a role model by virtue of personal and public successes and achievements. Through her passion for dance and fashion, she has always been a strong and positive influence in her society. A graduate from classical ballet and modern dance, she uses her artistic talents to make a difference in the lives of others by helping and giving back to her community. Gabriela is able to do this by volunteering at the association of "Samedy Litteraire" through teaching children dance and creating choreography that represents the different styles and cultures that have become a living part of her everyday life.
Gabriela was introduced to the World of Fashion in her youth, where she had received a great degree of success. She strongly believes in giving back to those who have given to her and wanted to impact lives through fashion. With an entrepreneurial spirit, she explored charities and fundraising projects which led her to create her own outreach foundation in Haiti. She worked in numerous locations as a volunteer, acquiring knowledge and experience that helped to facilitate her goal. Today, she is currently working on "Fondation Gabriela", which in the near future will organize and conduct humanitarian projects and events to gather fundraising for children's education and the empowerment of women in the country.
Gabriela has also competed before in the international pageant, Miss Supranational. She had the chance to represent Canada for the first time, where she was placed in the top 20 finalists and went on to bring home the title of Miss Congeniality. Gabriela envisions a day where she will proudly represent Canada on the stage of the Miss Universe pageant. In this way, she will have the opportunity to give back to her country for helping to develop her into the independent and strong woman she is today.
Video
Q&A
What are your interests and what do you enjoy doing the most?
I'm passionate about fashion and the world that comes with it; I enjoy fashion shows and taking part of photoshoots, however my given talent is dancing and that is the thing I enjoy doing the most. Dancing has always been a personal therapy for me. I can fully express myself and this is why it's so important in my life. When I dance, the music, the words and the beat makes me feel alive and invigorated.
List any special training you have had (music, art, drama, dance etc.)
I'm a talented dancer graduated from the "Centre D'excellence Artistique De la Salle", specializing in ballet and modern dance. For me, dance has always been my greatest talent and a strong passion that I have pursued from a very young age. I'm well rounded and can dance just about anything from hip hop to Jazz or from traditional Dominican dances to Haitian folklore.
In what sports, if any, you participated?
Dancing is my sport! In my youth I have always been an active girl who loved to try different things. I got to experience being part of a basketball, baseball and cheerleading team.
Name one person, other than your parents, who has the most influence on your life, why?
Other than my parents, my grandfather has always been one of the most important people in my life. Being a lawyer, who owned and managed his own firm, as well as the owner of a private secondary school and university lecturer, my grandfather was a leader. He always pushed me to reach the stars and had a tremendous work ethic until his last breath, he taught me the values I abide by and he's the reason I never give up on my goals.
What is your proudest personal accomplishment (other than participating in this pageant?)
My proudest achievement comes from winning the title of Miss Supranational Canada. It opened many doors for me and I got to compete in Poland representing Canada. Thanks to this competition, I have learned how to not be afraid of taking risks that will allow you to pursue your dreams.
What is the most interesting or unique thing that has ever happened to you and/or what is the most interesting thing about you?
Something interesting about me is the fact that I came from different cultural backgrounds. It might not have been the easiest experience due to difficulties arising from an identity crisis. However, through the years of my life, I have learnt the importance of having a mix of various cultural backgrounds. It is my power, it makes me unique and most importantly it reflects who I am today.
What is your ambition and what are you doing or plan to do to accomplish your goal?
My ambition is to be a highly successful woman in a dynamic, rewarding career that serves my country; My dream is to be an ambassador and be a successful role model to all the women around the world. I plan on succeeding in this by influencing women by showcasing my public and personal success.
What would be your dream job?
I want to be an ambassador, representing my country on an international level and partaking in the creation of alliance and partnership in order to contribute to the global unification of nations.
Describe where you were raised and what your childhood was like.
I spent most of my childhood in Haïti, and was separated from my parents at 5 years old due to culture differences. I had a very difficult time adjusting. I was always raised in a strict and disciplined household with my siblings. I wasn't able to go through the "princess" and "Barbie" daydreaming phase that most little girls do in their childhood. With everything happening as it was, I had to grow up fast and start making my life decisions very early on. After years of striving to escape from the harsh land, my dream of living with my mother came true and we eventually had moved in together in Canada. Today my family is the most precious gift in my life. I cherish our family time together and look up to my mother as a great source of inspiration, my mother is the main supporter in all my ventures.
List any interesting or unusual jobs you may have?
I am a teacher to two wonderful groups at the Samedi Litteraire – an association of great people who are working very hard to educate children about the culture by involving them in different activities. They learn how to use music instruments like the guitar and flute, but also take part in dramatic art classes, savoir-faire, and dance. I enjoy being able to teach dance and create choreographies. The children have fun and are able to give an amazing presentation of their accomplishments to their parents after months of dedicated effort.
List any volunteering you have done.
Black History Month Gala
Safara Fashion Show
Dance Teacher at Samedi Litteraire
Nü Management Training Models
Lenz Studio Hosting Workshops
I am Fashion Charity Fashion Show
Currently working on a charity fashion show in Haiti
What is your most unusual talent?
I have never taken any classes or training but I can prepare a wonderfully tasty family dinner for all sorts of occasions.
Where is the most interesting place you have been to?
The most interesting place I have visited is El Cercado in the Dominican Republic. El Cercado is a very small town in the village where my family lives. It is one of the most peaceful towns I've ever witnessed, and the closest to nature I have ever lived.
What do you hope to be doing in ten years?
In ten years I hope first to have finished my master's degree in international relations. I also intend to become a positively influential and powerful woman around the world by creating a foundation to make the world a better place. Most importantly, I will love to create an incredible family with a number of children that God gives me. I will happily provide them with everything I couldn't have when I was a child.
Is there anything you would like to add that we haven't asked?
I am very grateful and honoured to be a part of this competition. I've been dreaming and working towards it for years. I believe this competition represents a perfect platform to give young girls across Canada an equal opportunity to chase their dreams. Based on my past experience, the pageant is an inspiring event where you get the chance to be surrounded by so many wonderful and talented people who are also making their dreams a reality. It's a once in a lifetime experience, and I am excited and ready to make it a memorable one and to leave my name in its place in Canada's pageant book.