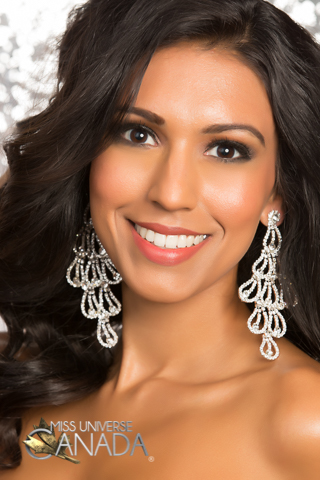 Height: 5'8
Hometown: Etobicoke, ON
Languages: English, French, Punjabi
Occupation: Project Coordinator
Harleen Malhans was born and raised in the beautiful city of Toronto, Canada and she is proud to call it her home. She is the youngest of four sisters, who are also her closest friends and biggest supporters. Her mother is her greatest inspiration. She taught Harleen the importance of strength, perseverance and integrity. Harleen believes in living life to it's fullest potential and to always help others where possible. Harleen has volunteered for a number of charitable organizations such as Ernestine's Women's Shelter, Cystic Fibrosis Canada, Transforming Faces, and Sick Kids Hospital.
She was crowned Miss India-Canada in 2013 and spent her reign speaking out for gender equality and supported a number of charitable events in her city. She then went on to compete in the Miss Canada TM pageant in Montreal, QC where she placed Second Runner-Up. In her spare time she enjoys travelling, trying out different cuisines, hiking and watching her favourite television show, Game of Thrones.
Harleen studied Communications & Media Studies in university and now works for a software technology company that helps consumers save money. Initially, Harleen was intimidated by the thought of entering into the tech world as it is a male dominated field. However, she forced herself to pursue her goal and she is now eager and excited to encourage more women to do the same.
Her motto is, the best life moments are created when you step outside of your comfort zone. It is scary, but rewarding in the end.
Sponsors
Video
Q&A
What are your interests and what do you enjoy doing the most?
I enjoy travelling, spending time with friends and family, discovering hidden gems in my city and staying up-to-date on current events around the world.
List any special training you have had (music, art, drama, dance, etc.)
I've been dancing since I can remember. When I was five years old I competed in my first Indian dance competition with my sisters, and since then I have always been drawn to performing. In addition, I studied acting at the Toronto Academy of Acting, which led me to become an on air fashion segment host for a television show called On the Dot. Prior to that, I used to volunteer at Rogers TV where I trained on everything that goes into producing a daytime television show from behind camera to in front.
In what sports, if any, have you participated?
Name one person, other than your parents, who has had the most influence on your life. Why?
Aside from my mother, I would have to say my three older sisters have had the greatest influence on my life. They have equally all played a part in shaping me into the person I have become. They taught me what it means to build character and to be the best version of myself. I am grateful for everything they have taught me and for their unconditional love and support.
What is your proudest personal accomplishment (other than participating in this pageant)?
My proudest personal accomplishment would be participating in my first pageant Miss India-Canada. I recall watching my sister compete in the pageant years ago and I always knew that one day I would follow in her footsteps. However, when I finally took the plunge to participate, I found myself riddled with fear of failure, self-doubt, and insecurities. I decided to use the pageant as my personal journey to overcome these mental and emotional barriers. I went into the competition with the intent to become the best version of myself and I did. I came out of it as a more confident, positive and overall stronger person. To my surprise, I ended up winning the title of Miss India-Canada 2013. Everything I gained of that experience and the way I conducted myself during the competition is something I am very proud of and it will be a lifelong memory that I will cherish forever.
What is the most interesting or unique thing that has ever happened to you and/or what is the most interesting thing about you?
I worked with Roots Canada to design a custom evening gown for a pageant I had previously participated in. What was unique about the dress was that it was completely made of fleece! I worked with the design team to craft up something that was both elegant and truly Canadian.
What is your career ambition and what are you doing or plan to do to accomplish that goal?
My career ambition is to continue growing my skills in technology and to become more of a leader within the field. I would love to encourage young girls and women to explore different careers in technology, as it is a mainly male dominated industry. There is a great need for women in this field and I look forward to helping make this change a reality.
What would be your "dream job" in life?
My definition of a dream job would be doing something that I am truly passionate about that can help others. I would love to start my own business one day and leave behind something that will live on and have a positive effort on people.
Describe where you were raised and what your childhood was like.
I was raised in the vibrant and diverse city of Toronto. I grew up across a beautiful park where I would spend most of my time. I was constantly outdoors regardless of the weather. I enjoyed participating in sports teams, student clubs and organizations as well as theatre productions.
List any interesting or unusual jobs you may have had.
I used to hold a sign at the airport for arriving guests and guide them to their limousine. I was in high school at the time and was pretty shy so this was a great way for me to force myself to come out of my shell and engage in conversations with strangers.
List any volunteering you have done.
Meagan's Walk for Sick Kids Hospital
North York Harvest Food Bank
Ernestine's Women's Shelter
Cystic Fibrosis Canada
Transforming Faces
We Are Your Sisters (WAYS)
Etobicoke Humane Society
What is your most unusual talent?
I have incredible balance. I once won a contest for staying on a rapidly moving surfboard the longest.
Where is the most interesting place you have been to?
Climbing Dunn's River Falls in Ocho Rios, Jamaica was one of my travel highlights. The climb seemed risky and almost impossible but by the time I made it to the very top it was an incredible feeling and view.
What do you hope to be doing in ten years?
In ten years I hope to be doing what makes me happy. I would like to continue a career in technology and perhaps get back into acting. I would love to have travelled the world more and experience incredible adventures.
Is there anything you would like to add that we haven't asked?
I would like to thank everyone who has supported me on my journey to Miss Universe Canada 2017. This is truly a life long dream of mine to compete in the most prestigious pageant in the country. I am very excited to embark on this new adventure and to see where it takes me!