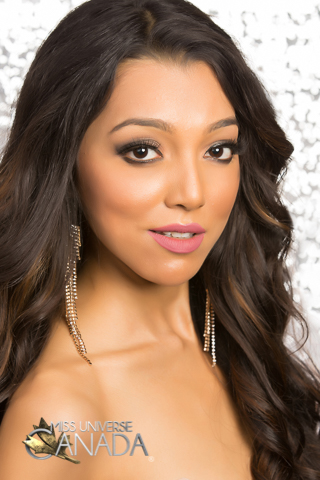 Height: 5'5
Hometown: Toronto, ON
Languages: English, Arabic
Heidi Gawad was born in Toronto, Canada, but spent most of her childhood in Cairo, Egypt. Living in two countries, expanded her global knowledge and allowed her to embrace different cultures. Heidi has a passion for travel and meeting new people. She traveled a lot within Egypt and visited several European cities. She really admires the world's rich history and is intrigued by different civilizations and cultures. While in Cairo, she visited several orphanages. Not only did she provide donations that she collected from friends and family but also spent time interacting and playing with children.
Heidi always admired Canada's rich diversity and multiculturalism. By the time she graduated from high school, she decided to enrol in Global Studies at Western University. She graduated with a Bachelor degree in Global Development. She participated in several volunteering opportunities and charity work within her university. Heidi believes that providing a helping hand can be done anywhere and everywhere regardless of race, gender or beliefs, making the world a better place.
During her university years, she developed deep interest in healthy lifestyle and chose to take a course in health and nutrition. She eventually worked in a weight loss clinic to gain experience and knowledge in health and medicine. She loves to talk about healthy choices and share it with friends and family.
Heidi is looking forward to competing in the Miss Universe Canada 2017 pageant. She believes that being an ambassador for her country and for young Canadian women is a great opportunity to help her voice her passions and to be an active member in her community.
Video
Q&A
What are your interests and what do you enjoy doing the most?
I love to learn something new every day, I feel that meeting different people just adds knowledge in one way or another. What is remarkable about Canada is the diversity and multicultural presence, it is so overwhelming and incredible to know the richness of different cultures and backgrounds. I really feel I am meeting great minds from all over the world.
I enjoy traveling and have visited several countries in Europe with my friends or family. I love living a healthy lifestyle, creating new healthy food recipes and I enjoy swimming. I also love singing and I have been told I have a good voice.
In what sports, if any, have you participated?
I used to play basketball at school, I now swim weekly, it is part of my healthy lifestyle.
Name one person, other than your parents, who has had the most influence on your life. Why?
I would really think of my Grandmother, I feel she is an incredible person. As a mother and a grandmother, she had a phenomenal life as the wife of a diplomat traveling to many various countries with my grandfather. She raised three successful children one of them happens to be my mother. During my university years I lived in the same city with them in London Ontario, and visited them weekly. She is still, in her 80′s, as elegant, patient, loving and caring person as she was when she was young, I just admire this strong and old soul character
What is your proudest personal accomplishment (other than participating in this pageant)? 
My proudest accomplishment is when I was visiting Cairo this summer, I used to provide meals rather than money for poor people in the streets. I provided help with a smile, the grateful look I got on their faces made me so proud. Simple gestures like these helped those people feel special, for them recognition and feeling cared for was more important than getting money.
What is the most interesting or unique thing that has ever happened to you and/or what is the most interesting thing about you? 
I think having lived in another country other than Canada is a unique experience that helped in shaping who I am now. It also helped me think globally and allowed me to always seek the unknown through traveling, meeting new people and knowing new cultures. I am very sociable, I love people and they can sense it. You will always see me talking with the people I see regularly at the grocery or coffee stores.
What is your career ambition and what are you doing or plan to do to accomplish that goal? 
My ambition is to work in a non-for-profit organizations or United Nations, in programs that contribute to the development of society or nations. I would love to have a positive impact on the society, through applying what I have learned at school as well as what I have experienced in my life. I would also love to raise awareness about healthy lifestyle and how we can achieve that so people can not only live longer, but healthier.
What would be your "dream job" in life?
My dream job has to include meeting lots of people from all over Canada and the world, and to have a positive and remarkable impact on the Canadian society. So I believe that being Miss Universe Canada 2017 would be my dream job.
Describe where you were raised and what your childhood was like.
I was born in Canada, and when I was five years old, my parents moved to Cairo for job opportunities. I lived a big part of my childhood there. What is remarkable about my childhood in Cairo was the importance of family ties and being all the time around family.
We traveled within Egypt a lot as well as to various countries in Europe. This incredible experience allowed me to be aware of different local life and rich cultures. It is the reason why I love traveling and meeting new people. I believe that living in two different countries made me gain the richness of both cultures. I believe in the importance of multiculturalism, it has even effected my choices in university and made me choose a major that relates to studying the world and different cultures.
List any interesting or unusual jobs you may have had. 
When I was a student at Western University I participated in a funding campaign to collect donations. It included calling the Alumni who graduated from Brescia University which is a Western affiliated university. I talked to an incredible lady who was originally from Russia and graduated back in the 50'. We had an incredible conversation and at the end of the call she said a statement that I never forgot. She said "If I were young I would have been your friend". This phrase touched my heart and I felt that people should have no borders whether its age, gender or race.
List any volunteering you have done.
Door to door donation collection for the Cancer Research for Western University during 2012 homecoming events at Western
Visiting children orphanages in Cairo Egypt
Providing donations to orphanages in Cairo, collected from my friends and family
What is your most unusual talent?
The ability to transfer positive energy to people. The ability to make people feel at ease and comfortable in trusting and talking with me.
Where is the most interesting place you have been to?
Couple of years ago while I was in Italy I visited Cinq Terre. It is on the west coast of Italy and consist of a group of five villages with colorful little houses nestled onto a steep hill. The most remarkable of the five villages is Monterosso. I was amazed by this beautiful little village, where most of its inhabitants worked as fishermen and restaurant owners. The simple life there really impressed me, it felt everyone knew each one another as if they were one big family. People were enjoying the basic simple life, and enjoying the beautiful nature around them. I was overwhelmed by the fact that you can really be happy and content without the hassle of cosmopolitan and big cities. I just fell in love with their unforgettable authentic pasta and pizza.
What do you hope to be doing in ten years?
I believe that being part of Miss Universe Canada will have a remarkable and an unforgettable impact on my life for years to come. I feel that it will prepare me for my future plans and for working with Humanitarian Organizations to help people in need. I have also acquired extensive knowledge in global development through my degree. I gained knowledge about the developing countries, human rights, refugees and displacement issues.
I cannot wait to combine my experience with Miss Universe Canada and my studies to work with such organizations that contributes to helping people and nations all over the world.
Is there anything you would like to add that we haven't asked?
It is really a great honor to be part of this incredible pageant and a delegate for Miss Universe Canada 2017. This incredible organization is a strong platform that is empowering young women to achieve their dreams. It would be an honor to present the young Canadian women of today and be a representative of my country internationally. It is an amazing journey that will allow me to meet incredible people, make new friends and go through this competition with a positive spirit.