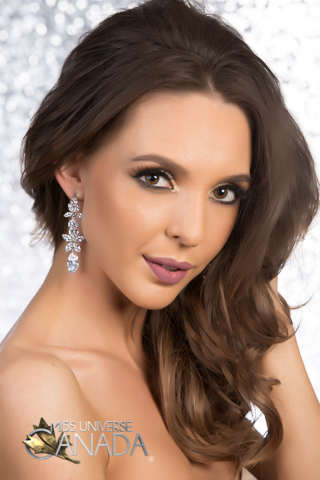 Height: 5'8
Hometown: London, ON
Languages: English, French, Polish
Occupation: Assistant Dept. Manager
Hailing from the forest city of London Ontario, Jacqueline is a first generation Canadian. Leaving communist Poland, Jacqueline's family came to Canada seeking a richer and more fulfilling life. Wanting to keep her Polish roots and traditions, Jacqueline enrolled in Polish school on top of her regular studies. Jacqueline has immersed herself in Polish culture by taking part in London's Polish folk dance group 'Cracovia' where she has danced for many years, having the opportunity to perform on many stages both across Canada and internationally. She has now grown to become one of the dance instructors and choreographers, teaching the youngest group of dancers the fundamental building blocks needed to go onto traditional folk dance in the hopes of continuing the Polish tradition.
As Jacqueline likes to share her traditions with others she also enjoys learning about new cultures. Being apart of the Children's Aid Society and becoming a Foster Family, Jacqueline has had several kids live with her as she grew up developing compassion, acceptance, and tolerance for those less fortunate and sometimes troubled kids and feels blessed to have had these kids in her life. Jacqueline's biggest passion is traveling, this has given her the opportunity to meet new people, visit different places and experience different cultures. Jacqueline believes that travelling is a gateway to opening up the mind, soul and helps grow as a person. Being well traveled, Jacqueline feels that as a society we would be more accepting of others cultures, religion, and races if people could see where people come from, how they live, and communicate with them in their own language. With all Jacqueline's travels she has been able to learn 3 languages and is currently learning 2 others.
Sponsors
Salon Haven
, Jordan Stewart Boutique, Family and Friends
Video
Q&A
What are your interests and what do you enjoy doing the most?
What I enjoy doing the most is travel.  I love learning about other people's culture and traditions. By experiencing what other countries/culture have, I hope that I can keep growing as a person. Alongside traveling I also enjoy dancing and being physically active.
List any special training you have had (music, art, drama, dance, etc.) 
I have training in traditional polish folk dancing, which has led me to perform on many stages both nationally and internationally.
In what sports, if any, have you participated?
I have participated in martial arts and have obtained my first-degree black belt in TaeKwonDo. Although I no longer practice, it has had a huge impact on my life and has taught me discipline and determination.
Name one person, other than your parents, who has had the most influence on your life. Why? 
My Grandmother has had the most influence on my life because without her I never would have learnt proper etiquette, grace, elegance, and wouldn't have  found my love for travel.  Without my grandmother I don't think I would be the woman I am today.
What is your proudest personal accomplishment (other than participating in this pageant)? 
My proudest personal accomplishment other then participating in this pageant would have to be competing in an international pageant and becoming the first Canadian to win the title of Miss Globe.
What is the most interesting or unique thing that has ever happened to you and/or what is the most interesting thing about you? 
The most interesting thing about me is that I sponsor four families in Cuba. Twice a year, I take a trip down and take clothing, footwear, medication, prescription eyewear, cellphones and educational equipment (ie.laptop/tablets, books, pens) for 15 local Cubans that have now come to be a part of my family.
What is your career ambition and what are you doing or plan to do to accomplish that goal? 
I would like to find a career that lets me travel and network with people. I want to keep a positive mindset and keep my options open and see what the universe has planned for me.
What would be your "dream job" in life?
My dream job in life would be a job where I would be able to travel the world, network and meet new people and help others in the world.
Describe where you were raised and what your childhood was like.  
I was raised in London, Ontario but throughout my childhood I spent most summers in Europe visiting family, which allowed me to experience the world at a very young age, and blossomed into my love for travel. At the age of 7 my family decided to become a foster family and that had a huge impact on my life as I learnt from a young age the importance of being kind, open, and accepting to others in need.
List any interesting or unusual jobs you may have had. 
An interesting job that I have is teaching young children polish folk dancing. Each year I train and choreograph traditional Polish dance to about 15 kids ranging from the ages of 3 to 8.
List any volunteering you have done.
I have taken part in several charitable events such as; Showdown in the Downtown (kidney disease), Right to Play (Raise money to educate and empower children and youth to overcome the effects of poverty, conflict and disease in disadvantaged communities, CIBC walk for the cure, Terry Fox Run, and CN Tower Stair Climb for the United Way and many others.
What is your most unusual talent?
It may not be a talent but I can be fairly silly sometimes, I believe that no matter how old you are being young at heart is all that should matter.
Where is the most interesting place you have been to?
The most interesting place that I have been to is Malaysia.  Malaysia is a tri-cultural country and much like Canada in that it's accepting of all cultures and religions.
What do you hope to be doing in ten years?
I try not to look to far into the future.  I live in the present and make the best decision for me at that given time.  I don't like to set one specific end result for myself but several goals that help me strive to be a better citizen.
Is there anything you would like to add that we haven't asked?
I would just like to thank Beauties of Canada for this opportunity and all my family and friends who have supported me from the beginning; I hope that I will make everyone proud.