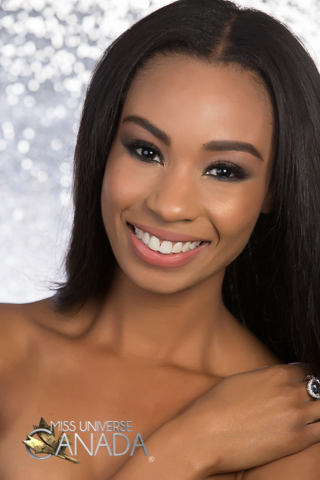 Height: 5'9
Hometown: Scarborough, ON
Languages: English, American Sign Language
Occupation: Nurse
Jenay is a Registered Nurse born in the city of Scarborough, Ontario. She uses her desire for a greater life, filled with purpose and service to others, as motivation to excel in the execution of her goals. She graduated as an Ontario Scholar. She is the first in her family to graduate University, and did so, with Honours. Jenay competed her Nursing Degree at York University and wants to pursue her Masters in Nursing with the ambition of becoming a Nurse Practitioner. Her creative drive has also led to her aspirations of acting in both film and television. She is currently working her way to stardom by diligently perfecting her craft. In light of her achievements thus far, Jenay is selfless in utilizing her skills and ability within her local community. She teaches American Sign Language and translates to deaf community members who attend services at her local church to provide them with an opportunity to actively participate.
Jenay is also passionate about her nursing profession. She believes that nursing has tapped into her artistic ability, allowing her use a creative approach to each clinical situation she encounters uniquely as per patient. This allows her to connect to her clients on a holistic level in the most critical times.
Jenay is also an advocate for political change for health care within Canada. Through her studies, she has discovered that accessibility for most Canadians can be a struggle due to social barriers such as homelessness and poverty. Jenay hopes to make healthcare more accessible for the homeless population by creating programs and services to help preserve required identifications and health cards. Thus, reducing further impairment to their access to necessary health care.
Sponsors
Video
Q&A
What are your interests and what do you enjoy doing the most?
Some of my interests are singing, acting, playing the piano and creating different sorts of paintings, but I really enjoy acting the most.
List any special training you have had (music, art, drama, dance, etc.) 
I had special training in both piano lessons and drama.
In what sports, if any, have you participated?
I have had the opportunity to play basketball, track and field, and swimming in high school.
Name one person, other than your parents, who has had the most influence on your life. Why? 
My great grandmother Ivy Summerville has had the most influence in my life because she inspired me to become the great nurse that I am today.
What is your proudest personal accomplishment (other than participating in this pageant)?
I am very proud of all my accomplishments simply because I had a challenging journey to reach this point of success, but overall graduating University with honours in a Degree in Science and Nursing is certainly my proudest moment.
What is the most interesting or unique thing that has ever happened to you and/or what is the most interesting thing about you? 
The most interesting thing that has ever happened to me is being selected to be a part of the Miss Universe Canada Pageant.
What is your career ambition and what are you doing or plan to do to accomplish that goal?
I am currently a Registered Practical Nurse and a Registered Nurse but I will not stop here. I plan to go back to university and obtain my Masters in nursing to become a Nurse Practitioner as my possible final goal.
What would be your "dream job" in life?
My dream job in life is to become a phenomenal actress in a motion film.
Describe where you were raised and what your childhood was like.  
I was raised in the city of Scarborough, Ontario, a community that is urbanized with multiculturalism and diversity. I was raised in an extended family home, which consisted of my great grandmother, grandparents, aunt, uncle, mother, and younger brother. During this time, I was also raised in a religious home where I was encouraged to attend church every Sunday morning. This motivated me to become involved in the church community which included activities such as singing on the choir, and participating in many church fundraising initiatives for my local community food drive.
My great grandmother also had a huge influence on my childhood. She encouraged me to push far with my studies despite any challenging obstacles. Unfortunately my grandmother died in 2003 before I was accepted into my Nursing Program. But before she died, I promised her I would become a nurse just like her someday, and I did.
List any interesting or unusual jobs you may have had. 
When I was 18 years old, as my first job I got the opportunity to be a team manager at the Boys and Girls Club in West Scarborough dealing with marginalized youth. This was interesting and unusual due to the fact that I was mentoring and empowering youth of my peers who shared some of my very own experiences in life. So naturally I used my skill sets to create an awareness for them.
List any volunteering you have done.
World Vision
Plan international Canada
The Hope Food Bank
The H.O.P.E Coalition
Sign Language Program at Grace Christian Life Centre
Camp Edify
Sick Kids Hospital
What is your most unusual talent?
My most unusual talent is painting with watercolours, I enjoy this type of art work.
Where is the most interesting place you have been to? 
The most interesting place I have ever been to is Green Grotto Cave in Jamaica. This cave is filled with so much history and beauty.  It is known to have provided a safe haven for runaway slaves in the 18th Century.  It also served as a hideout location for the Spanish during the take over of the Island by the English in 1655.
What do you hope to be doing in ten years? 
In the next ten years, I hope to be an actress making films worldwide.
Is there anything you would like to add that we haven't asked?
No, except that I look forward to participating in the Miss Universe Canada Pageant and to making the best of this once in a lifetime opportunity.