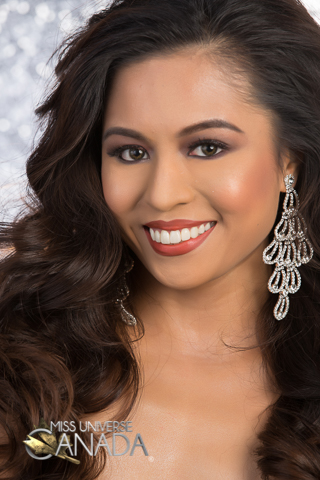 Height: 5'9
Hometown: Vancouver, BC
Languages: English, Tagalog
Occupation: Model
Justine Felizarta is a proud Canadian from Vancouver, British Columbia. She moved to Canada from the Philippines at the young age of six. As the eldest daughter of four children, Justine assumed responsibilities early on and learned to help take of her siblings. Her parents always encouraged her to study hard and to pursue her passions in life, whatever they may be. Now, 23-year-old Justine is a licensed medical aesthetician, a signed model, and devout humanitarian.
As a recent graduate of Medical Aesthetics, Justine is committed to building awareness to health issues pertaining to the skin and the importance of proper maintenance. This is important to her as she experienced being teased all throughout high school due to severe acne. With the help from dermatologists and medical aestheticians, her skin cleared, thus becoming more confident in herself. She then pursued a modeling career shortly after – appearing in Vancouver Fashion Week and walking the runway for Calvin Klein and Forever 21 in Asia. She most recently shot an ad campaign for a luxury hotel that is to open in Vancouver sometime this year. Through it all, she now wants to help treat skin concerns such as acne and eczema, to help others put their best face forward. She wants to inspire others who are facing self-esteem issues to harness their unique beauty and to use their insecurities as fuel to become better.
Philanthropy is also very important to Justine. She is part of several charitable organizations such and Helping Hands Foundations, ANCOP, and Operation Smile. However, she hopes to one day amplify her contribution to society by having her own non-profit organization. Her main mission and goal would be to speak out on behalf of people who deal with body image problems in their everyday lives and to take action through different support outlets of wellness, skills development workshops, and makeover treatments.
Aside from all her work and volunteer endeavours, she likes being outdoors exploring the city in search for new local hot spots to spend quality time with her family and friends. No matter what she does, Justine is set out to enjoy what life has to offer and takes every opportunity to make herself and the people around her better. She is excited to be a delegate in the Miss Universe Canada pageant and is ready for the road ahead!
Sponsors
Video
Q&A
What are your interests and what do you enjoy doing the most?
My interests include singing, travelling, and modeling. Modeling has always been my creative outlet, it allows me to transform and create different stories with the clothes and vision of the designers. I also enjoy being outdoors; I love cozying up to a good book by the beach on a warm summer day in Vancouver.
List any special training you have had (music, art, drama, dance, etc.) 
Vocal training
Dance training
Makeup training
Runway training
In what sports, if any, have you participated?
In high school, I was always asked to try out for numerous sports teams because of my height. I was skeptical at first, but then I started getting involved in volleyball, basketball, and track and field. Looking back now, I am glad I did it. It taught me endurance, commitment, teamwork, and good sportsmanship.
Name one person, other than your parents, who has had the most influence on your life. Why?
One person other than my parents that has had the most influence on my life is my older brother David. Being the eldest son of the family, he always set a good example and made sure that we were living our lives to the fullest. I always turned to him for advice on everything and he never fails to uplift and motivate me. From him, I've learned the essence of hard work and going after what you want no matter the circumstance. He is definitely my biggest supporter and pushes me to be the best person I can be.
What is your proudest personal accomplishment (other than participating in this pageant)? 
My proudest accomplishment to date would have to be graduating from school and becoming a licensed medical aesthetician, while modeling at the same time. My years of being a student and a model have taught me to be patient, to have empathy, and to work hard to get what you want. During this time, I was also able to participate in another national pageant where I placed in the Top 15, giving me the opportunity to experience working with charities to help poverty-stricken areas and low-income communities.
What is the most interesting or unique thing that has ever happened to you and/or what is the most interesting thing about you? 
I love taking risks and the adrenaline that comes with it. That being said, I like to step out of my comfort zone every now and then to conquer some of my biggest fears. For instance, I am terrified of heights and deep bodies of water. But on a recent excursion out in Cancun, Mexico, I spontaneously did a 9-part zip line and cliff-jumped into a deep river. It felt great, now I plan on skydiving and swimming with the dolphins in the near future.
What is your career ambition and what are you doing or plan to do to accomplish that goal? 
As a graduate of Medical Aesthetics, I am very passionate about skin care and promoting inner beauty. I plan on having my own skin clinic one day, where I can treat skin disorders and give people that extra boost of confidence. I plan on starting small, continuing to learn new procedures and doing treatments from home until I build a good clientele base. Then eventually, have a place of my own after some experience and exposure to the industry.
What would be your "dream job" in life?
My dream job would be to host my own talk show – combining my passion for music, beauty and fashion with good jokes and good conversations. To be the next Ellen DeGeneres and making other people happy, that would definitely be living the dream.
Describe where you were raised and what your childhood was like.
I was born in the Philippines, but raised in Canada. I come from a big family of six – two loving parents and three other siblings. My childhood involved a lot of family gatherings, which meant endless performances. Our parents would make us practice different songs and dances to perform for our relatives. I remember singing with my sister while my brothers choreographed the steps. We also enjoyed the great outdoors all year round, from snow tubing down Mt. Seymour to camping out in Tofino to having picnics at Stanley Park. To this day, I cherish all these memories and reminisce the moments we had together.
List any interesting or unusual jobs you may have had. 
As a model, I am expected to transform and make the designers vision come to life. One of the more interesting jobs I had was for a salon product where the client envisioned a look for me that entailed an afro with purple streaks all over. I was in hair and makeup for six hours and by the end of it, my hair probably added another seven inches to my height. All in all, I loved the outcome of the shoot and it was probably one of the more outrageous shoots I have ever done – when am I ever going to get an opportunity to rock a purple afro.
List any volunteering you have done.
Helping Hands Foundations
ANCOP
Habitats for Humanity
Operation Smile PH
Various orphanages and children's hospitals
What is your most unusual talent?
I learned to play the drums and the cymbals in high school when I decided to take band as an elective. I wanted to play in the percussion side because I wanted to prove that girls could play the drums just as well as the boys.
Where is the most interesting place you have been to?
The most interesting place I have been to would be Chichen Itza in Yucatan, Mexico. Not only is it a favorite amongst the tourist but it is also one of the eight Wonders of the World. I have always been intrigued by historical landmarks and seeing how people used to live back in the day. Just being able to stand in front of an old Mayan pyramid was exhilarating. My favorite part of the trip was swimming in the Sacred Cenote, a cave with fresh water and a small natural waterfall.
What do you hope to be doing in ten years?
In ten years, I envision myself running a skin clinic where I am happily treating and changing the lives of others through wellness appointments, development workshops and makeover treatments. I also hope to be travelling the world while doing philanthropy work to further my contribution to society and future generations. Last but not least, I hope to have my own happy family to share all the excitement and enjoy my life with.
Is there anything you would like to add that we haven't asked?
I am thrilled and honored to be one of the candidates of Miss Universe Canada 2017. This once in a lifetime experience will give me the opportunity to contribute to society through philanthropy and by becoming an ambassador of change. I hope I can make an impact in someone's life, big or small, and give him or her hope for a better future. I am excited for the road ahead and I cannot wait to show the universe what Canada has in store!