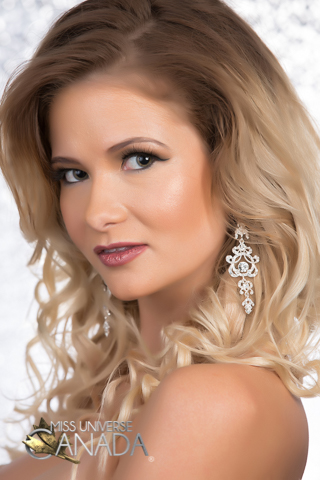 Height: 5'6
Hometown: Airdrie, AB
Languages: English
Occupation: Server
Kansas King grew up in the small town of Crossfield Alberta, where she was raised to treasure time with family and was encouraged to always dream big. With a passion to truly make a difference in this world, she started young leaving a trail of communities positively impacted by her positive attitude and enthusiasm.
In Junior High, Kansas recognized a growing problem among her classmates. A lot of kids were coming to school hungry. She worked with one of her teachers, and a local bakery to make breakfast available to the students every morning. While volunteering at a local pet shelter everyday after school, she was also actively committed to her soccer, badminton, track and field, cross-country, basketball, and volleyball teams. At the beginning of grade ten she was awarded student of the month for welcoming new students and making them feel comfortable/ included. Before graduating at Bert Church High School in Airdrie Alberta, she was cheerleading captain and delivered stellar performances through her Advanced Acting class. Though her schedule was already quite ambitious, she also took a part time job in sales. After a lot of hard work and determination, she became a store manager at The Source Electronics at the age of eighteen. Her determination to work towards a future saturated in her passion to help others left her still hungry for more.
Kansas started modelling and began focusing on self-improvement to become a positive influence on the people around her. She completed a leadership skills course and time management course at SAIT in 2017. Also, while volunteering for Community Links, a local nonprofit charitable organization, she took a women empowerment course they facilitated. Her community involvement and class act photo shoots caught a lot of attention and she was asked to compete in the Miss Calgary competition in May 2017. She was a natural. Though it was her first pageant she took home the crown.
With the title of Miss Calgary, she is able to make even more progress in helping out local non-profit organizations and raising awareness.
Video
Q&A
What are your interests and what do you enjoy doing the most?
I enjoy learning. I love to read books that teach me how to become a better person and improve my way of living, as well as the lives of others. My hobbies include: cosplaying (sewing and creating costumes), acting, dancing, working out, cooking, spending time outside, volunteering, and spending time with my family. I love the outdoors, and I love traveling all over Canada.
List any special training you have had (music, art, drama, dance, etc.) 
Advanced Acting classes during high school, at Bert Church Theatre.
In what sports, if any, have you participated?
I was in cheerleading for five years, and as cheerleading captain my last year I helped our team successfully take home a first place trophy! I was in soccer for eight years, gymnastics, cross-country, track and field, badminton, basketball, and volleyball. I love anything that keeps me active.
Name one person, other than your parents, who has had the most influence on your life. Why? 
My brother Dustin was in the Canadian Army for nine years. He showed me that if I set my mind to anything I can achieve it. As long as I am working my hardest and striving for something I believe in, I can reach my dreams. He showed me that by facing his fears. Dustin had to complete a tour in Afghanistan that lasted nine months. When he returned he was determined to try his best to be top in his class, and once he was, he did not stop there. My brother completed all of the training needed to become a sergeant in the RCR. Now he is retired and is living in the country. He has been such an inspiration for me to grow and learn as much as I can.
What is your proudest personal accomplishment (other than participating in this pageant)? 
I was just crowned Miss Calgary 2017. It was an incredible experience. Public speaking is something I have always challenged myself to try as often as possible. I was determined to put all of my effort into the competition, and I was confident in myself. I was surrounded by amazing women, and was shocked when my name was called. I am very proud of myself for stepping out of my comfort zone and saying yes to the amazing opportunity.
What is the most interesting or unique thing that has ever happened to you and/or what is the most interesting thing about you?
The most interesting thing about me and what I believe makes me unique, is the fact that I am determined to help others reach their full potential. Often, I see someone who has an interest in something, but may not know how to develop it into a passion. Sometimes people just need support and the right resources to reach their full potential. I want to show individuals that they can do whatever they set their mind to. It is natural for someone to compare themselves to others or doubt themselves when they become impatient in their progress. I believe that once the comparison to others has ceased, and comparing to oneself has began, an individual will be well on their way to building their confidence in themselves. I know that I can assist people in making this transition, and focus on building that confidence. Progress is addictive, the further a person goes the further they want to go.
What is your career ambition and what are you doing or plan to do to accomplish that goal? 
I wish to become a counsellor for individuals in need. I have been volunteering for Community Links, which is a local nonprofit charitable organization who's vision is to strengthen individuals, families, and communities, by providing them with support and resources. I will continue to work with similar nonprofit organizations, in hopes to help others, and gain knowledge that will help me pursue my goal. I have taken a leadership skills course, and time management course at SAIT recently in hopes to move forward in a life saturated in my passion of helping others. I have also taken a women empowerment course at Community Links. I wish to continue my education in the coming years.
What would be your "dream job" in life?
If I could do anything, it would be to influence others to believe in themselves. I want to help others reach their full potential. I believe that a counsellor could assist someone in those subjects, but I am always keeping my eyes open for any opportunities that may open other doors towards a future driven by that passion.
Describe where you were raised and what your childhood was like.
I was born in the busy city of Calgary, Alberta. I moved to Crossfield, Alberta shortly after I turned seven. I am so glad that I was raised in a small town. It taught me so much. I was outside almost all of the time; camping, dirt biking, playing sports, going on walks with friends, and spending time with animals. When I was little, my mom was often frustrated when I brought home stray animals I would find on the streets. I volunteered at the local pet shelter as well. I was raised with four older brothers and one younger sister. My house was constantly busy. I loved babysitting for family-friends. I took charge of our schools breakfast program, which was a program that gave free breakfast to students in the morning who could not afford it at home. I have always been one to help others, my mom taught me that. I was raised in a loving home, and wouldn't change a thing if I could.
List any interesting or unusual jobs you may have had. 
I performed as Barbie for a 3 year olds birthday party.
I am a light technician for a band here in Airdrie.
I model cosplay.
I create and sell costumes for others.
List any volunteering you have done.
Critters/ Tails to Tell animal shelter
W.G. Murdoch school Breakfast Program
Community Links, assisted in sales, and child care.
What is your most unusual talent?
Transforming my appearance to look like popular characters from shows, or video games. I do this by creating a costume, that looks similar to the character I wish to appear as. I also apply my own makeup or face paint.
Where is the most interesting place you have been to?
I traveled to the Dominican Republic after I graduated high school. We assisted in building a school while we were there. It was an amazing opportunity meeting so many people from a different part of the world. They lived differently than residents here in Canada, and people who barely had anything were so friendly. It was such an eye-opening experience. I sat and shared some chips with some of the locals and listened to their stories. I wished that I could spend more time there helping them. I would love to travel to other parts of the world and help build homes, or schools. Anything I could do to help.
What do you hope to be doing in ten years?
I hope that in ten years I have been successful in finding a career that is saturated in my passion to help others. I hope that I have helped with organizations such as SOS Children's Villages, Make-A-Wish Foundation, Operation Smile, and Tim Horton Children's Foundation. I want to make a positive difference in this world. I believe that Miss Universe Canada will open many doors that assist me in reaching my goals.