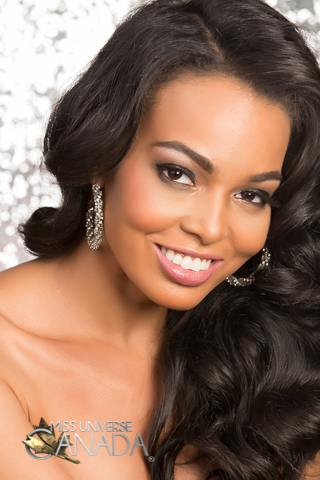 Height: 5'7
Hometown: Toronto, ON
Languages: English
Occupation: Promotional model. Freelance writer and blogger.
Katherine is a passionate, ambitious, and driven young woman with a permanent smile on her face. Her smile is so contagious that she was named as one of Jet Magazine's Beauties of the Week!
Hailing from the small town of Dresden, Ontario, Katherine grew up with a strong sense of volunteerism and strives to give back to the community. Katherine was a recipient of the Lieutenant Governor's award for community service in 2008 as well as the Helen Kavanaugh Nicol Scholarship. Through pageantry, she has been able to gain confidence, poise and charisma, and credits her success to her pageant mentors. She enjoys working with youth to help develop their self-esteem, public speaking and communication skills. Katherine believes in the power of persistence and perseverance and was named first runner-up to the title of Miss Earth Canada in 2015.
There is more to Katherine than meets the eye. With a Bachelor's degree from Ryerson University's Radio and Television Arts program, she is passionate about education. Katherine served as a Student Trustee with the Lambton Kent District School Board, and was honoured to be recognized as an Ontario Scholar. She describes herself as a lifelong learner, and is always striving to gain new skills.
Katherine lives by the motto. "If at first you don't succeed, try, try again." She is thrilled to be chosen to take part in the Miss Universe Canada competition and would like to thank her family and friends for their constant love and support!
Video
Q&A
What are your interests and what do you enjoy doing the most?
My hobbies include travel, creative writing and cooking, as well as spending time with family and friends. As a former tap dancer, I love being active and when I get the chance, I enjoy swimming and going on bike rides through Trinity Bellwoods Park. I am also becoming a bit of a movie buff and look forward to TIFF every year, but my biggest guilty pleasure is to binge-watch soap operas! In my spare time, I am often found in my craft room working on DIY projects.
List any special training you have had (music, art, drama, dance, etc.) 
I studied tap, ballet, and jazz for 12 years and I also play the piano. Currently, I am taking acting classes at the Walter Alza Acting Studio.
In what sports, if any, have you participated?
Running and swimming
Name one person, other than your parents, who has had the most influence on your life. Why? 
One person that has had a great impact on my life is my grade 12 writer's craft teacher. I think that teachers have an awesome ability to instill confidence within their students and having a teacher who is not only an educator but also a cheerleader, supporter, and friend is a really special thing. That kind of mentorship has really shaped me into the person that I am today.
What is your proudest personal accomplishment (other than participating in this pageant)? 
My proudest personal accomplishment to date has been earning my bachelor's degree from Ryerson University. I feel extremely fortunate to have had the opportunity to attend university, and I think that pursuing an education is one of the most crucial tools that a woman can use to empower herself.
What is the most interesting or unique thing that has ever happened to you and/or what is the most interesting thing about you? 
The most interesting thing that has ever happened to me was being able to compete in the Odyssey of the Mind creative problem solving competition in College Park, Maryland. Having the opportunity to compete against teams from over 25 different countries was an amazing experience because it has shaped me into a much more imaginative person. My creativity is the most unique thing about me and I am never afraid to be different and think outside of the box.
What is your career ambition and what are you doing or plan to do to accomplish that goal? 
My career ambition is to one day work in broadcast television. My passion for media began while studying at Ryerson, and I continue to write, create, and produce my own content. I consider myself to be a storyteller and I would love to have a platform to share new perspectives and ideas.
What would be your "dream job" in life?
My dream job in life would be something that allows me to not only showcase my strengths but to develop and improve on my weaknesses. I consider the title of Miss Universe Canada to be more than just a crown because it carries the same level of responsibility and demands of any typical job. Winning a pageant title is the beginning of a year of service and requires the titleholder to be an active volunteer in their community, an advocate for their platform, and a mentor to their peers.
Describe where you were raised and what your childhood was like.
I am from the tiny town of Dresden, Ontario, and will always remain a small town girl at heart. My family has been farming in Canada for over 100 years, and growing up, I was taught the importance of work ethic and perseverance. In 2008, I had the privilege of representing my town in the CNE Ambassador of the Fairs competition, as well as in the Miss Teen Canada-World pageant the following year. I am extremely proud of my hometown, and I hope that my small town values shine through.
List any interesting or unusual jobs you may have had. 
One of the most interesting jobs that I have had was working as a tour guide at Uncle Tom's Cabin Historic Site. I was able to broaden my knowledge of Black History in Ontario, and educate people from all over the world.
List any volunteering you have done.
Dresden Agricultural Society
The Lambton Kent District School Board
Ryerson University Students' Union
The Red Cross
Youth for Human Rights International
Free the Children
Operation Smile
What is your most unusual talent?
An unusual talent that I have is that I love to make people laugh. I think that humour is really good for the soul, and through laughter and comedy, we can heal from almost anything.
Where is the most interesting place you have been to?
The most interesting place I have been to was Paris, France, but my favourite city to visit is New York City! I love the energy and excitement of a big city and I can't wait to go back!
What do you hope to be doing in ten years?
In ten years, I hope to be established in my career, and still pursuing my passion projects. I have been blessed over the past decade with some incredible learning experiences, and I have come to realize that time is the best teacher. I am looking forward to what the nest ten years has in store!
Is there anything you would like to add that we haven't asked?
I am thrilled to have the opportunity to return to the Miss Universe Canada competition. Through pageantry, I have gained so much confidence, and I feel that I have grown into the best version of myself. I can't wait to be on the Miss Universe Canada stage once again and I'm grateful for all of my friends and supporters who have made this possible!