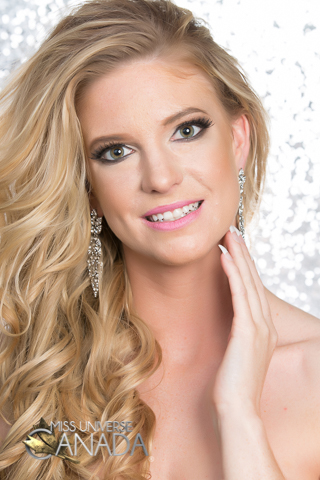 Height: 5'7
Hometown: Ottawa, ON
Languages: English
Occupation: Early Childhood Educator
Integrity, leadership, and spirituality are qualities that embody this Canadian beauty. Kaylee Sheppard has a radiant soul that is enhanced by her tenacity and selflessness. Born in Calgary Alberta, she has been posted across Canada with her military family. This has given her endless opportunities in education, community involvement, and multiculturalism. Currently, she is employed with the Ottawa Catholic School Board in the full-day Kindergarten program where she promotes a healthy-active learning environment, in order to positively influence our next generation. Early Childhood settings are where her creativity and empathy really shine!
As a role model for lifelong learning, Kaylee has graduated high school with honours, and been placed on the Dean's list for outstanding academic achievement in both of her post-secondary programs of Pre-health Sciences and Early Childhood Education at Algonquin College. She acknowledges the equal importance of education and extracurricular activities by balancing her studies with volunteering and physical fitness. She has competed internationally in the Cheerleading Worlds Competition and across Canada as a gymnast. Her confidence and diversity has led her to stage performances in acting, modeling and pageantry, where her self-expression and enthusiasm empowers others to be the best version of themselves.
This woman's vision of success is maximized through humanitarianism and philanthropic involvement. Her fundraising initiatives have made a difference with Variety – (the Children's Charity), where the focus is on implementing programs for underprivileged children with exceptional needs. She is committed to making a lasting difference in the lives of children with vulnerabilities particularly those with facial deformities. Kaylee echoes the "Operation Smile" mission statement with the belief that all children deserve to live with dignity, and for those suffering from cleft lip or cleft palate, dignity begins with a smile!
As the daughter of a soldier, it is in Kaylee's nature to support her nation's finest; the men and women of the Canadian Armed Forces. In particular, she recognizes a critical need to help those wounded as a result of peacekeeping and combat missions. Her priority is to shine a light on PTSD (Post Traumatic Stress Disorder) – which is often referred to as the invisible war that rages inside many troops minds long after returning home. By raising awareness she hopes to dispel the stigma associated with this mental illness that can develop after experiencing or witnessing trauma from war, accidents, natural disaster, sexual abuse, and other violent encounters. Her hope is to promote healing among those who are affected, and enlighten those who know little about this crippling illness. In this endeavour, she blazes the trail utilizing her passion and aspiration to help others in need.
Sponsors
Canadian Armed Forces Members/Veterans: Chief Warrant Officer (Rt'd) H.J. Sheppard, Warrant Officer R.J. Sheppard, Corporal (Rt'd) R.C. Sheppard,
Petawawa Legion
,
Phaze 1 Fitness & Tanning
,
Petawawa Dental Centre
,
Find Your Bliss Naturally
,
Essential Bath Bombs
,
The Great Canadian Warehouse
,
Precision Textiles
,
illxness Apparel
,
Petawawa Parks & Recreation
,
Winter Summer Solutions
,
Warm N Cozy Insulation Services
, Family & Friends
Video
Q&A
What are your interests and what do you enjoy doing the most?
Event planning, scrapbooking, fashion & photography, camping, traveling, interior decorating, yoga, meditation, tubing and boating, theme parks, cooking/baking, arts/crafts, reading/writing, nature, adventure, modeling, picnicking, but most of all spending quality time with friends and family!
List any special training you have had (music, art, drama, dance, etc.) 
Miss World Canada Pageant
Dale Carnegie
Fashion, runway, and promotional modeling
Actor / background dancer for music videos
Freeze modeling for 'Recipe for Romance' clothing line
Commercial photo shoots for local photographers
Runway / hair model for 'Lucid Beauty Salon' at Divine divas event
In what sports, if any, have you participated?
All-star / international Cheerleading in the Cheerleading worlds
Competitive gymnast of 12 years across Canada
Name one person, other than your parents, who has had the most influence on your life. Why?
My Great Aunt Mona is the true essence of a woman. She has taught me independence, respect, and intuition. She generates acts of kindness, enjoys the simple things in life, and I am grateful to have her as an influence on my character to pay it forward.
What is your proudest personal accomplishment (other than participating in this pageant)? 
Receiving early acceptance into the dental hygiene program at various colleges across Ontario is my proudest accomplishment.
What is the most interesting or unique thing that has ever happened to you and/or what is the most interesting thing about you? 
In 2009 I was in a traumatic car accident that left me in a coma and hospitalized for 3 months. In the faith of adversity and willpower, I have revitalized into a woman with purpose, to touch the lives of others. I have been blessed with a supportive family and team of professionals who all contributed to my rehabilitation.
"Whether you think you can, or think you can't – you're right!"
What is your career ambition and what are you doing or plan to do to accomplish that goal? 
I am an aspiring speech language pathologist eager to specialize in the field of brain injury. Communication and cognition is essential in everyday life, and it would be fulfilling to provide treatment for those suffering from trauma and other speech disorders. Completing an undergraduate University degree is essential before mastering in this area of study, and I am ready to pursue it.
What would be your "dream job" in life?
I would love to open my own therapeutic center dedicated to survivors of trauma. This would offer healing services and create jobs for others!
Describe where you were raised and what your childhood was like.
Growing up my brother and I were raised by two wonderful parents who always kept our best interests at heart. They provided a supportive environment and taught us valuable lessons in order to succeed in life. Times were tough when my father went overseas on military missions, but it is through my parent's unconditional love and guidance that I have courage and ambition today.
List any interesting or unusual jobs you may have had. 
While in high school I served seniors at the Heritage Manor retirement home. It was a unique position where I could combine my hospitality and humour together.
List any volunteering you have done.
Petawawa Public Library
Marian Hill Nursing Home
Runway for Hope Charity
The Glebe Cooperative Nursery School
Luke's Municipal Child Care Centre
Winnipeg Food Bank
What is your most unusual talent?
Flexibility – I can fold myself into a bow and arrow (Cheerleading pose)
Where is the most interesting place you have been to?
Although I have been to Cuba, the Dominican Republic, and Mexico, Rencontre East Newfoundland and Labrador is the most interesting place I have ever been. It is an isolated community with a population less than 140. All roads are dirt and ATVS are the main source of transportation. To get groceries you need to cross by ferry, and houses are scattered throughout the hills. It is a completely different way of life out there and I am proud to call it my family home.
What do you hope to be doing in ten years?
My nurturing personality puts being a mother and wife in my destiny. I trust I will have a second career established, and be an active member in society. Community and family orientation is important to me, so I will be busy providing for both. I also hope to travel the Seven Wonders of the World!
Is there anything you would like to add that we haven't asked?
I would like to thank the staff/judges of Miss Universe Canada for this opportunity. As Canada's next ambassador it will be my pleasure to bring causes to a national scale with elegance. I look forward to participating in this cultural experience, and connecting with the other outstanding delegates.