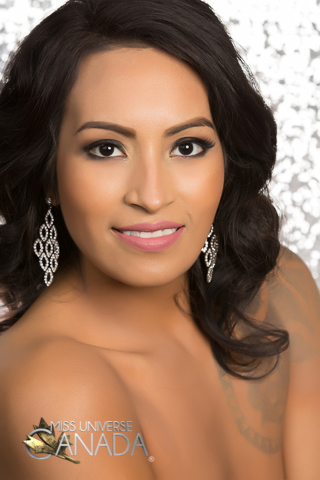 Height: 5'8
Hometown: Guelph, ON
Languages: English
Occupation: Student at Conestoga College Doon Campus (Protection, Security and Investigation)
Kimberley is from the small town of Guelph, Ontario. She is attending at Conestoga College taking Protection, Security and Investigation; a course that is prior to Police Foundations. Kimberley has had many dreams in her lifetime, one that consists of her becoming part of the RCMP (Royal Canadian Mountain Police) – a career that requires the ambition, integrity and want to protect fellow citizens. Whereas; modelling requires the poise, intelligence and elegance. Two completely different professions- but are certainly achievable. She has been keen in attaining her Firearms License and will be taking a course some point this year.
Kimberley believes that you must fight for what you want in life, despite the hardships you go through- because that is the whole process in attaining what you want. Nothing is impossible. She is an extremely strong-willed, sensual, compassionate and adventurous young woman.
Video
Q&A
What are your interests and what do you enjoy doing the most?
My main interests consists of dramatic arts, including theatre and film. I believe that this way, everyone can overcome those barriers when it comes to public speaking and for people to see the passion you have in your speech.
List any special training you have had (music, art, drama, dance, etc.)
In high school, I was part of the Drama Club and Art Club. This is how I've learned to not be so intimidated when speaking in public, and learn how to interact with people.
In what sports, if any, have you participated?
Wrestling
Badminton
Basketball
Boxing
Name one person, other than your parents, who has had the most influence on your life. Why?
My older brother Jean-Pierre. He and I have always assisted each other through thick and thin, no matter what the issue was. He was always my back-bone, pushing me whenever I would ever have doubts about myself, urging me to pursue what my dreams are in life.
What is your proudest personal accomplishment (other than participating in this pageant)? 
My proudest personal accomplishment is retaking Protection, Security and Investigation. In 2014, I was 18, naive and decided to head off to college. Although, when you're a young adult, your work ethic isn't completely there.
What is the most interesting or unique thing that has ever happened to you and/or what is the most interesting thing about you?
The most interesting event that has ever happened to me would be: my eye-surgery. As a little girl, my biggest obstacle was my sight! I had difficulty seeing anything. It made my school life fairly burdensome.
Essentially, I had to wear glasses and switched to contact lenses, until one day, my parents and I came to a resolve and get PRK Eye Surgery. My prescription was a negative eight, now my vision is outstanding and I'm eternally grateful to my parents for aiding me in acquiring proper vision because it allowed me to experience the true beauty of life. The eyes are the windows of the light
What is your career ambition and what are you doing or plan to do to accomplish that goal? 
Initially, I intend to involve myself more with voluntary opportunities. Aiding the marginalized individuals, orphanages and homeless shelters.
I mentioned this at the bottom of the page that I hope to be with Victim Services, you're basically a guidance counselor towards those who have lost someone, or are traumatized by any car crashes. I wish to help alleviate their conscience from the trauma. Not only is this an eye-opening experience, it will also aid me in making a much more deeper connection with the individual(s).
What would be your "dream job" in life?
Besides being Miss Universe Canada, my dream is to become part of the RCMP, and possibly attain the role of a Chief.
Describe where you were raised and what your childhood was like.
I was raised in a small city of Guelph, since I was a baby. I grew up in a safe little spot on Scottsdale Drive, my kindergarten was right across the street. I was a very happy and playful young girl, and have played a few sports in the streets with the friends I made in the neighborhood.
The majority of people I grew up with took care of me, since I was the youngest in my family and my brother is older. Of course, I was my brother's "baby sister". I attended many school trips as a young girl, but I have mainly spent time with my family and friends. My parents have always been very busy people and they've given everything to me, all the love and care that parents should provide. I never asked for much and I've always been so gratified of my parents, because they are such hardworking people.
List any interesting or unusual jobs you may have had.
I wouldn't say this is an unusual job, but I have had experience with factory work. I got a different outlook on what people do every day and that it can be quite difficult, but you can develop a lot of social skills and learn quite a bit from people's history.
List any volunteering you have done.
I contribute to society by donating my blood, as it's my passion. My blood can save three families, and it's a tranquil feeling. I urge people to donate.
I am undergoing a volunteer opportunity with Big Brothers and Big Sisters. Initially, I was going to immerse myself with Victim Services in Guelph and aid the marginalized individuals. However, I couldn't due to the fact that I will be travelling to Miami for Law Enforcement Seminars.
I also believe that voluntary work is understanding the concept of being helpful without needing to be affiliated in an organization, and associating yourself with the ones in need. The littlest notions can go far such as: giving a coffee or burger to the helpless; or, giving them a few dollars to buy what they need. So long as they are happy. I know I do not have many voluntary experiences, but I am passionate in what I believe in and strive for. The lack of experience doesn't make me an uncharitable person.
What is your most unusual talent?
I wouldn't say that it's unusual, but I am a bit of a cartoonist. I've been drawing since the very first time I could pick up a pencil. My art has never been perfect, but those imperfections could be the most beautiful thing to another person.
Where is the most interesting place you have been to?
In 2010, I went to visit my mother's homeland. Peru. In Peru I met my mother's side: grandma, grandpa, aunts, uncles and many cousins! It was truly a beautiful and wonderful experience, getting to know my roots. The people there were very welcoming and kind, it was amazing seeing people singing and dancing within the streets. It's an experience I would do again and hope to revisit my cousins. Although, I would like to see my father's side of the family.
What do you hope to be doing in ten years?
This is a difficult question to answer because there can be so many opportunities that can cross your path. Initially, I would like to hope to have acquired a higher status in my law enforcement career as an RCMP Officer.
Is there anything you would like to add that we haven't asked?
I want to let everyone know to never take anything granted from your parents. At times, they can be difficult with you and you may not like their advice, but they deeply love you and only want the best for you. I am grateful for everything that they've done for me in life, and I'm proud that their affection and support has molded me into who I am today. They are the ones who will stand by until the end. I would also like to mention that I'm indebted for being blessed with this opportunity of competing for Miss Canada, and I want to thank my family, friends and sponsors supporting me.