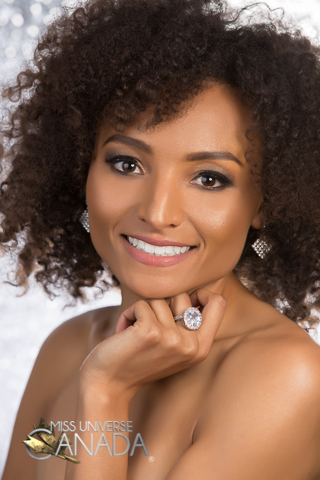 Height: 5'8
Hometown: Ottawa, ON
Languages: English, French
Occupation: Student at Université du Québec en Outaouais (Accounting)
Laura Cavé is a young professional from Ottawa, Ontario. Laura's exotic look is a mix of her French Canadian mother and Haitian father. She had the chance to reconnect with her family's heritage when she visited Haiti in 2009. Laura speaks fluent French and is a proud francophone. She grew up in a big family and is very close to her parents and siblings.
Over the years, Laura has participated in various charitable activities which include giving blood and playing hockey with troubled youth. She enjoys giving back to the community because for her, it is always a positive and rewarding experience. As well, she has practiced in a variety of sports such as volleyball and track and field. Staying active is an integral part of Laura's life. Recently she enjoys living in downtown Ottawa and walks everywhere she goes.
She is currently pursuing the designation of Chartered Professional Accountant and works for an accounting firm in Ottawa. On January 9th, 2016, in Québec City, Laura and two other teammates won 2nd place in a commerce competition against 13 other Canadian universities. Laura did not always know what she would go on to study after high school. She studied journalism for a year in college and realized it was not the path for her. Today, she is happy with her decision to study accounting and hopes to excel in the business world.
Sponsors
Video
Q&A
What are your interests and what do you enjoy doing the most?
I enjoy staying fit by doing regular training sessions and I also like going to the movies and seeing new releases. But what I enjoy doing the most is going for walks with my dog.
After taking a personal finance course, I have been interested in financial literacy. Since then, I think that learning the basics of personal finance is a great foundation to prepare anyone for some of life's challenges.
List any special training you have had (music, art, drama, dance, etc.) 
From the ages of 6 to 13 I took piano lessons. Although I do not play piano today, I appreciate the discipline it taught me at such a young age.
I attended an art high school where I took a drama class in 9th grade. It was fun portraying different characters and being able to immerse myself in someone else's shoes.
I also followed modeling courses and workshops where I learned to walk gracefully, to pose in front of a camera as well as proper etiquette.
In what sports, if any, have you participated?
Starting at a young age I have been active in multiple sports; in primary school I was in track and field and in junior high I started to play volleyball.
In high school I participated in cross country running where I placed top 9 in a local race against other high school girls. I was also on the girl's touch football team. I played 4 years on the girls' volleyball team and in my final year we won the city championship.
Playing team sports allowed me to have a support network during my teenage years and it taught me leadership skills. Today I stay active by regularly walking and doing at home exercises with light weights.
Name one person, other than your parents, who has had the most influence on your life. Why?
My dog Bandit, even though he is not a person, has had the most influence on my life. As a young professional there is always a lot going on with school and work. Bandit teaches me to stay grounded. Because I am responsible for him, he taught me the importance of prioritizing. Every day he reminds me to look at the glass half full because he always cheers me up.
What is your proudest personal accomplishment (other than participating in this pageant)? 
My proudest personal accomplishment is graduating from university with no student loans. Today I have a bachelor's degree in business administration specialized in accounting which took me 5 years to complete. Throughout those years I worked part time during the semesters and full time during the summer in order to make enough money to pay for tuition all on my own.
This accomplishment showed me that I can achieve anything if I work hard and believe in myself.
What is the most interesting or unique thing that has ever happened to you and/or what is the most interesting thing about you? 
The most interesting thing about me at the moment I would say is the fact that I do not own a television. Usually when people hear this they are quite surprised. When moving into my apartment I never felt the need to get one. I stay informed by listening to the radio.
What is your career ambition and what are you doing or plan to do to accomplish that goal? 
I am currently pursuing the designation of Chartered Professional Accountant. I hope to excel in the business world and to start my own business.
What would be your "dream job" in life?
My dream job would be to be self-employed.
Describe where you were raised and what your childhood was like.
I was born and raised in Ottawa, Ontario, Canada's capital. I grew up very close to my family and I enjoyed partaking in different activities with my parents and siblings.
List any interesting or unusual jobs you may have had. 
The first job I ever had was when I was 14 years old. I was serving Beavertail pastries on the Rideau Canal during the middle of winter in Ottawa. Even though it was freezing outside, it was nice to watch people skate. It was a lot of fun working there especially because the pastries are so delicious.
List any volunteering you have done.
As a child I used to play piano at the seniors' residence home where my mom worked as a nurse. In high school I volunteered for a March break camp and I occasionally kept score for sports games.
In college one of our group projects was to raise funds for the student bursary foundation. My team and I planned a fundraiser dance called "Fiesta Tropical". I was class president in my second year of college where I organized a festive potluck for my class right before the winter holiday break. I also volunteered for Ottawa Fashion Week as a front stage volunteer.
I now work for a company which encourages giving back to the community and I always enjoy signing up for these initiatives. In the past year or so I gave blood for the first time, I played hockey with troubled youth, I volunteered at We Day Ottawa, I traveled to Kenya to build a school, I played at Hope beach volleyball, and I ran 5K for the children's hospital.
What is your most unusual talent?
My brothers played football growing up and sometimes we would practice together. Now I can throw a football pretty well.
Where is the most interesting place you have been to?
The most interesting place I have been to is the Butterfly Conservatory in Niagara Falls, Ontario. The butterflies are so gorgeous with such bright colors and different sizes. I am impressed at the employees' abilities to recreate their ecosystem.
What do you hope to be doing in ten years?
I hope that I am a successful businesses woman who contributes to society in the best of my abilities.
Is there anything you would like to add that we haven't asked?
The reason why I have decided to participate in this pageant is to challenge myself. I am the type of person who always wants to grow and learn. I see this pageant as a great opportunity to do so.