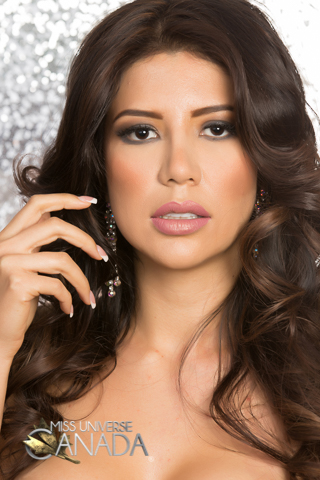 Height: 5'10
Hometown: Toronto, ON
Languages: English, Spanish
Occupation: Student at Ryerson University (Medical Physics)
Leily Figueroa is a student, model, and brand ambassador from Toronto, Ontario. She was born in Colombia, and moved to Miami, Florida when she was four years old. She eventually moved to Toronto when she was 14 years old. She is very grateful to call Canada her home, and even more proud to be able to participate in a competition that showcases the beauty, intelligence, and diversity of Canadian women. She is currently a student at Ryerson University in the Medical Physics program. Since an early age, she has always had a passion for everything health related. For her third birthday, instead of asking for barbies or other toys girls her age were playing with, she asked for a stethoscope. She truly believes that was the best gift she ever received. Leily has always been very bright and a good student, obtaining many diplomas and awards throughout her school attending years. Apart from being dedicated to her school work, she also enjoys being active and showcasing her creativity in different ways. She was part of many school teams and clubs as a child, such as drama club, chorus, dance, cheerleading, soccer, ect… She also enjoys playing other sports like tennis, volleyball, snowboarding, figure skating, among others during her free time. She is an advocate for health and wellness and believes in the importance of eating healthy and exercising regularly.
Being the tallest in her class, Leily always heard growing up that she should be a model. She never paid much attention as she was always more focused in school and after school activities. When she turned 13, she had the opportunity to be a part of her very first fashion show. She immediately fell in love and a new passion for modelling began to flourish. She has now participated in many different campaigns and fashion shows showcasing different works of many talented designers. One of her favourite shows was when she had the opportunity to walk during the Canadian Philippine fashion week, and was able to walk along side the beautiful Miss Universe Canada 2013 Riza Santos. After meeting the very talented Riza, Leily knew she had to one day be able to compete for the coveted title of Miss Universe Canada. She feels extremely proud and fulfilled to say her dream is coming true.
Leily began giving back to those in need when she was 7 years old. With the help of her mom, Leily would gather all the toys and clothing she felt she did not need anymore, as well as she would ask her friends and family to do the same, and she would head to shelters and clothing banks, where she would donate everything. She is advocate for the rights of women, children, and animals. Last year Leily travelled to Colombia, Ecuador and Panama, where she volunteered at different centres that help women and children who are victims of abuse. She was very saddened to learn about how much abuse and injustice many women still suffer today. She was particularly unhappy with the mistreatment against mothers and expectant mothers. Her dream is to one day be able to help unfortunate families, by providing pro bono health services, and be able to help with the transition to motherhood.
Leily believes that with her selflessness, passion, hard work, and dedication, she will be able to make all of her dreams come true, and be able to make a significant contribution to her community.
Video
Q&A
What are your interests and what do you enjoy doing the most?
I really love volunteering and taking part in my community. I especially like working with children and women in need of support. I also love being active. I love working out, running and playing sports.  Some sports I enjoy are tennis, volleyball, skating, snowboarding and soccer. I also like to spend time with my family and friends. Travelling is also a huge passion of mine. I love meeting new people, learning about new cultures, and seeing different places.
List any special training you have had (music, art, drama, dance, etc.) 
Guitar
Runway
Modern Dance
Drama
Fashion Design
In what sports, if any, have you participated?
Playing sports and being active are a huge part of my life. Some sports I have participated in are soccer, volleyball, tennis, basketball, figure skating, cheerleading, snowboarding, and dance,
Name one person, other than your parents, who has had the most influence on your life. Why? 
My grandmother has had the most influence in my life. She was a single mother with 7 children who suffered a lot of emotional and physical abuse. She came from a low-income family in a neighbourhood that offered very little opportunities for a better life. Above all circumstances, she still managed to have exemplary children, whom are now professionals in engineering and law, and whom also now own some of the top environmental engineering companies in all of Colombia. She is my role model, because she never gave up, and she has not only taught me, but shown me, how to be an independent, strong, and powerful woman and mother.
What is your proudest personal accomplishment (other than participating in this pageant)? 
My proudest personal accomplishment was getting accepted into the Medical Physics program at Ryerson University. This was very challenging as the requirements to even be considered were very demanding. I am even more proud to be one out of only three female students in my entire class.
What is the most interesting or unique thing that has ever happened to you and/or what is the most interesting thing about you? 
The most interesting thing about me, or perhaps the most beautiful thing about me is the love I have for animals. I am a huge advocate on animal rights and I believe in zero tolerance against animal abuse. I believe that someone whom is willing to intentionally hurt an innocent animal who is not able to defend itself, is a coward and is heartless. I have volunteered for different foundations that work for the welfare of animals. My dream is to one day have my own foundation that can help provide a better life for neglected animals in third world countries.
What is your career ambition and what are you doing or plan to do to accomplish that goal? 
I want to have a career in medicine, particularly in maternity. Volunteering in South America, I saw a lot of abuse against women. Particularly against vulnerable women, such as mothers, and expectant mothers. This sparked an ambition inside me to become someone whom can help these women. In order to accomplish my goal, I am in school obtaining my bachelors in science in order to then go to medical school or go in to midwifery. As well, I am continuing to volunteer, more and more each year, working with more foundations that support women and their rights.
What would be your "dream job" in life?
My dream job would be in maternity, such as an obstetrician, a midwife, or a fetal surgeon.
Describe where you were raised and what your childhood was like. 
I was raised in Miami, Florida. My childhood was pretty amazing. All this was thanks to my mother who worked very hard so that I could grow up in a community that was safe and healthy. My community was also very welcoming, friendly, and open minded. I had the opportunity to learn about different cultures at an early age, and even partook in different cultural events and celebrations. I also took part in many activities, such as chorus, guitar, modern dancing, figure skating, modelling, cheerleading, soccer, ect… My childhood was a very happy  time and I would not change anything about it.
List any interesting or unusual jobs you may have had. 
As a model, I have had the opportunity to be part of many interesting campaigns, photoshoots and shows. One of the most interesting was when I was 14 years old and I worked my first wedding show as a runway model, for that year's new spring collection. It was definitely a bit unusual being only 14 years old, and walking down the runway in different wedding dresses with a groom.
List any volunteering you have done.
I have done a lot of volunteer work, mostly with women, children, and animals. Last year I went to Colombia, Ecuador and Panama, where I  volunteered at different women's centres, where I had the opportunity to I work with many women, victims of abuse, as well as with children from violent and low-income communities. I also volunteered at an animal shelter in Colombia, where I worked to rehabilitate and find new homes for pets, who were victims of abuse, neglect and abandonment.
What is your most unusual talent?
Not sure if it is talent, but I am able to pretty much learn how to do anything just by watching youtube videos, I am very hands on and I am very creative. I have taught myself how to sew, cook, bake, style, cut and colour hair, apply makeup, among other things.
Where is the most interesting place you have been to?
Not exactly the most interesting place, but the place that has had the most emotional impact on me was when I travelled to el Cesar, Colombia with my paternal grandparents. I got to see where my family on my dad's side grew up, and I had the opportunity to meet many family members I had no idea I had. It was an experience where I found out a lot about myself, and where I come from. It was a place that truly had an impact on how I saw life then, and how I would like to see my life in the future.
What do you hope to be doing in ten years?
I hope to see myself with a career in the medical field, hopefully changing lives of those in need for the better, and contributing to my community. As well as spending time with my family, full of health and happiness. I also hope to have already travelled to over 50 countries, and still travelling, meeting new people and learning more about new cultures, which is something that truly makes me feel happy.
Is there anything you would like to add that we haven't asked?
I would just like to say how truly happy and blessed I feel to be a part of Miss Universe Canada. I can say that one of my dreams is coming true. I am very excited to partake in this journey and I am very thankful with the Miss Universe Canada organization for giving me this opportunity. I hope to make all those who are supporting me proud during the competition.