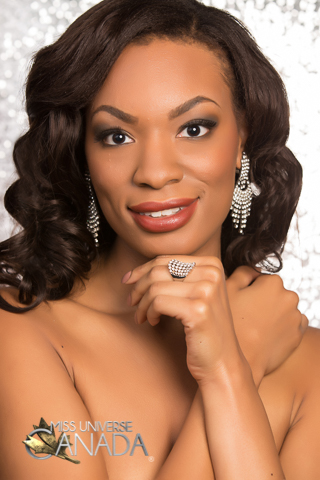 Height: 5'9
Hometown: Ajax, ON
Languages: English
Occupation: Medical Assistant
Melissa Knight was born in Montréal, QC to parents originally from the Caribbean Island of Barbados. At a young age, Melissa and her family moved to the GTA and eventually Ajax, ON where she has resided ever since.
In 2016, Melissa graduated from the University of Toronto with an Honours Bachelor of Science degree, where she double majored in Human Biology and Population Health. Always having an interest in the health sciences, university truly solidified her passion for public health initiatives, particularly in the area of child health and development. Melissa wholeheartedly believes in the importance of education, and has a lifelong passion for learning.
With an awareness for the positive impact of giving back to others, and being involved in the community, Melissa is one of the founding members of the Barbados Youth Connection Canada, a non-profit organization aimed at assisting youth in need, fostering relationships among Canadian youth with Barbadian heritage, as well as supporting, educating, and developing future leaders.
Melissa has a strong interest in promoting human welfare by increasing access to health care, where she can be actively engaged in promoting life-changing initiatives to improve health and well-being. The ultimate aspiration of Melissa's is to be able to alleviate the suffering and negative effects of individuals and communities living with inadequate access to health care services.
Sponsors
Video
Q&A
What are your interests and what do you enjoy doing the most?
I love travelling, seeing new places, and meeting new people. I also enjoy cooking and trying different types of cuisines.
List any special training you have had (music, art, drama, dance, etc.) 
I have over 10 years of dance experience in Jazz, Tap, Ballet, Lyrical and a bit of Hip Hop.
In what sports, if any, have you participated?
Basketball and Volleyball
Name one person, other than your parents, who has had the most influence on your life. Why?
My grandmother has had a tremendous influence on my life. She has continuously supported me through challenging times, and has always comforted and reassured me that I would get through anything no matter how difficult a situation may have seemed.
What is your proudest personal accomplishment (other than participating in this pageant)? 
So far my proudest accomplishment has been obtaining my Bachelor of Science degree. It was extremely challenging, but it helped to shape who I am as a person, and contributed positively to who I am today. It taught me to have perseverance, discipline, independence, and gave me the willpower to complete a task, duty, or project to the very end, despite all of the external pressure I may have faced.
What is the most interesting or unique thing that has ever happened to you and/or what is the most interesting thing about you? 
The most unique experience that has ever happened to me occurred in November 2016 when I was visiting Barbados to partake in the 50th year of independence celebrations. I was very fortunate to attend a dinner called "Toast to the Nation" which had Prince Harry of Wales as it's honorary guest, as well as superstar Rihanna who was also in attendance. I got to see both stars in person!
Furthermore, to make this day a truly one-of-a-kind experience, I attended the 50th anniversary mega concert later that evening. I was in the Presidential suite enjoying the concert when coincidentally Rihanna showed up in the same suite as me! This time I actually got to meet and take a picture with her as well as with the Prime Minister of Barbados, Freundel Stuart.
What is your career ambition and what are you doing or plan to do to accomplish that goal? 
I aspire to have a career in medicine or public health. I have my degree so over this past year my plans have been to gain work experience that is relevant to the professional career I wish to have in the future. I plan to continue acquiring knowledge, experience and skills by constantly reaching higher and pursuing greater opportunities, and may perhaps continue with my studies in the future.
What would be your "dream job" in life?
My dream job would be one in a public health-related field where I could propel the various public health initiatives that I am most keen about, such as increasing access the healthcare services in the communities that need it the most, and promoting child health among many other inter-connected initiatives in this field.
Describe where you were raised and what your childhood was like.
I was born in Montréal, QC. At a young age my family and I re-located to Toronto, ON, and eventually settled in the town of Ajax. My childhood was filled with good memories and pleasant experiences. Throughout my childhood, my family and I frequently travelled back and forth between Montréal and Toronto, since the majority of my family still lives there. I often had two birthday parties, one in Montréal with family, and the other at home in the GTA with both friends and family.
Growing up I participated in extracurricular activities at school and church. Dance was also a very big part of my life growing up.
As a child and to this day, I've had a keen interest in learning and education. I'm fortunate to have two amazing parents who have and continue to provide unconditional love, support, and encouragement.
List any interesting or unusual jobs you may have had.
Working in an extremely busy and fast-paced medical clinic has been interesting because I get to interact with all different types of people from varying walks of life and learn all about their medical histories through triaging them. I meet tons of new people every day. Because of the nature of the job, it has taught me to have compassion and empathy for others to an even greater degree than I had before.
List any volunteering you have done.
Sunday school teacher/various volunteering initiatives at church
Operation Christmas Child by Samaritan's Purse
Salvation Army
Local food banks
Additionally, over a two-year time span I volunteered at a group home for children with brain-based disabilities, which include autism spectrum disorder, fetal alcohol syndrome, developmental delay, and schizophrenia etc. This was a very eye-opening experience, as it allowed me to gain a deeper understanding of the lived experiences of these children and their family members.
What is your most unusual talent?
This may not be unusual, but I've been able to cook very well since I was about 11 years old.
Where is the most interesting place you have been to?
One of the most interesting places I have been to is right here in Canada. I visited Muskoka, ON a few years ago in late spring-time and was mesmerized by its picturesque lakeside scenery and its charm. At the time I hadn't realized how much natural beauty and diversity existed so close to home.
What do you hope to be doing in ten years?
In 10 years I hope to be established in a career where I will be actively promoting and protecting the health of all people and reducing health inequities. I hope to be a leader in propelling efforts that will improve health and well-being of all people in Canada, and possibly the rest of the world, by collaborating with the most respected health agencies.
I also hope to have a family and continue enjoying the hobbies I love, such as travelling the world.
Is there anything you would like to add that we haven't asked?
I aspire to be a role model to young girls and to help them develop the self-confidence that is required to be the best they can be. I want to be Miss Universe Canada 2017 so that I can advocate for important social issues, and use my platform to not only learn and talk about various humanitarian initiatives, but to actually enact change within Canada, and hopefully this will lead to the opportunity to do this on a global scale.