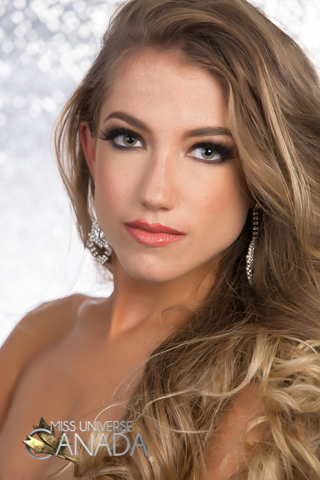 Height: 5'7
Hometown: Windsor, ON
Languages: English
Occupation: Student at University of Windsor (Bachelor of Science in Nursing)
Beautiful, diverse, friendly, and welcoming… these are words used to describe Canada, but close friends and family also use these same words when describing Melissa. Not only is she all of the above but she is also caring, determined, and ambitious. Melissa is a dual citizen of the United States as well as Canada, but has lived in Windsor, Ontario her entire life. Born to an American mother and Canadian father, she acknowledges both cultures have helped shaped who she is today, but truly embraces her Canadian roots.
Melissa Montaleone is in her second year of the Bachelor of Science in Nursing program at the University of Windsor, on her way to becoming a registered nurse. She is currently on the Dean's list, obtaining over an 85% average in her program. Ever since she was young, she has wanted to follow in her grandmother's footsteps to become a nurse. She believes nursing allows for a more personal relationship with each and every patient, which makes a greater impact on their lives. Melissa is also trying to pursue her passion for acting by participating in theatre and film productions. She has been in over 10 theatre productions, in a few commercials and music videos, and has done some modeling within the community. Melissa also loves to enjoy the outdoors and nature. In her spare time, she enjoys fishing, hiking, and kayaking. She also keeps busy by volunteering, and spending time with her family and friends. To Melissa family is extremely important. Because she has a large extended Italian family, Melissa has learned that "family" is the most important part of life.
Melissa was recently awarded the title of Miss Tecumseh 2017. This has allowed her the opportunity to get more involved with her community, and to participate in local events and fundraisers. Being Miss Tecumseh has also opened a door allowing Melissa to team up with the "Transition to Betterness" foundation, which is her charity of choice. She has also volunteered with the "I Can Bike" organization, "Children Make a Wish Foundation", "Sick Kids", and at local retirement homes. She one day hopes to travel to a third world country where, as a nurse, she can do mission work and help those who don't have access to proper medical care.
One of Melissa's future goals involves becoming a nurse practitioner. Through hard work and dedication to her profession, she hopes to have the opportunity to make a positive impact on her patients, offer comfort and compassion, and save lives. Melissa hopes that Miss Universe Canada will give her a platform from which she can make a greater difference in her country, through being a spokesperson, and raising donations for many charities such as "Transition to Betterness". Her dream is to see programs that offer comfort care to terminally ill patients and their families in every major city across Canada. She also hopes to inspire women of all ages to be determined, proud, and to follow their dreams. Melissa is very excited to have the opportunity to possibly represent Canada, and to be a role model for every woman across our great nation.
Sponsors
Video
Q&A
What are your interests and what do you enjoy doing the most?
I have an incredible passion for acting in theatre and film productions. At the age of 11, my mom put me in a children's theater company, and I fell in love with the art. Since then, I have been in various musicals, commercials, short films and music videos. I also enjoy spending my free time in the outdoors. I love fishing, kayaking and hiking with friends and family. Since I was old enough to hold a fishing rod, I've been fishing with my dad and grandfather. Enjoying nature is a great way to relax and is a stress reliever for me.
One thing that I love doing the most is helping others and knowing I made a difference in some small way. As cheesy as it sounds, I love being able to see that I can make an impact on others' lives for the better. I was taught by my parents to put others before myself, and I enjoy doing that through volunteering and nursing.
List any special training you have had (music, art, drama, dance, etc.) 
Tap, Jazz, Ballet – Nancy Pattison's Dance Studio
Vocal lessons – Windsor Light Orchestra's Susan Bellaperch
Piano lessons
NY Broadway Classes: Quick Wits and Acting up
Four years of acting classes at Villanova High School
Acting workshops – Fusion Talent Agency
Acted in many theatre productions, commercials, music videos, and short films
Modeling within the community
In what sports, if any, have you participated?
I played soccer for about four years.
Name one person, other than your parents, who has had the most influence on your life. Why?
Even though he is not technically a "person", I would have to say that God has had the most influence on my life. My faith is very important to me, and has played a big part in shaping who I am today and the morals that I hold. He has taught me to be strong through difficult times, love one another, and to be a positive influence wherever I can.
What is your proudest personal accomplishment (other than participating in this pageant)? 
I have two very proud moments in my life:
One is that I recently won the title of "Miss Tecumseh". The town of Tecumseh is a part of Windsor Essex County. They put on a well-respected pageant which has trained many girls who have continued on to Miss Universe Canada. Through my experience in the pageant, I've gained valuable interviewing skills, stage experience, community involvement, and made many good friends. I truly got to witness how great of an impact being in a pageant can have not only on the contestants, but on each and every other person we reach out to help. I am very excited to now be working with the charity "Transition to Betterness" because of this pageant.
Another great achievement was finally getting into the nursing program at the University of Windsor. Ever since I was young, I wanted to be a nurse like my grandmother and aunt. After one year of Prehealth courses, I received early acceptance into the Bachelor of Science in Nursing program with a 4.0 grade point average.

What is the most interesting or unique thing that has ever happened to you and/or what is the most interesting thing about you? 
One unique thing about me, is that I share my birthday with my mother.
An interesting fact about me is that I am a dual citizen of both Canada and the United States.
What is your career ambition and what are you doing or plan to do to accomplish that goal? 
My career ambition is to become a nurse practitioner. I am currently enrolled at the University of Windsor, working towards my Bachelor of Science in Nursing. Once I complete my degree, I will obtain experience in the nursing field for at least two years, then return to school to work towards a Master of Science in Nursing degree. I would then like to do mission work in foreign countries and help those in need of medical care.
What would be your "dream job" in life?
My dream job would be doing something that I love to do. I know nursing is a tough job, but I'd love to dedicate my life to a job where I am making such a great impact on other people's lives. I also have a strong passion for acting, and if there was an opportunity where I could be a nurse and act on the side, I would love it.
Yes, I am currently a student. I am in my second year at the University of Windsor, on my way to becoming a registered nurse.
Describe where you were raised and what your childhood was like.
I was born in Michigan, but raised in Windsor, Ontario. I was blessed to have such a great childhood. I am grateful that I was raised by such attentive, and loving parents who have helped shaped who I am today. I have a sister three years younger than me, and she is my best friend.
My dad's side of the family is Italian Canadian. I grew up with all the Italian traditions… from making homemade sauce, to having big family parties. I am blessed to be close with second and third cousins. It was instilled in me at an early age the importance of family, and how we should always be there for our friends and family.
Unfortunately, in my mid-teens, my parents got a divorce. It was a hard time for myself and my younger sister, but looking back now, I believe everything happens for a reason.
List any interesting or unusual jobs you may have had. 
One of my first jobs was working as a server for Seasons Royal Oak Retirement home. It confirmed the idea that I would like to become a nurse one day. I loved coming to work and listening to all the interesting stories from the elderly residents. But what really struck my emotions was seeing people who don't have anyone ever coming to visit them. It is truly heart breaking to see someone eat by themselves, while others are surrounded by family and friends on Christmas. It changed my perspective on things, making me more empathetic towards others.
List any volunteering you have done.
From the time I was 13 I volunteered at Seasons Royal Oak Retirement home up until they hired me. I went there weekly helping with activities and offering companionship to the elderly.
Children's Make a Wish foundation
Sick Kids
Transition to Betterness
Terry Fox Run
Children's Festival
Tecumseh Corn Festival
I Can Bike
Volunteered at elementary schools in Costa Rica
Riverfront Theatre Company
What is your most unusual talent?
I wasn't too sure how to answer this question so I asked my family if they can think of an unusual talent that I have. They suggested that I say a talent that I have is that I put a smile on everyone's face. I am always smiling, and it is contagious. My mom said my first word was "hi" and I would say it to anyone and everyone who walked by me.
Where is the most interesting place you have been to?
The most interesting place I have been to was Costa Rica. I had the amazing opportunity to stay for a week at a research station with other people through school. It was outstanding to live in the middle of the rain forest exploring Costa Rica, and volunteering. I experienced extraordinary things, such as riding a horse through rolling hills to a natural spring, seeing monkeys swinging from the trees above me, hiking to the top of a volcano, and zip lining over the tree tops.
What do you hope to be doing in ten years?
In ten years I hope to have had the experience of traveling to third world countries as a nurse, and had the opportunity to help those who do not have access to proper medical care. I'd like to be working as a nurse practitioner, while having a family, and being the best mom and wife I can be. I can also see myself volunteering in my community during my free time.
Is there anything you would like to add that we haven't asked?
The only thing I can think of to add is the reason why I would like to become Miss Universe Canada 2017… Being Miss Universe Canada would allow me to represent all women within my great country. I believe it is a platform from which I would be able to make a difference and bring awareness to issues and problems that plague our society today. I'd love to have the opportunity to be a positive role model for young women and girls throughout Canada.
As Miss Universe Canada, I would also like to see the expansion of the "Transition to Betterness" charity which offers comfort care to terminally ill patients and their families. I would like to see these programs operating in every major city across Canada.