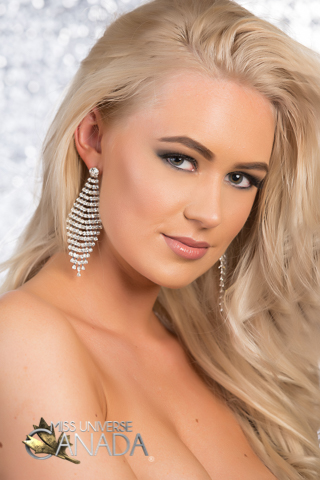 Height: 5'8
Hometown: Chicoutimi, PQ
Languages: English, French
Occupation: Nurse Clinician
Nadia was born and raised in Saguenay, in the province of Quebec. She describes herself as a spontaneous, adventurous, positive, ambitious and hardworking person. As far back as she can remember, Nadia enjoyed playing nurse and helping people. She graduated from the University of Chicoutimi in 2017 with a Bachelor of Science in Nursing and she's currently working as a nurse clinician. One of her dreams is to do humanitarian aid as a nurse and to help people in need. She is currently volunteering for an organization called "La Fondation de ma vie". This organization was created to raise money for the development of a hospital in her hometown and to obtain better medical equipment in order to provide the very best care to the city's residents. Nadia dreams of one day opening her own medical clinic as nurse practitioner, in order to help contribute to maintaining the well-being of as many people as possible.
Nadia's inner child makes her appreciate the little things in life. Travelling, painting, writing, sports, photography, modeling, cooking or singing in the shower are just few things she loves to do. She loves to keep busy and is constantly in search of things to do. As a nature lover, in the summer, she enjoys hiking and seeing the beautiful Canadian landscapes. She loves cross-country skiing whenever snow is on the ground. Last winter, she completed a 20 km cross-country skiing race in her city and finished in the top ten. Just ask her what she wants to do next and she will show you her thirst for challenges!
Because Nadia is always open to new opportunities to learn, she will put herself in situations where she's out of her comfort zone. She strongly believes it's the best way to grow and evolve as a person. This explains her passion for travelling, and she would not be afraid to travel the world by herself.  Very open-minded, she likes to learn about different cultures and to meet different people from all around the world. Her most recent trip to Europe made her realize her passion to discover new things.
Nadia was very shy as a child. She had difficulties socializing with other people and found it very challenging. She asked her mother if she could join a modeling agency in an attempt to learn more about herself. At that moment, she realized her potential and began to feel more confident. Since then, she has done TV advertising, numerous fashion shows and a campaign for a clothing brand in Quebec. Entering the Miss Universe Canada competition is, for her, an amazing opportunity to be a positive role-model for people all across the country and to show that it's possible to become the person you want and to achieve your dreams.
Sponsors
Video
Q&A
What are your interests and what do you enjoy doing the most?
There are a lot of things I like to do. I love traveling, modeling, photography, cooking and cross-country skiing in the winter. During the summer months I enjoy hiking, spinning, dancing and fitness.
List any special training you have had (music, art, drama, dance, etc.) 
I learned electric guitar when I was young. I'm also very artistic so I like to paint, write (I'm actually writing a book), dance and sing (in the shower).
In what sports, if any, have you participated?
Cross-country skiing (I did a 20 km competition last winter). I'm an active person; I really like to go on day-hikes in the summer. I train at the gym three to four times a week to keep a healthy lifestyle. I also do spinning. When I was young I played soccer, volleyball and tennis. I also did cheerleading and swimming.
Name one person, other than your parents, who has had the most influence on your life. Why?
The director of my modeling agency when I was young has had the most influence on my life because she taught me about ethics and good manners. She also helped me to develop my social skills in many ways, and is always there to help me when I need advice.
What is your proudest personal accomplishment (other than participating in this pageant)?
Travelling alone for one month was an amazing experience and I learned a lot from that. Experiencing different cultures is one of the most wonderful things because you not only learn about other people, but you also learn about yourself.
What is the most interesting or unique thing that has ever happened to you and/or what is the most interesting thing about you?
The most interesting thing that has ever happened to me is the day I realized that I had a good, loving family, amazing friends, a rewarding job and a wonderful life altogether. While many have such wonderful lives, they are often overlooked or underestimated. So my gratitude is something unique about me, I appreciate every little thing in life.
What is your career ambition and what are you doing or plan to do to accomplish that goal? 
I always wanted to make people around me happy and make people laugh. Being Miss Universe Canada is an incredible opportunity for me to do that and to make a difference in people's lives by being a positive role model. It would also help me to achieve one of my dreams: to open a medical clinic and to do humanitarian aid. I think Miss Universe would be the perfect platform for me to grow as a person and to reach my goal.
What would be your "dream job" in life?
To help people in any way I can, every day of my life and to make a small difference in their day, well, this is my dream job.
Describe where you were raised and what your childhood was like.
I was raised by my parents in a small city called «Saguenay». I had a lovely childhood. I owe everything to my parents, they raised me with unconditional love and I hope to raise my children the same way one day. They taught me good values such as respect, honesty, family and self-accomplishment.
List any interesting or unusual jobs you may have had.
I did modeling for almost 10 years. I did TV advertising, fashion shows and a campaign for a clothing brand in Quebec. While I was studying in nursing school, I was also working in a place where I taught people to use golf simulator. The only problem was that I never played golf. Thankfully, no injuries happened and I did a pretty good job!
List any volunteering you have done.
I am currently volunteering for an organization called "La Fondation de ma vie". We raise money for the development of the hospital in my city and to have better medical equipment to give the very best of care to the residents. I also signed up to volunteer for the Red Cross because I really want to make a difference in people's lives. Just seeing someone smile is worth all the riches of the world.
What is your most unusual talent?
I can touch my nose with my tongue.
Where is the most interesting place you have been to?
I travelled alone with my backpack to Iceland, Ireland and France for one month. I saw the most beautiful things I could imagine. One moment I will never forget is when I was standing in front of Seljalandsfoss, a waterfall in Iceland. Nothing is more recharging than being so close to nature and to feel so small in front of these wonderful landscapes.
What do you hope to be doing in ten years?
In ten years I hope to be working the job of my dreams, making people around me happy, traveling and having a loving family.
Is there anything you would like to add that we haven't asked?
When I was young, I was very shy and I wasn't able to talk to people. One day, I realized that it wasn't helping me to be like that. I decided I would get out of my comfort zone and develop my social skills by joining a modeling agency. Today, I'm advising patients as a nurse clinician. I think everything is possible and I would like to be a role model for people and show them that they can become the person they want to be, if they put in the time and effort.