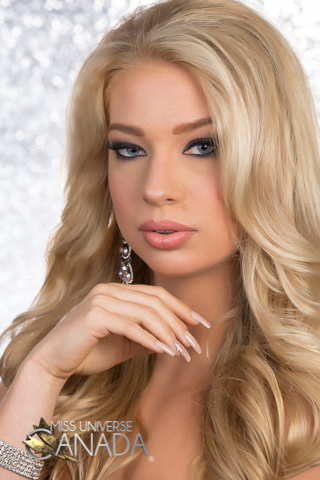 Height: 5'5
Hometown: Coquitlam, BC
Languages: English, Polish (conversational)
Occupation: Student at Simon Fraser University (Biomedical Physiology)
Natasha was born in the beautiful city of Vancouver, British Columbia. She is a dedicated, confident and compassionate individual who is not afraid to try something new. She strives to do her best by viewing obstacles as challenges that can be overcome with hard work, commitment and perseverance. She currently attends Simon Fraser University and is in her third year of studies in Biomedical Physiology with the goal of becoming a surgeon specializing in cardiology or neurology. Natasha is dedicated to her studies. She graduated post secondary receiving the gold scholar award and was the recipient of the Dean's Academic Excellence Scholarship – Science towards her undergraduate degree.
When Natasha isn't studying or working she enjoys getting involved in her community by participating in numerous events such as volunteering or fundraising for various charities. She has learned that volunteering allows for connection with the community and can make a real difference in one's own life and of those around. One organization that she holds close to her heart is a program called Sole Girls, which she has spent the last 4 years volunteering. Sole Girls is an empowerment program in which she helps mentor young girls, ages 8 through 12, with self-esteem, confidence, healthy living and being physically active.
Natasha has been practicing martial arts since she was 8 years old and earned her black belt at the age of 14. In her spare time she volunteers as an assistant instructor mentoring and instilling confidence in young children. The performing arts have been an integral part of Natasha's life. She has danced competitively in various genres: tap, lyrical, jazz & hip hop. She has performed in several musical theatre productions and has completed a masters professional acting program. Natasha currently dances in a competitive Elite HHI Hip Hop Megacrew called Kings.
In her free time, Natasha maintains a healthy lifestyle and stays active by going to the gym, practicing martial arts and dancing. She is an animal lover, enjoys reading, target shooting, camping and spending time with family & friends.
Natasha's platform is to be a positive role model for all individuals, empowering them to strive and believe in themselves. She wants everyone to know that they are beautiful inside and out. Her motto is "dare to be you". Natasha is honored to be a national delegate enabling her to promote positive change and inspire others to follow their dreams.
Sponsors
Neal Machek Fitness
,
Salon Montage
,
Commodore Ballroom
,
Polish Friendship "Zgoda" Society
,
Vancouver Symphony Orchestra
,
BC Lions
,
Lafflines Comedy Club
,
Vancouver Canadians
,
PNE Pacific National Exhibition
,
DAVIDs TEA
,
Boston Pizza
, Family & Friends
Video
Q&A
What are your interests and what do you enjoy doing the most?
I have found that a lot of the interests I take part in are activities that have challenged and allow me to grow as an individual. I enjoy dancing, martial arts – karate, acting, camping, reading, volunteering, target shooting, pageants, working out, spending time with family and friends and traveling. It's tough to choose what I love doing the most as all of these individual experiences have molded me into the person I am today. However, I have found that volunteering has created the most significance impact in my life. I've been able to discover that volunteering connects you to others and your community; you learn new skills, take on challenges, promote positive change and make a difference in your own life and those around.
List any special training you have had (music, art, drama, dance, etc.) 
Competitive Dancing: Tap, Hip Hop, Jazz, Lyrical, and currently in a competitive Elite HHI Hip Hop team – Kings
Master Professional Acting program
Karate (Shotokan) – Black Belt
Piano (Royal Conservatory) & Flute
Musical theatre
Voice
Swimming
Server/Bartender
In what sports, if any, have you participated?
In school I always loved participating in various sports such as volleyball, and track and field. However, my passion has always led me to the dance studio. I have found dancing is a way to express my feelings in which words cannot and allows me to forget the stress of school and deadlines. I have danced competitively in various genres such as tap, hip hop, lyrical, and jazz. I am proudly part of an Elite HHI Hip Hop team called Kings.
I have also trained in the Shotokan Canada Karate Club since the age of 8 and received my black belt at the age of 14. Since then, in my spare time, I help mentor the kid's karate class in hopes that I can pass down the discipline, and knowledge I gained in my years of training.
Name one person, other than your parents, who has had the most influence on your life. Why?
One person who has always had a big impact in my life is my "Babcia" (Grandmother in Polish). She lived and experienced the war, poverty and lost both her parents when she was young. She immigrated to Canada with basically nothing, leaving family and friends behind and not knowing how to speak English. She has gone through a lot of hardship to get to where she is today. Yet, she remains strong and confident and always has a positive outlook on life and continues to put the needs of others before herself. She has built a wonderful life here in Canada, being a single mom raising two children on her own. She has taught me about values. She is compassionate, independent, hardworking and volunteers in her community. She inspires me and I am blessed to have her in my life.
What is your proudest personal accomplishment (other than participating in this pageant)? 
Although there have been many milestones in my life I have been proud of, one that has shaped me more than others is when I received the Gold Scholar Cord at graduation. The gold cord symbolized a student who demonstrated academic excellence throughout high school (grades 9 to 12). I remember hearing about the Gold Chord in middle school and making it my long-term goal to achieve this chord. Through the four years of high school (which included calculus, science and AP courses) I was able to learn about time management, dedication, and perseverance. There were difficult times, tears, and second guesses. However, it was all worth it in the end and I wouldn't change a single moment. Without all those challenges that I faced in school I would not be the person I am today. Because of this ambition I was also honored as a recipient of a Major Entrance Scholarship "Dean's Academic Excellence Scholarship – Science" upon entering University.
What is the most interesting or unique thing that has ever happened to you and/or what is the most interesting thing about you? 
Because of my desire to pursue a career in the medical field the most interesting yet gratifying experience that happened to me was being able to view two open-heart surgeries. In grade 12, I had the privilege of being present in an operating room with the surgical team and was able to watch up close both procedures. This will be an experience that I will be forever thankful for. I will never forget going home that day and saying to my parents "I want to be a surgeon". Prior to this experience I planned to go into research because I did not know if I would be able to stomach the sight of a human body being operated on. As cliché as this may sound, I was able to picture the operating room as a second home to me, and that was the moment I solidified my future ambition. This experience inspired me to be that person who can save a life.
What is your career ambition and what are you doing or plan to do to accomplish that goal? 
My career ambition is to become a surgeon specializing in cardiology or neurology. I am currently an undergraduate student in my 3rd year attending Simon Fraser University studying Biomedical Physiology. I am also proudly part of an international medical fraternity titled PhiDe Delta Epsilon. I am planning to take the MCAT exam within the next 2 years. In the meantime, I continue dedicating my time to my studies, working, and continue to volunteer in my community. After my undergraduate studies my goal is to attend Medical School.
What would be your "dream job" in life?
My dream job is to become a surgeon specializing in cardiology or neurology.
Describe where you were raised and what your childhood was like.
I was born and raised in the beautiful city of Vancouver, British Columbia. My family and I are very close and love to travel as well as experience new adventures together. I have 2 older siblings and my cat Pierre. My parents really promoted living an active lifestyle and I was heavily involved with the arts (dancing & acting) and sports (swimming & karate). I am fortunate to have very supportive parents who go above and beyond in making my upbringing full of opportunity and love and support. One of my fondest memories as a child was going camping every year with our good friends and neighbors and playing cops and robbers in the bushes followed by a round of smores at the camp fire.
One thing I love about my family is we all have a sense of humour. My parents and I often compare our family dynamics to the T.V. shows The Goldbergs and Modern Family. Half the reason for the laughs is because we can relate to the humorous situations that happen in the shows. I can honestly say there is never a dull moment in my family.
List any volunteering you have done.
Sole Girls
Shotokan Karate
BC Lung Association
BC Liver Foundation
Heart & Stroke Heart Foundation
Canadian Breast Cancer Foundation
Canadian Cancer Society
BC Children's Hospital – Child's Run
Variety – the Children's Charity
TriCities Scotiabank MS Walk
Free the Children – One Climb
MC at the Polish Harvest Festival – Polish Friendship "Zgoda" Society
Various Community Festivals & Events
Fundraising: Operation Smile, Free the Children, Variety – the Children's Charity, & Sick Kids.
What is your most unusual talent?
Not many people know but I have a love for poetry and have had three poems published in the past and won a gold medal in a poetry slam contest in high school. I admire how poetry can be cryptic, which results in everyone's perception of the same poem in different ways, and allows them to connect to the poem on different levels.
Where is the most interesting place you have been to?
One of the most interesting places I have been and go to almost every day is University. Being a University student has taught me more lessons than I can count. It has taught me how to be confident and branch out of my comfort zone. It has taught me that failure inspires determination. University has been far from a smooth ride, I am not ashamed to say I have encountered failure and without those lessons I wouldn't have realized how far I could push through the struggles and come out stronger and better than before. University has also given me the gift of knowledge; everyday I learn something new that I can apply to my daily life and in the future. This is the special thing about University that it has so much more to offer than just being a "school"; it embraces the saying "you get out what you put in.
What do you hope to be doing in ten years?
In ten years I hope to be in an occupation I love and that challenges me daily while helping others at the same time. I also hope to have a loving family where I can travel and continue to learn the different cultures of the world and what life has to offer. Although this may be my vision, I believe that everything happens for a reason so the only thing I can hope for in is to be happy, healthy, and continue to learn and grow as an individual.
Is there anything you would like to add that we haven't asked?
I am honored to have been selected as a national finalist. I look forward to this incredible journey and everyone who I will meet along the way. I would like to thank my family, friends, and sponsor for all their support and generosity; it truly means the world to me!