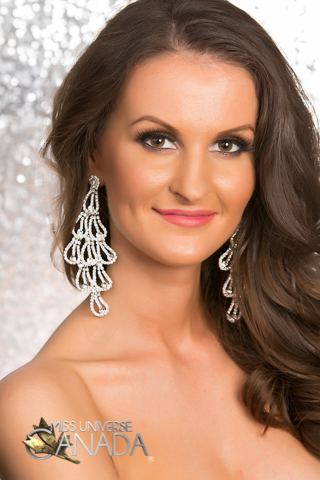 Height: 5'7
Hometown: Toronto, ON
Languages: English, Russian, Ukrainian
As a confident, creative, active and goal-oriented individual Olga Kichygina believes anything is possible with strong vision and positive approach. Believe it or not, she is both a romantic dreamer and a confident realist and she loves stepping out of her comfort zone each and every step of the way in order to achieve her wildest dreams.
She believes in Life. Life itself, as per her belief, is the greatest, marvelous and amazing event that has ever happened on Earth. It is a greatest miracle that was once created by God and was gifted to humans as an act of Love. Olga's greatest goal is to live it up to the fullest and create a positive change in the Universe with actions of kindness, generosity and love.
Olga was born and raised in Ukraine. As a child, Olga dreamed of becoming an actress. After moving to Toronto she entered the Toronto Film School to study Acting for Film, TV and Theatre. During her studies and upon graduation, she participated in various film projects and was casted for a variety of characters. Studying in film school was an interesting journey of exploration and self-discovery for her.
Since a young age, Olga was always interested in reading books related to psychology, philosophy and esotericism. She loves studying the world and discovering the infinite expanses of the Universe and its miracles. She believes as humans we have so much power within. Each and every second we can change the world with our thoughts, feelings and actions by practicing and producing positive thinking and removing all the negativity from the inner space.
One of Olga's philanthropic callings, which she dearly hopes to turn into a mission, is to help children in need across the world. She believes there's nothing more attractive in a woman than her kind heart, her hand given to someone in need, her love of children and sympathy for sorrows of others.
If Olga was to win the title, she would use it as a platform to help orphaned kids who were abandoned by their parents. She believes in making our world a better place to live in by being a positive change she wants to see in it!
Sponsors
Video
Q&A
What are your interests and what do you enjoy doing the most?
I absolutely love singing! Singing is my favourite hobby. Since childhood I dreamt of singing professionally. I enjoy singing along to my favourite music compositions when doing activities.  It makes my day so much   brighter!
I also enjoy things like yoga, modeling, photography, traveling, drawing, esoterics, philosophy and psychology.
I love reading biographies of famous successful people. It inspires me to believe in my dreams and achieve my personal goals!
List any special training you have had (music, art, drama, dance, etc.) 
I have attended dancing and theatre classes in Ukraine during my high school years.
In what sports, if any, have you participated?
Volleyball
Name one person, other than your parents, who has had the most influence on your life. Why?
It is very interesting how the Universe connects everything and everyone in a right place and most importantly at the right time. I believe everything happens for a reason. As I mentioned, I have always loved singing. One time I was speaking to priest in a Russian Orthodox Church about how it is not easy for me to find my calling. He invited me to become a part of a church choir not knowing that I love singing.  At that time it meant a lot to me. I was able to enjoy doing what I love to do while serving God using the gift He has blessed me with. It was really wonderful and inspirational moment and a true blessing! 
What is your proudest personal accomplishment (other than participating in this pageant)? 
My proudest personal accomplishment is placing 3rd runner-up in a local beauty pageant in my hometown in Ukraine.
What is the most interesting or unique thing that has ever happened to you and/or what is the most interesting thing about you? 
The most interesting thing that ever happened to me is my childhood dream becoming a reality. Since the time I remember myself I loved watching movies. Every time I watched a movie I wished to be inside of the movie, I was wishing to become one of the characters I saw on screen so to be closer to all those amazing heroes. I remember how I wanted to "jump" into the movie and be there with all those incredible personages whom I loved. I wished to experience adventures they are experiencing and to go through the obstacles they are facing. The dream was so big that I started thinking of how I can make this dream a reality. It was then when I discovered my passion for stage performance, art, film and TV industry. I begun taking theatre classes as well as actively participate in school events which required stage performance. I was staging small theatrical productions, dance numbers, created scenarios for shows, organized and hosted them. Show hosting was one of my favourite school jobs.
That itself led me to enter Toronto Film School where I studied Acting for Film, TV and Theatre. On my final year of studying, I was happy to fulfill my dream. I was invited to play lead characters in various student's projects, including an episode in a feature film which was premiered at one of the local Toronto cinemas. It is interesting how the premier took place on a day of my birthday which is September 29th

This was such a gift!
One of the requirements to graduate for us as an actors was to make our own short movie. Which meant coming up with a story idea, writing script, organizing crew, directing and acting as lead character in a movie. That's when I discovered love for film production. This is absolutely magical and amazing process! Just seeing how your dreams and thoughts lay down on paper when you are writing a script… Doing casting and finding people who look exactly like characters from your imagination; overseeing them portraying your ideas. Acting as a lead character. Finally, making story to come to life by doing video editing with your own hand. This whole process is amazing! I never thought I would enjoy the process of film production that much! The more I discovered different aspects of filmmaking, the more I fall in love with it and the more opportunities began to reveal. I absolutely love everything related to filmmaking. I believe there is no such more magical experience than being a part of the world of movie making.
At this point of my life  I could say I am absolutely happy I had one of my greatest dreams come true and I have a feeling there is still so much to come!
What is your career ambition and what are you doing or plan to do to accomplish that goal? 
I would like to tie up my career goals with TV, film and broadcasting industry as well as stage performance, show hosting and modeling. I believe Miss Universe Canada 2017 is a great platform for such an ambition. The pageant provides a great opportunity to showcase talents and abilities through various aspects of it.
One of my other personal and career related goals is to improve lives of orphaned and sick children. Especially those children who have congenital or acquired diseases and who were abandoned by their parents because of their sickness. This topic touches my soul very deeply for some reason and I am very sensitive when it comes to children's needs. As those children deserve much more love and care than those kids who live in full-fledged families. My goal is to help them to find loving and caring families as well as to raise funds for their treatments. Every child deserves a home! We can make our world a better place to live in by raising awareness about such causes as well as not remaining indifferent and giving out as much as we can – to the best of our ability!
What would be your "dream job" in life?
Miss Universe 2017
Describe where you were raised and what your childhood was like.
I was born and raised in Ukraine in the family of a Russian father and a Ukrainian mother. I spend my childhood among beautiful nature. The house where I was living was surrounded by boundless fields and green forests. I remember how I loved watching sunsets from the window of my balcony. Ukraine is famous for its nature, traditions and endless beauty! In my heart I dearly adore and respect my slavian roots and richness of Ukrainian culture.
List any interesting or unusual jobs you may have had.
I have always been passionate about changing lives and making a positive impact on people, community, World, Universe – in fact!  One of the most interesting and valuable jobs I have done is related to charity.  In 2013 I was representing World Vision through TNI Network Inc.  My mission as a World Vision representative was to meet people at their homes and give presentations about our charity and the work we do.  I was explaining needs of children who live in a third-world countries and explaining how by sponsoring a child we can help to build a new community as well as provide children with access to clean water, nutritious food, education and health care.
Every time I have connected a child to their sponsor,  I felt a sense of joy in my heart. I could see I am making a real difference by giving children a new chance in life, changing their lives and making a positive impact. I was truly changing the world!
List any volunteering you have done.
I volunteer at the Russian Orthodox Church.
What is your most unusual talent?
I can speak with cartoon voices

Where is the most interesting place you have been to? 
I absolutely love New York!!
What do you hope to be doing in ten years? 
I believe every human is a creator. Co-creator, to be precise. Each of us is given a blank canvas where we paint our own life. The print of the painting does not disappear, but remains in a memory of the Universe instead. Just like the Milky Way, but unseen to man's eyes. We are also given paints. What are those paints? Paints are our aspirations, beliefs, decisions, actions, attitudes  and many-many others. In ten years I see myself still creating a wonderful colorful painting! The one that is full of love, happiness, harmony, unity, help to others. I would love to see all of my personal and career goals achieved. My dream is to know by that time I have impacted people's lives in a good way and have truly created a positive change in the Universe!
Is there anything you would like to add that we haven't asked?
I would like to thank the Universe and Miss Universe Canada organization for giving me an opportunity to be a part of Miss Universe Canada 2017.
Being "confidently beautiful" means staying true to God, to yourself, to your own beliefs while being generous to others. Accepting yourself fully, and loving yourself unconditionally for the way you are. Because only by loving and accepting yourself without any conditions, you nurture your ability to love another in the same way. Beautiful woman is the one who, first of all, creates love in her heart and produces it to the world supporting it with acts of generosity, thoughtfulness and care.
One of the greatest women in history and one of greatest lead examples  to me personally Mother Teresa once said: "If we have no peace, it is because we have forgotten that we belong to each other". I would like to lead other people by this example letting them know that we can only create peace on a planet if we create peace within ourselves. Therefore, I would like to encourage women to not only to adore their unique own beauty gifted by God, but also to accept themselves for who they are and be brave enough to open up their hearts to the world so that unconditional love can heal the wounds of the planet. 
"Spread love everywhere you go. Let no one ever come to you without leaving happier" – Mother Teresa