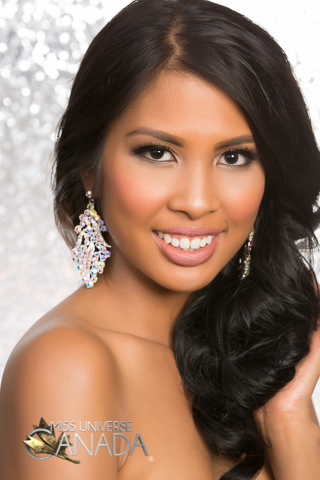 Height: 5'7
Hometown: Mississauga, ON
Languages: English, Tagalog
Occupation: Entrepreneur & Event planner
Regine Semira, 26 years old born in Scarborough and raised in Mississauga. Although born a first generation Canadian, Regine was raised with both Filipino and Canadian values and traditions. Family is very important tor Regine and loves surrounding herself with positive, outgoing and like-minded people.
Regine has competed in numerous pageants; local, provincial, national and internationally since 2010 and has grown tremendously from each pageant. In 2012 she competed in the Philippines where she represented the Filipino community of Toronto. During her stay in the Philippines she was able to train with the best trainers of the Philippines! While abroad she also had the chance to travel to many beautiful islands and learn more about her culture first hand. In 2014 she took a break from competing in pageants and decided to take her experience to help younger girls achieve their dreams and make them a reality. It was in 2016 she decided to get back on stage and compete in Miss Canada's Top Choice 2016 where she won the title! She is happy to be able to utilize all of her experience from each pageant and the people she meets along the way to become the woman she is today.
Regine is as well a graduate from George Brown College's Special event planning program, she has a fond passion for non-for profit organizations and fundraisers. With her educational background and as an entrepreneur, she is involved in many community events, fundraisers, and empowering those around her. For the past few years, Regine has been the Event Planner and is a Sponsorship Committee Member of the 540 Golden Hawks Oakville Air Cadet squadron. She loves planning fundraisers for the many charities she is involved with and every summer there's a good chance you will bump into her at an event in Mississauga and many of the Filipino community events in the GTA. Regine is also an entrepreneur for Sparkles and Events, where she brings her passion for cosmetics, helping people build their self-confidence and event planning.
Regine believes in giving back to her community and those who need it most. Her motto is, always be willing to lend a helping hand because you never know whose life you may change.
Sponsors
Buffboy fitness
, Agnes Miranda – RBC Top 25 Canadian Immigrants 2017, TDS Logistics,
Islington Chrysler
,
Canada's Top Choice
,
Gizele Mirasol – Re/Max Realtor
,
Indigo Tree Coaching
,
Toronto Advertising Ltd
,
Imperialis
,
The Love INCS Lifestyle
,
Oblivion Graphics
, Family and Friends
Video
Q&A
What are your interests and what do you enjoy doing the most?
Besides my interest in pageantry and being on stage, I enjoy being outdoors. I enjoy hiking, kayaking and site seeing. I love learning about new cultures, listening to new music genres, trying new foods and visiting new places. My passion for event planning has also allowed me to combine both my passions of charity and community involvement by planning multiple fundraisers in the past few years. I am currently the Event Planner and a member of the Sponsorship Committee of the 540 Golden Hawks Air Cadets of Oakville.
Recently I have gained interested in doing hair and makeup for people, I have always done it on myself but seeing their reactions and feeling beautiful about themselves is such a rewarding feeling.
List any special training you have had (music, art, drama, dance, etc.) 
Event planning
Catwalk training
Modelling training
Certified Custom blend foundation Specialist
Certified Skin care specialist
In what sports, if any, have you participated?
Over the past few years my passion for staying fit really developed. I used to be the girl that dreaded gym class but now I take every chance I get to go for a run, go kayaking, hiking and bouldering.
Name one person, other than your parents, who has had the most influence on your life. Why?
I have met so many influential people in my life and many of them have helped me along my journey in life. My family and friends have made me who I am, especially my grandmothers. If I had to mention one, it would be my grandmother – Lola Thelma. She has always supported all my life endeavors and she definitely lives by example. Not only does she lend a helping hand and have a heart of service, but she also accomplished her own goals in being a Judge. By seeing her accomplish her dreams, it inspired me to reach my dreams no matter how big. She has always encouraged me to dream big, work hard, love everyone, laugh loud and enjoy the small things in life.
What is your proudest personal accomplishment (other than participating in this pageant)
One of my proudest personal accomplishments was travelling to the Philippines on my own at the age of 18. I was nervous because the farthest I have ever travelled alone at that point in my life was an hour, so travelling for over 24 hours and having two different stops along the way was a journey in itself. That experience taught me how to keep myself occupied, and taught me how to become independent. That experience also brought out my interest in traveling.
What is the most interesting or unique thing that has ever happened to you and/or what is the most interesting thing about you? 
Something interesting about me is that I love to multi-task. I am always on the go with a new project, and have been told by many people that they're amazed with how much I do but make sure everything is organized and done to perfection.
What is your career ambition and what are you doing or plan to do to accomplish that goal? 
I have always loved helping those in need, and with my education and experiences with event planning, I would love start my own non-for-profit organization one day. I especially love working with children and families. I am currently building my network and using my pageant platforms to help me get there. Hopefully Miss. Universe Canada will also be an amazing platform to help me accomplish my goals.
What would be your "dream job" in life?
A dream job to me, is being able to help someone new every day. I would love to combine my past education of Event Planning and Child Youth Worker together. I have always wanted to open a daycare or a safe place for children with special needs and for newcomers with a low income.
Describe where you were raised and what your childhood was like.
I was born in Scarborough and as a child I moved back and forth from Scarborough to Mississauga until settling in Mississauga when I was 13 years old. Although I was born in Canada, I was raised traditionally Filipino, eating the delicacies, understanding the language and learning the cultures and beliefs.
When I was 3 years old my parents decided to go separate ways but I never felt that it had a negative impact on my life.
When I was younger I was a very shy child, so during the week my mother made sure I stayed active so she signed me up for swimming, Jazz dance, singing, skating and tennis. I spent most of my weekends with my father and cousins in Pickering where we would play Nintendo 360, create crafts and tried selling them to family members, reenacted the Power Rangers, where I was always the pink Ranger, and had family parties almost every week!
I believe my childhood is where my personality was formed, being surrounded by my family and meeting new people has definitely made me a social and loving individual. Until this day I have remained friends with people in all 4 elementary schools I attended.
List any interesting or unusual jobs you may have had. 
I used to work as a Brand Ambassador for many companies and for many big events in the city of Toronto. Each day was different and every company I worked for was unique. One of the most interesting jobs was definitely working during the PAN AM Games. I worked with amazing people and met so many new people as well. It was great being able to put a smile on everyone's faces as they waited for games to begin, to root for Team Canada with the crowds and to engage with contests going on. It was great to witness history being made in our city and it was truly a once in a lifetime opportunity.
List any volunteering you have done.
From a young age my parents always told me it is better to give than to receive so when I find the opportunity to help the community and work with charities I take it!
Some of the charities and not-for-profit companies I have worked with are:
Light of Jesus Canada
540 Golden Hawks Air Cadets of Oakville
Light the Night Toronto – Leukemia & Lymphoma Society of Canada
Canada's Top Choice
Philippine Independence Day Council (PIDC)
Gawad Kalinga
GMA Kapuso Foundation
Youth Day Global Toronto
Cystic Fibrosis Canada
What is your most unusual talent?
I think an unusual talent I have is having the ability to remember faces and names. Ever since I was younger my mother would tell me I had too many friends and it wasn't until I got older that I realized it's true! Wherever I go, no matter what city whether it be in a restaurant, on the streets or in a store I always find someone I know and catching up with them is never awkward because I remember one fun fact or story they've shared with me.
Where is the most interesting place you have been to?
The most interesting place I have been to was Las Casas Filipinas de Acuzar in the Philippines. They take historical buildings and homes from the 18th century and bring them to this beautiful resort. It is said that the spirits left in the homes came with them which makes for good story telling, especially since when we stayed there it was raining and we had a few black outs! It was memorable, beautiful and had a thrill of excitement. I definitely want to go back and explore the other buildings there.
What do you hope to be doing in ten years?
In ten years I hope to have a healthy and happy family, have the time freedom to spend time with loved ones and to be living a life that I love. I also have a dream board which I look at every day, on it I have photos of all the places I want to travel to, photos of people I want to meet, my dream home and dream cars. I hope in 10 year years I have accomplished everything on that board and more.
Is there anything you would like to add that we haven't asked?
I just wanted to take this opportunity to thank everyone who has encouraged me, believed in me and helped me financially to make my dreams and goals a reality!
A special thank you to Beauties of Canada for giving me this opportunity of a lifetime and for the endless hours you all put in for making this pageant memorable for all of us!
I never thought I'd would be on the Miss Universe Canada stage and now it's happening all thanks to the amazing people in my life!! From the bottom of my heart, thank you! Maraming Salamat po!