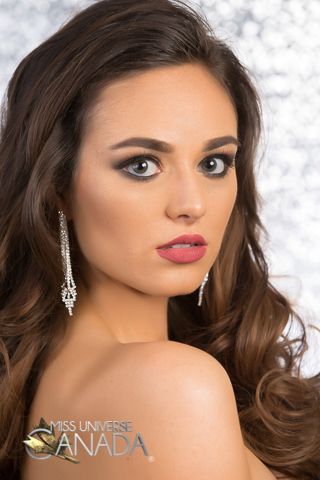 Height: 5'8
Hometown: Fort Saskatchewan, AB
Languages: English
Occupation: Lifeguard & Swimming Instructor. Model.
Samantha Fraughton is an artist and an activist. Her driving passion has earned her a Bachelor of Arts from the University of Alberta's distinguished drama program with a minor in philosophy.
Although she now lives in Edmonton, Samantha is proud to call Fort Saskatchewan her hometown, where she has been honoured with both the City leadership award and ambassadorship to the city. She is an active leader in her community, volunteering often for charitable events and is a present voice in the theatre scene. In addition to acting, Samantha enjoys writing, directing, and designing theatre productions. Furthermore, Samantha is an award-winning pianist, and has been both a supporting act to professional musicians and played as part of a headline show. In her spare time, she volunteers at hospitals and seniors' homes bringing music therapy to the residents. Her hobbies include sculpting, painting, and photography. Being very interested in Canadian history, Sam is currently developing a documentary about the former mining town of Uranium City, Saskatchewan.
Samantha is an acclaimed swimming instructor, who coaches springboard diving, indoor kayaking, and two Junior lifeguard clubs; she also specializes in teaching advanced lifesaving courses and first aid skills designed for high school students.
Samantha is fiercely enthusiastic about mentoring and working with at-risk youth, and she considers herself fortunate to be able to be a positive influence to numerous kids every day. Working with children diagnosed with autism is an experience that she finds especially rewarding and feels that by building relationships, and investing in a child's life, social change is entirely possible. Being a role model is something that Samantha values very much, and the position of being a mentor is one that she never takes for granted.
On top of her many artistic and volunteer accomplishments, Samantha's continued interest in ethical and environmental philosophy has lead her to pursue a career as a lawyer. She successfully completed the LSAT this past June, and has recently applied for law school, for acceptance in September 2018. Samantha feels that the treatment of Indigenous people in Canada is the foremost issue of our generation, and as a lawyer, she aspires to work on Indigenous land claim cases, and advocate for the fulfillment of Treaty promises.
Samantha has competed in many other pageants, and her favourite pageant- related experiences have been when she is afforded the opportunity to speak to girls about remaining true to oneself, and breaking down stereotypes.
Video
Q&A
What are your interests and what do you enjoy doing the most?
I love every activity that can be done on the water! I waterski, wake board, surf, and love to cliff jump when I can.
I've been playing piano for most of my life, and I love playing informal music with other musicians, and arranging contemporary music for piano.
I love art; I paint in watercolour and acrylic, but my favourite thing to create is plaster cast ballroom masks. So much work goes into each one, and they reflect many levels of artistic expression.
My other hobbies include theatre, reading, and photography.
List any special training you have had (music, art, drama, dance, etc.)
I hold a BA in Drama from the University of Alberta, and am a classically trained pianist.
In what sports, if any, have you participated?
I have been an avid runner for many years, and ran the Edmonton half marathon in 2015. I really enjoy how meditative and solitary long distance running can be, and I set a goal for myself to run a full marathon this spring!
As a lifeguard and swimming instructor, I love to swim for my own enjoyment, and teach many aquatic programs. I teach advanced lifesaving courses, coach springboard diving, indoor kayaking, and I coach on two non-competitive junior lifeguard clubs.
Name one person, other than your parents, who has had the most influence on your life. Why?
My great grandmother. She was such an exceptional woman, living almost to the age of 104. From my earliest memories, she was a strong female role model in my life. She had a long career as a teacher, and was incredibly independent; she was quick-witted and fun loving, and very classy. She also attained her driver's licence for the first time when she was 72 years old! My great grandmother represents the kind of woman I continuously strive to emulate.
What is your proudest personal accomplishment (other than participating in this pageant)?
I have had many incredible experiences as a swimming instructor that taken together, I could as my proudest set of accomplishments. I helped a woman who was 70 years old overcome her fear of the water and teach her how to swim, and I connected with a nonverbal autistic girl who wouldn't swim with any other instructor. I also gave swimming lessons to a young mom from Pakistan, who told me she wanted to learn how to swim because she didn't have that opportunity before coming to Canada.
I have been very fortunate in my work to get to see people every day overcoming their fears and achieving their goals!
What is the most interesting or unique thing that has ever happened to you and/or what is the most interesting thing about you?
When I was 14, I was a finalist in the Canadian National Spelling Bee. It was such a fun and unique experience where I made friends from all across Canada that I still have today. I studied word origins and the rules of spelling, and I learned a lot about how languages work.
The word that I misspelled was 'dubiety'.
What is your career ambition and what are you doing or plan to do to accomplish that goal?
My plan is to be a lawyer. My interest in law grew out of my passion for philosophy, when I started realizing that our judicial system is the practical application of social and ethical philosophy.
I just applied for law school, for acceptance September 2018!
What would be your "dream job" in life?
I am pursuing my dream job! I am most interested in becoming a lawyer because I believe that democracy should be accessible to everyone, and in my career, I would like to see the promises of the Treaties fulfilled. I plan to work in Indigenous land claims and Canada/Indigenous relations and advocate for justice on behalf of Indigenous nations.
Describe where you were raised and what your childhood was like.
I grew up in Fort Saskatchewan, a small city in Alberta outside Edmonton. I have one sister that I have been very close with my entire life, and she and I did everything together as children (we still do a lot of things together now). My family had a pet rabbit for many years that was full of personality, and he lived to be almost 12 years old!
My family of origin is very close, and my parents, sister, and I have spent many long nights around the family dinner table laughing and sharing stories. We've always played board games, cards, and mini-golf together, and my parents have been supportive of me and my sister chasing our dreams all throughout my life.
List any interesting or unusual jobs you may have had.
In high school I was a professional pianist. I had the opportunity to open for Soaring Strings, a violin-cello duo from Quebec; as well, I played other shows in Fort Saskatchewan. There is a difference between practicing an instrument to get better, and practicing because people are paying to hear you play, and I understood that difference very quickly. I learned a lot about myself and what it takes to play an instrument at a high level, and developed a deep respect for the work that goes into creating live music.
List any volunteering you have done.
Fort Saskatchewan Canada Day festivities, 2012-2016
Administration and backstage assistance for community theatre, 2010-present
Lifesaving Society public education events, 2013- present
Keynote speaker and guest mentor to the Fort Saskatchewan Brownie Club, 2016
Front of house and technical crew for the U of A student production organization, 2012-2016
Guest mentor for Variety, the Children's Charity, 2015
What is your most unusual talent?
I can recite the number Pi to 45 decimal points.
Where is the most interesting place you have been to?
Nicaragua. I travelled there with my family when my younger sister competed in Miss Teen Universe, and I was absolutely culture shocked. I saw many things that I would never see at home, and that was my first time in a country where the primary language being spoken wasn't English. I learned a lot about my own privilege while on that trip, and it shaped many of the values and beliefs that I hold today.
What do you hope to be doing in ten years?
In ten years, I hope to be a practicing lawyer, and I hope to see the fulfillment of the promises Canada made in the Treaties with Indigenous nations. In ten years, I hope I am striving to always better myself, and finding new ways to be creative. I hope through my work and volunteer endeavours, I continue to help others who are less fortunate than I am.
Is there anything you would like to add that we haven't asked?
I'm so grateful for this incredible opportunity, and I'd like to thank my family for their continued encouragement of my dreams. My parents are tremendous supports for me, and I wouldn't be here without them!