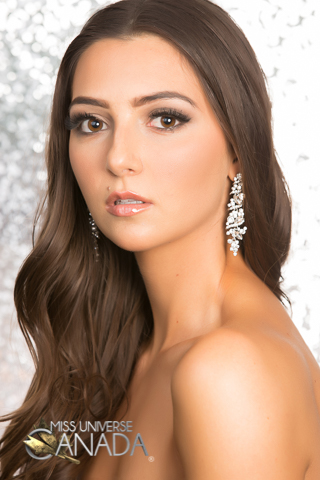 Height: 5'8
Hometown: Toronto, ON
Languages: English
Occupation: Student at York University (Education)
Born and raised in Toronto, Sasha Lombardi is a graduate of the University of Toronto with an honours degree, specializing in Social Cultural Anthropology, with a minor in Environmental Anthropology. Sasha is currently enrolled at York University's Catholic Education Centre, pursuing her future career as a teacher, educating and inspiring generations of young Canadians and dreamers.
She recognizes the special relationship between human culture and one's environment, which together play a pivotal role in social development. As a result, Sasha has traveled abroad working with orphans in locations such as Jamaica. These experiences have increased her desire and passion for philanthropic engagement within her own community as well. She has travelled back to Jamaica several times, forging long-lasting relationships with those she has visited.
Sasha's love of her community has fostered a commitment to advocacy, working for those less fortunate. As a student, she assisted in the U of T Immigrant Support & Awareness program where she was an English Second Language mentor for newcomers to Toronto. In addition to this program, she has expanded her community engagement throughout Canada, volunteering in communities such as Dawson City, Yukon working with Han First Nations Peoples and children. Through her experiences, she exudes confidence and beauty from within her heart, which is paramount when setting out to accomplish any goal. She shares this mantra with those she meets on a daily basis.
For Sasha, varied life experiences, opportunities, and social relationships are key. As a child, she grew up under the influence of her grandfather, Johnny Lombardi, who created the first multicultural radio station in Toronto. She hopes to emulate the success of her late grandfather but also use her life and her work to foster meaningful change in the world. Through her passion for diversity and inclusivity, her ambition is to instill creativity, ingenuity, beauty and confidence in each person she encounters. She is grateful for all of her blessings in life and hopes to use this opportunity, if crowned, to empower other women and girls in accomplishing their dreams. Self-confidence manifests in one's passion for life and passion for their community.
Sponsors
Video
Q&A
What are your interests and what do you enjoy doing the most?
I enjoy being active and discovering fun ways to keep my health and fitness aligned with my goals of maintaining a healthy lifestyle. I love to travel and be immersed in different cultures. I enjoy time spent on the lake and ocean, admiring nature's beauty. I also enjoy spending time on the farm with my horse.
List any special training you have had (music, art, drama, dance, etc.)
I have trained in stage, drama, television and film production. I am an accomplished photographer and I enjoy painting and other fine arts. I have also trained in rhythmic gymnastics, ballet and piano.
In what sports, if any, have you participated?
From the early age of three, I was introduced to horseback riding. This naturally progressed to various equestrian disciplines, including Dressage, Eventing, Hunter, and Jumper. I have also played soccer and volleyball. I love to swim, downhill ski and scuba dive.
Name one person, other than your parents, who has had the most influence on your life. Why?
My grandfather has had the most influence on my life. He was a wonderful, affectionate, playful man. I lived next door to him up until his passing. He was born into a poor immigrant family in 1915 in Toronto. All odds were against him. Through hard work and perseverance, he achieved great things. His career path took him into multicultural broadcasting. He taught me about diversity and inclusivity, to not only be open minded but also to have an open heart. He showed me that he still had time to play with his grandchildren, watch cartoons and make us tea. He didn't let his busy career stop him from being a good person and a sweet grandparent. Although he was a mentor to many, he was always seeking to learn from others. What I learned from him is part of who I am.
What is your proudest personal accomplishment (other than participating in this pageant)?
My proudest accomplishment most definitely is graduating from the University of Toronto. I fulfilled a passion for academic challenge and integrity. It set my path to continued learning and growth for Teachers College, which I begin this fall!
What is the most interesting or unique thing that has ever happened to you and/or what is the most interesting thing about you?
I travelled through the Mediterranean exploring archaeological sites of ancient civilizations in Italy, Greece, Turkey and Egypt. Being immersed in the contemporary cultures of these countries was an amazing and fascinating experience. It was a profound journey during which I had the opportunity to manifest my upbringing of cultural diversity and inclusivity. I experienced a vast spectrum of modern day culture, language, religion, heritage and nation. The wonders of Rome, Athens, Ephesus and Cairo were breathtaking. The people were awe-inspiring. I was most humbled at the site of the Pyramids of Giza in Egypt. I felt so fortunate to be there and at the same time, so humbled in the presence of thousands of years of civilization. I felt so proud and fortunate to be a Canadian with a solid foundation of knowledge and respect for global diversity.
What is your career ambition and what are you doing or plan to do to accomplish that goal?
My career ambition is to become a teacher. It is one of the most important roles in any community. One of the fundamental ways in which we can positively impact community, near and far, is through education. Playing a role in grooming the minds of the next generation is a wonderful calling, and a serious responsibility. To accomplish my goal, I am currently enrolled in Teachers College at York University. I will strive for excellence in my teaching, as well as in my community.
What would be your "dream job" in life?
My dream job enables me to merge my passions: teaching, philanthropy, travel and environmental responsibility. I would ultimately like to teach and speak to students across the country with the purpose of motivating them and encouraging them to reach their greatest potential despite obstacles they may encounter. My dream in life is to find happiness in all that I do and share that joy through my career and volunteer work.
Describe where you were raised and what your childhood was like.
I was raised in Toronto in a neighbourhood called Little Italy. My childhood was spent running down the street to catch the ice cream truck, going to events and playing outside with my friends. I attended several different schools growing up, which enabled me to acclimate naturally to my ever-changing school and social environments.
I regularly attended cultural events that featured performers from around the world. International music and dance shows were a routine part of my life. I enjoyed the street festivals and exciting soccer celebrations in my neighbourhood. There was always an energetic vibe in my community.
I have vivid memories of the butterflies I felt in my stomach before the winter holiday show in kindergarten. I remember the feel of the vibration of the drums in my chest while participating in the after school music program. I played lots of Four- Square in the schoolyard, and eventually worked up my courage to go down the big orange slide on the jungle gym. I always had my hair in a ponytail and of course blistered hands from the monkey bars.
I attended sporting events, the ballet, and theatre. My favourite memories include watching wrestling with my elderly aunt at Exhibition Place. I thought she was so cool, as she shook her cane at the villain wrestler!
I walked everywhere in the city, contrasting my long bike rides at the cottage. I spent a lot of time on horse farms, horseback riding, grooming and assisting with upkeep of the stable. When I returned home from riding, my dogs and cats always greeted me.
My childhood was a blur of playing manhunt on summer nights and climbing piles of snow. Street hockey was a staple activity, although my older brother had to defend my right to play with the older boys. I had a fun childhood with lots of laughter and those memories still make me smile.
List any interesting or unusual jobs you may have had.
The most interesting job I have ever had was photographing and filming a culinary class of senior citizens. It was at the Seniors College in Prince Edward Island. It was so interesting to observe elders as students, and to be fully immersed in their classroom dynamic. The extremely quiet winter in PEI was also an experience in itself, contrasting the bustling city of Toronto.
List any volunteering you have done.
I was an assistant teacher at an elementary school in Toronto, working with Primary and Junior students, including Junior English Second Language students. I was also a mentor to ESL newcomers who sought to practice English through the University of Toronto Immigrant Support and Awareness Program. I worked with many students to facilitate and foster confidence in the English language.
I produced a video for a fundraiser in support of the Heart Centre at The Hospital for Sick Children, dedicated to families affected by congenital heart defects.
In Yukon Territory, I assisted children in making stop motion film in their art class.
I have volunteered in various equestrian facilities in the Greater Toronto Area caring for the stable, as well as assisting with lessons for beginners and people with special needs.
Walk with Heart Walkathon with Rouge Valley Centenary Hospital, encouraging participants and assisting with fundraising activities.
I have also been an ambassador for Operation Smile Canada, raising awareness and funds through various platforms.
During my time in Chicago, I had the opportunity to volunteer at Deborah's House, an assisted living residence for women with mental illness.
I have served as a volunteer in Kingston, Jamaica at The Nest, a Salvation Army Children's Home and in Nassau, Bahamas with Hands for Hunger, collecting and delivering surplus food to various humanitarian agencies.
I have performed volunteer work for the Good Shepherd Ministries in Toronto.
What is your most unusual talent?
My most unusual talent is to be able to speak to almost anyone about anything! I have no reservations when it comes to public speaking and I have never met a stranger. I simply love learning about others and sharing a smile!
Where is the most interesting place you have been to?
The most interesting place I have been to is Dawson City, Yukon Territory. Although it is not the furthest geographic location I have visited, my experiences in Dawson City have resonated with me. I believe that my interactions with First Nations elders have had tremendous impact on my approach to interacting with people in general. The natural beauty and landscape of the city was very intriguing to me, especially the dirt roads. It felt as if we were traversing on a waterbed because of the permafrost on the roadways. It was an enriching experience to be in such a remote and culturally diverse part of Canada.
What do you hope to be doing in ten years?
In ten years, I will have obtained both my Bachelor of Education and my Masters degree. I will be tenured in my career as a teacher, and have had positively impacted the lives of students who I have had the opportunity to educate. I also hope to have started a family of my own and have established a philanthropic organization that empowers youth in orphanages and foster care, and aids them in the transition into adulthood.
Is there anything you would like to add that we haven't asked?
I would be honoured to be the next Miss Universe Canada. I feel very privileged to be Canadian and to have had all of these wonderful experiences that have made me the woman I am today.