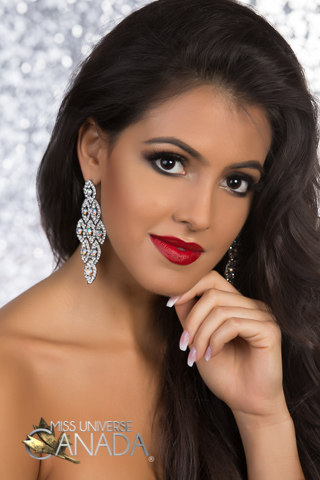 Height:
5'10
Hometown:
Windsor, ON
Languages:
English
Occupation:
Temporary Part-Time Assembly Worker
Serafina Oliverio was born in Windsor, Ontario, in 1993. The 24-year-old has spent most of her life in LaSalle, Ontario with her mom, dad, sister and brother. Serafina has an Honours Bachelor of Arts degree with a major in Psychology from the University of Windsor. She has obtained a Post Bachelor in Communicative Sciences and Disorders from Wayne State University and is excited to become a Speech and Language Pathologist. Serafina is passionate about speech and language development and working with children. She believes in the importance of communication, and how detrimental it is to be robbed of that ability. Her goal is to help others work on improving their means of communication, and guide them through a positive journey of recovery.
Serafina loves working with children and teaching them, as she has helped co-direct at Smile and Pose 2017, which is a comprehensive workshop for young girls to build on their self-esteem and confidence. She has been a volunteer tutor at the Children's Aid Society in Windsor, volunteered alongside a Speech Language Pathologist in an elementary school, and volunteered at the Children's Hospital of Michigan.
Growing up with an older sister, Rita, that has a developmental disability, influenced a different perspective on life for Serafina. She feels she owes her sister for teaching her how to love unconditionally, to be patient, to love yourself, and to be confident in who you are. Serafina admires her sister's imagination, confidence, and innocence. She definitely feels, that without her, her family would be so different, it would be missing the light in their lives. Although, they drive each other crazy, there is no one in this world like her, and she thanks God every day that He blessed her family with Rita.
Serafina embarked on a new academic and life changing experience during her fourth year of university. In 2015, she was accepted in the student exchange program. She travelled to Wales, UK and attended Swansea University where she continued her education in Psychology. Serafina considers this experience as the most cultural enriching and greatly influenced her personal growth. Embarking on this journey, forced herself to step outside of her comfort zone and break out of her shell. Among meeting friends from all over the world, and learning in a new setting, Serafina took advantage of her proximity to many different countries and travelled. Throughout her time spent in Europe, Serafina gained cultural knowledge, experience, and a new love for life. Her biggest dream is to continue to travel the world, learn about different cultures, and help as many children as she can. Through her journey of competing for Miss Universe Canada, she hopes to be given the opportunity to fulfill this dream and embark on charity endeavors.
Serafina embodies kindness, positivity, and courage. She believes in the importance of appreciating the little things in life, and embracing the beauty in all that surrounds us. She believes in the importance of being kind to everyone, and always provide a helping hand to those in need. Serafina is known to be compassionate, loving, and always offers a listening ear.
Sponsors
Video
Q&A
What are your interests and what do you enjoy doing the most?
One of my greatest passions is to travel. In my life, I have been fortunate enough to travel to many different continents, countries, cities, and towns. I have immersed myself in different cultures and embraced the beauty in each; from the traditional foods, the beautiful architecture, but most of all, the people. I love meeting new people and listening to their stories; where they have been, how they fell upon their present, and where they hope to be in their future. I think one of the most amazing things about life, is our opportunity to experience, meet people from all over, and embrace even the smallest things in life. I learned this through my travels, and I intend to continue travelling throughout my life, as it is the most educational and influential component. Travelling gives us the chance to stumble upon things we never thought possible.
Additionally, I love coffee shops. Through my time travelling I made a point of visiting various coffee shops to read, study, or do my homework. For me, the coffee shops I visited were my home away from home. It brings me a sense of comfort and happiness.
I am interested in mental illness and always have been. Mental illness is a subject that has always caught my attention and I was and still am eager to learn more. I have my Honors B.A degree in Psychology, and I thoroughly enjoyed learning about the different mental illnesses (their onset, symptoms, and treatments). I have experienced mental illness in my family life, therefore, gaining this knowledge has aided in my understanding and handling of mental illness.
Furthermore, I have always been interested in learning about speech and language development, and the impact it has on individuals lives. This past year I enrolled in a program in which I learned about the speech mechanism, speech and language development, and its effects on individual's communication.
Lastly, I LOVE Christmas time, absolutely everything about Christmas. I love Christmas music, decorations, giving gifts, spending time with family, and helping others. I feel that Christmas time is so magical! It has been and always will be my favourite holiday!
Additional interests include, fashion, music, concerts, dancing, watching fireworks, four wheeling, leisurely skating, spending quality time with family and friends, beach volleyball, styling hair, and reading in my favourite coffee shop.
List any special training you have had (music, art, drama, dance, etc.)
Since I was a young girl I have always loved to dance. I trained in many different genres of dance for six years. Although, I have not been trained since I was 17, I still love to dance and take every opportunity to go out dancing with friends, family, and even dance around my house. It brings me joy and makes me feel free.
In what sports, if any, have you participated?
I have participated in basketball, volleyball, swimming, and track and field. In high school, I participated on the dance team. Additionally, I was involved in dance at a dance studio in the city I live in.
Name one person, other than your parents, who has had the most influence on your life. Why? 
One person, aside from my parents, that has had the most influence on my life is my cousin Rita-Marie. Ever since I was a little girl, I have looked up to her. She is strong, confident, and believes in herself. My cousin has always had a kind and genuine nature, stays true to herself, and is wise. Now a mother, she embodies a strength and love that is admirable. Ria-Marie is the person I turn to when I need advice, the shoulder I lean on, and part of the reason for who I am today. She understands me; my wants, needs, and dreams. She has always been there for me, no matter what, and has always encouraged me to follow my dreams and to always believe in myself. These are a few of the reasons why Rita-Marie, is one of the most influential people in my life.
What is your proudest personal accomplishment (other than participating in this pageant)?
My proudest personal accomplishment would be my experience studying abroad in Wales, UK. I have always wanted to move away for school and travel. When I learned about the Student Exchange Program at the University of Windsor, I was overjoyed and motivated to apply. Once I was accepted into the program and found out my placement, I could not wait to embark on this new journey. However, I was terrified as I was going to Wales alone, and knew no one there. Throughout my experience in Wales, I went through a rollercoaster of emotions. I felt sad because I missed home, I was overwhelmed as I had to make new friends, and lastly, I felt utterly alone. At the same time, I was excited and proud of myself for having the courage to take a risk and try something new. I had everything to gain, and intended to make it the best experience of my life.
Through this journey I learned about myself and grew into the woman I am today. I stepped outside of my very comfortable shell, and gained a new found confidence, maturity, and perspective on life. I met so many unique and wonderful people, people that turned into lifelong friends and experiences that turned into memorable stories, stories I cannot wait to tell my kids one day. This experience made me recognize my potential, my strengths, but most of all, what I am capable of. I truly feel, that if you put your mind to something and believe in yourself amazing things can happen. I will forever be grateful for this opportunity, it changed me for the better and lit a fire in me that will last forever.
What is the most interesting or unique thing that has ever happened to you and/or what is the most interesting thing about you?
The most interesting thing about me, is my sister Rita, because without her I am not me; she is the reason for who I have become. Growing up with a sister that has developmental disability, forced a different perspective on life. My sister emulates a confidence that I wish everyone could embody, a love that is truly unconditional, and an imagination that is out of this world. My sister has taught me how to love, to be patient, to love yourself, and to be confident in who you are. I can definitely say, that without her, our family would be so different, it would be missing the light in our lives. Although, she drives me crazy, there is no one in this world like her, and I thank God every day that he blessed our family with her.
What is your career ambition and what are you doing or plan to do to accomplish that goal?
My career ambition is to be a Speech and Language Pathologist. I have completed my foundational courses, I have my Honors B.A degree in Psychology, and I now intend to apply to my Masters in Speech and Language Pathology. In addition to my previous volunteer work, I plan to continue volunteering in the hospital or school setting to gain more experience and knowledge in this field.
What would be your "dream job" in life?
My dream job would be to have my own charity foundation or work in different charities around the world. I feel that I have been so fortunate in this life, that I truly want to give back in any way that I can. I do not want to just send money to a charity, I want to take action and motivate others as well.
Describe where you were raised and what your childhood was like.  
I was born in Windsor, Ontario and lived there for the first four years of my life with my mother, father, sister, and brother. We then moved to LaSalle, which is a small town outside of Windsor. My life in LaSalle was nothing short of wonderful. I grew up in a neighborhood that was full of children around my age, some of them now like family. My parents provided a loving, at times strict, and comforting household. Our household was elected loudest household on the street….my poor neighbours. They created an environment for my sister, brother, and I to express ourselves and grow as individuals. It was truly NEVER a dull moment in the Oliverio household!
Furthermore, my parents provided us with the tools and foundation to succeed, build lasting and respectful relationships, and to appreciate life. I have been extremely fortunate in my life; I never had to worry about when my next meal would be, I have wonderful friends that I consider family, and I have a family that supports me in all that I do and wish to become. My family, friends and my upbringing, created who I am today and I am so grateful for every experience.
List any interesting or unusual jobs you may have had.
I feel that my job at Chrysler is interesting, as it is something I have never experienced before. As a temporary part-time worker, you are placed on different jobs frequently. Therefore, working at Chrysler has taught me how to adapt to new situations, learn jobs quickly, and effectively perform.
List any volunteering you have done.
Co-director at Smile & Pose workshop, 2017
Volunteer alongside an SLP at an Elementary School
Volunteer at the Enchanted Gardens Gala for the Children's Aid Society
Was a member of WSSHLA (Wayne State's Student Speech Hearing and Language Association) at Wayne State University
Tutor for the Homework Program at Children's Aid Society
Job Shadow at Detroit Receiving Hospital
Volunteer at Children's Hospital of Michigan
Volunteer for the Transition to Betterness Gala
What is your most unusual talent?
I do not think I have any talent that is unusual. However, I love speaking with a British accent, and would say I am not too bad at it!
Where is the most interesting place you have been to? 
 Two years ago I was lucky enough to study abroad in Wales, UK. During my time abroad, I travelled to many different countries and experienced more than I could have ever imagined possible. Therefore, to pick one place is so hard for me, as each place had something different to offer. However, if I must choose one, I would have to say that Marrakech, Morocco was one of the most interesting places I have ever visited, as it left a lasting impression.
Before my arrival in Marrakech, I experienced a mix of emotions, as there had been and still is so much chaos going on in the world, and at the time there was an attack on one of the beaches in Tunis. I was reluctant to continue my travels, however my best friend and I talked it through and decided to go.
When we first arrived in Marrakech, it was late at night, and we were overwhelmed by the number of people (locals and tourists) out and about on the streets socializing.
Of all the places I have visited, I experienced a profound culture shock in Marrakech. I learned so much about the culture, the people, and the history of this beautiful city. From the architecture, to the hidden gems among the city and nature, the famous market, to the food and bright colors that lit this cultural enriching place. I will never forget the feeling of being immersed in a culture so different from my own, and appreciating all that it encompasses. This world truly has so much to offer, and I have only made a small mark on the surface and I intend to continue embracing my passion of travel and visit more countries and immerse myself in new cultures.
What do you hope to be doing in ten years? 
In a perfect world, ten years from now I hope to be practicing Speech and Language therapy with children all over the world. I hope at this point in my life I am working in a charity and beginning to establish a charity foundation. Additionally, my travel experience and cultural knowledge would be expanded and I would continue to venture around the world. In ten years, I would love to have a family of my own and show them the world!
Is there anything you would like to add that we haven't asked?
I am humbly honoured to be a part of this organization and have the opportunity to potentially represent Canada and make a difference in this world. I feel it is so important to believe in yourself, follow your dreams, be kind, and
embrace the beauty in this life.