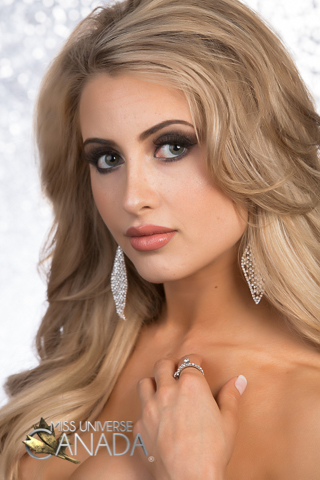 Height: 5'3
Hometown: Kelowna, BC
Languages: English
Occupation: Student at University of British Columbia – Okanagan (Psychology)
Shanelle Connell is an international public speaker, mental health advocate, and world changer. Through her passions for social psychology and relationships, she has begun building a brand based upon reaching out to women that have experienced toxic relationships and environments. She has been invited to work with various organizations, like the Elizabeth Fry Society, and speak out on topics like violence against women and empowering change. Shanelle has taken this even further by working to make changes for Canadian Mental Health and well-being with the CMHA and other organizations.
She is currently tackling her Bachelor of Arts in Psychology at the University of British Columbia — Okanagan. Previously, she completed her diploma in Graphic and Digital Design with the 'Exellence of Achievement – Best in Program Award' at the Centre for Arts and Technology. Shanelle also worked as a social media and content marketer at an agency for around a year before returning back to school to pursue her true calling of relationship counselling and advocacy. Her end goal is to to follow-up her current education with a Masters degree and potentially pursue a Ph.D. in the counselling field. Much of the fire toward this field stems from rebuilding her own character after damaging experiences with various interpersonal connections in her life. Shanelle never wants to see another woman or man go through what she did without the tools to come through unscathed.
But it doesn't stop there, Shanelle's zealous adoration for mental health and young-women's development has enabled her to land the keynote speaker position at a soon to be global women's conference called the 'Go Impact Conference' and attached inner-beauty pageant, which she also was the MC of, called 'Pageant 360°'. She also continues to get involved with powerful and inspiring influences by working with boards like the Kelowna Women in Business, UBC's Mental Health Network and more.
She has a rich appreciation for life and has acquired the mindset of 'you can't make a difference if you don't move beyond the conventional.' To Shanelle, Miss Universe Canada isn't just a crown or a title, it's a chance to change the way our country thinks about ourselves, others, and the world. Cultivating impactful connections with people is what Shanelle is all about. And Canada has a lot to offer in terms of the compassion, comprehensive world views, and respect that we learn in our country. It's what Shanelle grew up believing to be the most important in life— and it's the primary focus of what she wants to offer to every Canadian citizen and beyond.
Sponsors
Victoria Blaire Photography
,
Kelowna Now
,
Company Kitchen and Bar
,
Celladora Swim
,
Purnama Style Lounge (Ashley Sanderson, Hair Stylist)
,
Global Fitness Kelowna (Scott Viala, Personal Trainer)
,
Delta Grand Okanagan Resort
,
Club Wine Tours
,
Cheers Okanagan Tours
,
Rimpy Sahota Apperal
,
Okanagan Life Magazine
,
Okanagan Women Magazine
, Various Okanagan Wineries,
Cream Hair Salon
,
The Nutrition Health Coach
, Family and Friends
Video
Q&A
What are your interests and what do you enjoy doing the most?
A lot of my interests revolve around the concept of pushing the boundaries of my personal growth. This year, I've discovered a new talent of Public Speaking which evolved from my love of performing arts as a young child. I've always had a love for words, and the power than can shine through a captivating article or speech. So, I decided to combine my confidence from being in the spotlight and creative writing skill to turn it into what could possibly be a part of my full-time career one day.
I am also a writer, as I once had a full-time lifestyle and fashion blog. Writing is probably the most accurate ways I can express myself, as I believe there is true beauty in crafting a sentence together with heart and gumption for your passions. Other interests include the study of interpersonal connections and reading up on the topic solely based on the fact I love that area of psychology so much. And networking also entwines with my enthusiasm for relationships, as it gives me the freedom to practice building meaningful, long-lasting connections. I always say… real networking is building community and a tribe, not a one-time profitable exchange.
And lastly, being that I live in the wine-country of Canada, the Okanagan… of course my favourite past time is exploring the vineyards and restaurants of world-renowned chefs. I'm a huge foodie and appreciate a good pairing of Cabernet Sauvignon with my meal.
List any special training you have had (music, art, drama, dance, etc.) 
I've had nine years of classic dance training including jazz, ballet, tap, and musical theatre. As well as, a few years of singing lessons and over 12 years of performing arts, including theatre and film acting. I also would like to believe that my artistic talent and education in graphic and digital design could count as special training too.
In what sports, if any, have you participated?
Although I was so invested in the arts when I was a child, at the age of 16 my mom got me into weight lifting — and that has followed me into my 20′s as my favourite 'sporty' activity.
Name one person, other than your parents, who has had the most influence on your life. Why?
I've been fortunate enough to have more than one amazing mentor in my life. And to pick just one is difficult because they've impacted me in very different ways… but have given me proficiency in areas that have influenced my life in the direction I'm going today.
First, I would say my Aunt Richelle. She's well established in the marketing agency field and has offered me critical and out-of-the-box thinking skills due to her nature of work. Every action and statement must be calculated in the world of marketing/design to make the biggest impact. In our world today, having the talent to be deliberate is a huge asset when building a brand.
My other inspiration in life has been Trixie Hennessy of Kelowna Psychologist Group. She has put her heart on the line for me, guiding me toward my most authentic passions in life. I only hope one day to be as accomplished and perceptive with clients as her one day. As she says, intuition comes naturally to super-feelers like myself— all we have left to do is trust our instincts.
What is your proudest personal accomplishment (other than participating in this pageant)? 
To me, this is such a funny question to answer. Because in my life that moment always changes— reason being, I try to live everyday celebrating and appreciating something new.
However, if I were to pick one accomplishment that recently took place… it would be the fact in under two months of starting my public speaking undertaking, I was invited to speak in Los Angeles at both a women's conference and young-women's "inner-beauty" pageant. As well as, at the same pageant I was invited to be the MC that evening. And recently got asked to be a judge of another inner-beauty pageant in British Columbia. The ability to impact women and uplift their view of confidence and self-efficacy world-wide is a dream come true for me and I want to continue to always do so.
What is the most interesting or unique thing that has ever happened to you and/or what is the most interesting thing about you? 
Something that a lot of people do not know about me is that I'm actually a whiz with computers. I started my University education with the intention to be a software engineer and received some of the top grades in my computer science classes. Many would not guess that my brain is hardwired (pun intended) for coding— specifically websites.
To me, tech skills and embracing unusual talents like this lend well to living a balanced life. It's a great opportunity to inspire others to explore avenues that are originally intimidating by purely based on the social stigma that usually accompanies these 'male-dominated' industries.
What is your career ambition and what are you doing or plan to do to accomplish that goal? 
Being an entrepreneur, I have never been one to chase after a 'normal' career path. My ambition is to combine my educational assets into a mixture of services pertaining to the psychology of relationships and self-discovery.
I've already started establishing a brand in being a go-to resource for women that are recovering from toxic relationships and need assistance in rebuilding confidence. I plan to further this by obtaining counselling credentials (having already been offered a tentative practicum)— coupled with being an international speaker, offering online workshops, a series of self-help books, and hosting my own kind of talk-show online or off.
What would be your "dream job" in life?
I believe that 'dream jobs' are fluid and ever-changing. As people, we always evolve our passions, skillsets, and ambitions. Thus my dream job is based upon accomplishing a well-rounded lifestyle. I know my "dream job" will fall into line as long as I keep my path focused on what lies in my heart. As well as, saying yes to unparalleled opportunities (like this), and never shying away with fear of what lies ahead in my future.
Describe where you were raised and what your childhood was like.
Before moving to Kelowna, BC almost 6 years ago… I grew up in our little Texas of Canada, Calgary, AB. My childhood was filled with a lot of love, support, and encouragement of my dreams from my parents and extended family. All of them were always there to nurture my creative passions, so, let's just say that I never went a day without kindness and backing to chase the 'impossible'.
List any interesting or unusual jobs you may have had. 
I have a strong love for kids, which is why some of my favourite places to speak at are middle and high schools… but when they're preschoolers it's even cuter!
A few years back I worked as a 'party princess' making rounds as Elsa, Rapunzel, Ariel, Cinderella, etc. to children's parties throughout the Okanagan. This was also when I took on the opportunity to plan and delegate a fundraiser for the KGH Children's Ward by running a meet and greet with 'Anna and Elsa'. We raised around $1600 in a matter of a few hours. I was very thankful for the community support and couldn't wait to share the proceeds with all the children in the hospital by making a special 'snow queen' visit.
List any volunteering you have done.
Many of my volunteer experiences I have had have been pioneered by myself through event planning and fundraising efforts.
Such as, raising money for Cardiac Kids when I ran in the Miss World Canada Provincials, my 'Frozen Meet and Greet' fundraiser, and future fundraising efforts for Operation Smile.
However, organizations I work closely with and volunteering I have taken on in the present or past are:
UBC Okanagan's Mental Health Network – Board member
Kelowna Women in Business – Board Member
Elizabeth Fry Society – Public/Program speaker and ambassador
CMHA Kelowna – Public speaker and event volunteer
Public Middle/High schools – Speaking on awareness weeks/days
Local event volunteer work – various organizations/positions
UBC Research – Graphic design and marketing
Kelowna Actor's Studio – Community actor, usher and ticket seller
What is your most unusual talent?
Something that I love to do from time to time and is an unusual talent of mine is cartooning. I've always enjoyed art and drawing, but character creation and storyline development is something I put a lot of effort into throughout my teenage years.
Where is the most interesting place you have been to?
I honestly haven't had the chance to travel much outside of North America. However, my absolute favourite place to visit is Las Vegas, Nevada and has been since I was 5 years old.
I found that I was able to identify unique qualities about Vegas that make it so much more than just lights and entertainment. Why I fell in love with the city is the culture behind the people that have immigrated to work there. The people have immense amounts of diversity and engaging life stories that I feel I was able to obtain value and new perceptions through. I've always felt so welcomed any time I visit and it's truly where I feel the most confident and vibrant I've ever been.
However, that being said, I still have so many places to explore. Some areas on the top of my list are places that will be very gratifying for my own personal development and how I interact with others in the future.
What do you hope to be doing in ten years?
A lot can change drastically between now and ten years. Even from 5 years ago, my goals and ambitions have developed into something much more than they once were.
However, I would say my target objective would be to have a career that helps to rebuild women that have suffered from mentally/physically abusive relationships, and restructure their confidence to be stronger than they were before. Also, I'd like to be able to give young girls life skills to prevent these sort of engagements and stay clear of societal pressures that media and personal influences may throw their way. That way women of all ages will always have a healthy way to view of who they are.
Is there anything you would like to add that we haven't asked?
I think the most important thing to know about me, is that even though I am a woman of faith… I still always try to look at other's worldview with respect and open-minded understanding.
Many view Christianity as a narrow-minded religion, but a true Christian with the love of Christ in them is open and loving toward everyone that approaches them.
Christianity isn't my religion, it's my faith- that's where the difference lies. Erase the politics, erase the tradition, and then you will have the core of being a faithful woman underneath… one who is unconditionally compassionate for those who surround her at any point in life.