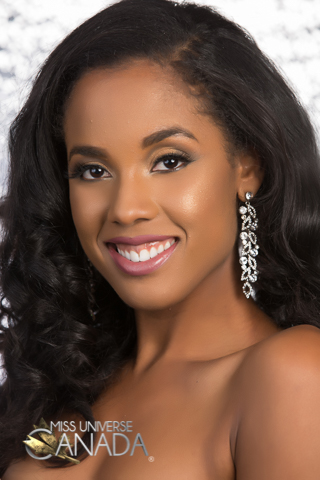 Height: 5'7
Hometown: Montréal, PQ
Languages: English, French
Occupation: Student at Concordia University (Business Administration)
Shany Bolte was born in Montreal, QC to Haitian immigrants. Her father is a disciplined entrepreneur that instilled that anything is possible if you work for it. Her mother is a former model and is currently a social worker. At the dinner table discussions on Injustice, inequality and the adversities of others were common. It would take years for her to realize not only she harbored the same talent as her mother but also the burning desire not just to critique injustice but to be an active force to create change. After Watching "Desert Flower", a film inspired by Warris Dirrie's efforts against female genital mutilation in Somalia. Shany was bombarded by the weight of responsibility, accountability, and most importantly execution.
She could see herself being a model but the dream soon became a nightmare when peers at school began poking through her aspirations and high hopes. Bullying followed suit, which wasn't limited to the acne on her face but was due to a scar on her ear lobe after a traumatic burn. Something that was once seen as a simple bruise, suddenly made her feel like a monster. For 8 years, she tried to hide the top of her ear with a headband or by straightening her hair. Having her hair styled this way gave her positive attention, which led her to believe that this was the source of her beauty. When she finally mustered up the courage to try modeling, a close family figure shattered her new-found confidence by convincing her that her size wasn't what the agencies were looking for.
In order to please her parents Shany decided to attend medical school in Anguilla in an intensive program, after three heavy semesters she decided she would rather try Naturopathy at "Institut D'enseignement En Science Naturopathique" After asking herself some hard questions and finding her "Why" she decided to take on Business administration at the prestigious John Molson School of Business at Concordia University. With her career choice now aligned with her true passion, she could now focus on modeling and the fashion industry. Ingrained in her mind now was that beauty was not limited to a shape, size or shade of skin. Amid the false promises, and scams offered by many she was able to get noticed by placing her natural hair on display which compelled different companies looking to personify their image with the right models. Using social media to promote herself many amazing opportunities emerged. Among them came along the self-defeating voices trying to convince her that she was not enough to get to a place where her efforts could bring substantial change.
Believing in yourself is a feat that some battle with their whole lives. In order to win the war, Shany took on self-help books, conferences and ted talks to break through fear, worry, and doubt. After being chosen to participate in a music video in Jamaica, Shany marveled at the realities some young women live because of a lack of opportunity, vision and a low self-esteem. A quote reminded her of her social obligations which was penned by Svens Telemaque. "Tears may bombard my cheeks, sweat may sure over my brows, blood may stain my fingertips, but as long as I believe in my "Why", I will find a "How". Recently she has partnered with Broken Crayons Still Color, a youth empowerment organization which travels around the world teaching youth to color their community, society and ultimately the world with their greatness. With a degree in Business Administration soon to come Shany is focused on ensuring that her efforts will leave a legacy of love, hope, and faith.
Sponsors
Video
Q&A
What are your interests and what do you enjoy doing the most?
I am interested in fashion, esthetics, dancing, nature trails, and enjoy belly dancing most.
List any special training you have had (music, art, drama, dance, etc.)
I am specially trained in cat walking for fashion shows, dancing, and public speaking.
In what sports, if any, have you participated?
I have participated in Basketball, Soccer, Hockey, and Volleyball.
Name one person, other than your parents, who has had the most influence on your life. Why? 
Waris Dirie, because she used her platform and influence to bring awareness and change to a people who didn't have a voice.
What is your career ambition and what are you doing or plan to do to accomplish that goal?
My career ambition is to acquire skills in business administration in order to fulfill my vision as both a social and for profit entrepreneur worldwide. So far I have applied at Concordia University in order to pursue my studies in business and have partnered with a youth empowerment tour called "Broken Crayons still Color".
What would be your "dream job" in life?
I don't necessarily have a dream job, however, I envision creating my own foundation to help women from around the world with entrepreneurship skills, building self-esteem as well as their primary needs.
Describe where you were raised and what your childhood was like.
I was raised in greater Montreal and my childhood at home was great, I come from a nuclear home and have 3 other siblings that made life fun to share. School, however, became a burden as bullying became a frequent occurrence. I had to learn not to believe or sing along with the chorus of negative thoughts about me. Today I consider my troubles at school my qualifications to empower youth and understand their plights with a low self-esteem.
List any interesting or unusual jobs you may have had. 
Strawberry picking, Hostess at Montreal Car Show for McLaren, Service Attendant at a Mental hospital, Model for a fashion line.
List any volunteering you have done.
Broken Crayons Still Color, Haiti Earthquake Relief Efforts.
What is your most unusual talent?
Belly dancing
Where is the most interesting place you have been to?
I find Haiti is the most interesting place I've been to because of its rich and impressive history, its influence to persuade the end of slavery and the self-reliance of a people who continuously seem to rise after and through adversity.
What do you hope to be doing in ten years?
In ten years, I hope to be using my platform and influence to change the world around me, more specifically to assist women from all walks of life.
Is there anything you would like to add that we haven't asked?
Yes, I wish to be a reference for women with low self-esteem reminding them that not only anything is possible when we believe in ourselves.