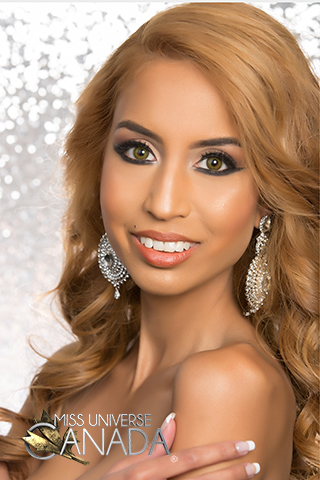 Height: 5'6
Hometown: Toronto, ON
Languages: English, Hindi (intermediate), Spanish (intermediate)
Occupation: Registered Naturotherapy Practitioner
Stephanie Ajodhar is a 25-year-old Registered Naturotherapy Practitioner, who was born and raised in Toronto, Ontario. She is of Trinidadian heritage and was raised in a household that offered her unending love and support. Stephanie has always strived for excellence and graduated from the University of Toronto with an Honours Bachelor of Science degree in Human Biology. After completing her bachelor's degree, Stephanie began exploring the medical field and gravitated towards holistic health. She soon became passionate about holistic health care, as it's approach is personalized to meet the individual needs of a patient, as opposed to the symptomatic approach of allopathic medicine. She is currently working towards becoming a Doctor of Natural Medicine and hopes to bring natural medicine to the forefront as a mainstream medicine available to all those who desire.
Aside from being steps away from realizing her dream of becoming a doctor, Stephanie also dreamt of becoming Miss Universe. She never dared to follow her dreams until tragedy struck last year, when her best friend fell victim to gun violence. Overwhelmed with grief, Stephanie struggled deeply to cope with the loss, but in the face of tragedy, she chose to see the light. She realized how truly short and precious life is and finally gathered the courage to embark on this journey. She took a leap of faith and decided to apply for Miss Universe Canada, with the hopes of using this platform to raise awareness of gun violence across the country, as well as the impact it has on the loved ones of the innocent victims.
Stephanie's mother and stepfather have always reminded her that beauty without brains will only take her so far. She draws strength from their words everyday and endeavours to succeed in all her goals in life. She will always strive to continue her education, as learning is a lifelong process. As a model and health care practitioner, Stephanie is the epitome of beauty and brains.
Sponsors
Nucreation Fashions
,
Centre for Ayurveda and Indian Systems of Healing
,
Marc Anthony Salon
,
Nishanti DeZoysa
,
Artistry by Rackeya
,
David's Bridal
, Ana De La Luz, RMT,
Nikzad Production
,
JP McCluskey Productions
,
SAPNA Toronto
,
Sophia Rickson Costume Design
,
House of Hair Extensions
,
Ahmad Mehrabi
, Family & Friends
Video
Q&A
What are your interests and what do you enjoy doing the most?
I enjoy travelling around the world and experiencing different cultures. I also enjoy educating the public about natural medicine, specifically about Ayurveda, Indian traditional medicine, as well as how to take a proactive approach to health. I practice meditation daily and take part in weekly aerial yoga classes. I am also a very social person; I love trying new things and meeting new people.
List any special training you have had (music, art, drama, dance, etc.) 
I am trained in Ayurvedic tongue and pulse diagnosis, which allows me to easily distinguish where an individual may have an imbalance in their body. I can then recommend herbal remedies or offer physical therapies to help bring the person's body back into a state of harmony and balance.
In what sports, if any, have you participated?
I practice Tai Chi, a Chinese martial art on a weekly basis and participate in other recreational sports such as badminton and volleyball whenever I am able.
Name one person, other than your parents, who has had the most influence on your life. Why?
My late best friend, Cynthia Mullapudi has had the greatest influence on my life. Cynthia was a victim of gun violence last year in Toronto, and dealing with her death has been the most traumatizing experience I've had. I remember waking up on the morning of April 30th, 2016 and hearing about an incident on the news where two individuals lost their lives to gun violence the night before. I didn't acknowledge this and continued with my day, as stories like this one seemed to be common in our city. As I watched the news later that evening, I was rendered speechless to learn one of the victims had been identified as my best friend. After the initial shock and grief had worn off, I was disappointed in myself that I had become so desensitized to gun violence, as it is so prominent in our city, that I didn't even acknowledge the victims, or considered how heart-broken their families might be until I learned it was someone I loved. Cynthia's passing brought me down to what can only be described as the lowest point in my life, filled with melancholy, but it also forced me to rise-up, overcome and rediscover myself. Cynthia taught me how precious life truly is; she inspired me to finally wake up, and follow my dreams. This gave me the motivation I needed and a few months after Cynthia's passing I gathered the courage and embarked on this journey to become Miss Universe Canada. I am dedicating this journey to Cynthia and I hope to use the platform I achieve to raise awareness of gun violence across the country.
What is your proudest personal accomplishment (other than participating in this pageant)? 
My proudest personal accomplishment is when I graduated as a Registered Natural Medicine Practitioner. After many years of hard work and dedication, I am finally able to call myself a health care practitioner and I am just steps away from becoming a Doctor of Natural Medicine.
What is the most interesting or unique thing that has ever happened to you and/or what is the most interesting thing about you? 
The most unique thing that has ever happened to me was when I disfigured my face in 2010. While enjoying a "piggy-back" ride from a friend, he tripped in the midst, throwing me face first into the pavement. I fell unconscious and was rushed to the hospital with a deep cut along the side of my face. I spent over two months with a swollen disfigured appearance and today I still have a small scar on the right side of my face. This incident made me persist and overcome obstacles as I had to continue writing university midterms despite barely being able to open my right eye, as well as remain strong against the negative expressions and judgement directed at me for my physical appearance. As someone who was very self-conscious about presentation, it was after this experience that I decided to become a model to inspire and empower women to embrace their imperfections.
What is your career ambition and what are you doing or plan to do to accomplish that goal? 
I would like to one day open an integrative trauma centre that offers a variety of complimentary holistic modalities to individuals suffering from grief, depression, and mental health conditions, as well give these individuals a place to stay and feel safe while being away from home. I am currently working toward becoming a Doctor of Natural Medicine, which will help me prepare the foundation of this goal. Working toward becoming Miss Universe Canada will give me the platform and outreach required to bring this goal to life.
What would be your "dream job" in life?
My dream job in life would be a combination of becoming Miss Universe Canada and a doctor, and being able to add both titles to my name.
Describe where you were raised and what your childhood was like.
I was born and raised in the east end of Toronto, Ontario. I was raised in a traditional Hindu household and lived in the same place for 25 years before moving into my condo last year. I was always encouraged by my mother and stepfather to strive to do well in school and excelled in academics from a very young age. Humility, positivity, respect and compassion are virtues that have been embedded in me since childhood. Having my mother and stepfather as role models I grew to understand the importance of independence and developed a strong sense of discipline, self-respect and self-confidence.
List any interesting or unusual jobs you may have had. 
The most interesting job I had in the past was working as a Calculus tutor for the Toronto District School Board. I worked in an after-school program where students who were struggling would come for help. At times, it was difficult to teach the group as some students were compelled to attend but were not interested in the subject. After spending time with the students, I grew to understand where their weaknesses were and developed simple techniques to help them understand the material. The greatest satisfaction I felt was when those same students who disliked the subject brought me their calculus tests to show me how much they had improved.
List any volunteering you have done.
I have volunteered in the Oncology Department at Toronto East General Hospital. I also currently volunteer for W.A.V.E (Working Against Violence Everyday), a youth-led initiative that works to end community violence, as well as SAPNA Toronto, a South-Asian networking group that connects professionals in the city.
What is your most unusual talent?
I have been told that my ability to connect with people easily is a talent. Though it may be unusual to approach strangers as if you already know them, I am very open and non-judgmental, thus people respond exceptionally well to my personality and positive approach.
Where is the most interesting place you have been to?
The most interesting place I have been to is Paradise Island. It is an exquisite island rich in Bahamian culture, just off the main land of Nassau, Bahamas. The friendly people, the colorful architecture, the delicious food as well as the overall spirit and beauty of the island truly made it feel like paradise and made it an unforgettable trip. The one remarkable thing that will always be etched in my memory is that the beaches had the most sparkling turquoise waters I had ever seen, it was truly enchanting to see and experience.
What do you hope to be doing in ten years?
In ten years, I hope to have my own integrative clinic offering a variety of holistic modalities, as well as doing outreach in developing countries for people in need of health care. I would also like to have developed a movement to eliminate gun violence across Canada, and continue to empower women using the Miss Universe Canada platform.
Is there anything you would like to add that we haven't asked?
Yes, a good friend of mine once told me "if you want something, you must earn it", whether it's a prize, an award, a job or a simple compliment, it must be earned. I've always kept this piece of advice in mind when striving to achieve my goals. It has motivated me to work hard and has kept me proactive in fulfilling my dreams today.