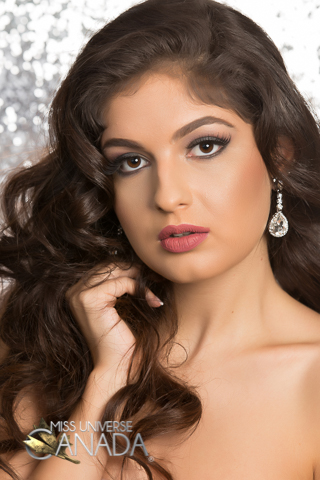 Height: 5'7
Hometown: Mississauga, ON
Languages: English
Occupation: Student at University of Toronto (Digital Enterprise Management)
Tammy Lynn Ghawi is a very ambitious and confident young woman. From the age of 5, Tammy has always talked about modeling and knew that she wanted to pursue a future in the fashion industry. Her love for fashion and business are combined into what she is studying in school. Tammy Lynn is currently going into her third year as an undergraduate student at The University of Toronto. The specialist program she is enrolled in is called "Digital Enterprise Management" and it focuses on media, online business, technology and management all in one program! She believes that her academic lifestyle is a very important part of her life because it helps her explore what she likes to do and opens her options to more opportunities.
Tammy Lynn's "go to" motto is, "Work hard, Play hard". She believes that hard work will get you far in life and putting in the effort will show recognition but life is too short to not have fun so you have to make sure to celebrate your successes and enjoy life as well!
Family and friends are the biggest part of Tammy Lynn's life, she admires everyone in her life because they influence her on many levels such as continuously becoming a better person and experiencing new things in life. Tammy Lynn is very passionate about anti-bullying campaigns and hopes that one day she can take what she learned from being in several anti-bullying campaigns and being in leadership groups to expand her knowledge to others about how serious bullying is. She also hopes that with the recognition of being a delegate of Miss Universe Canada, she can inspire others to be passionate and inform others about anti-bullying and recognizing the effects and rewards of helping someone in need. Aside from anti-bullying, the most influential experience in Tammy Lynn's life was going to Dominican Republic to spend time building a house and playing around with the children. It showed her how the smallest things in life mean the most, just taking some time out of our day to help others can change someone else's life by a lot! Humanitarian rights are something that Tammy is really passionate about and tries different experiences and volunteering to help as many people as she can.
Tammy Lynn is known for her laughter, it is very loud and high pitched but she believes that happiness is not hard to achieve if you're family and friends are always with you in life!
Video
Q&A
What are your interests and what do you enjoy doing the most?
I enjoy basically everything in life, for people that know me, they would say I am a very optimistic and hopeful person and I can agree with them 100%! I believe that everything in life is a learning experience and I have learned to enjoy every part and stage of my life. More specifically, my interests include travelling, learning about business and trying new foods. The thing I enjoy the most is being with my family and friends and when I'm not doing that, modeling is something that really makes me enjoy myself and who I am as a person because of the confidence it helps me build.
List any special training you have had (music, art, drama, dance, etc.) 
Growing up, I was very lucky to have family that wanted to let me explore my talents and options from such a young age. I started skating from the age of 8 and took lessons for 6 years. I also did dance classes for about 10 years and in those years it included; acro, hip hop, contemporary and jazz. In my later years I have taken skiing lessons for two years. In the last five years, I have taken Runway lessons where professional coaches teach you how to walk like a model and emphasize how important body gesture and body positioning is. In addition, I have recently been doing yoga to help relieve my stress from school.
In what sports, if any, have you participated?
This question made me laugh when I first read it because if you really know me, you would know I am the least athletic person out there. This does not stop me from playing with my friends for fun, although I know I am not a great kicker or even the fastest runner, I still love the idea of training and running because practice makes perfect and sports is a great example to see those improvements. The most athletic thing about me would be that I have the team effort and I am a team player, I love the idea of having other people's backs and supporting them because you are on the same team!  I strongly believe that having skill and being fit is amazing, but if you do not have the team spirit in you, your team will not be cooperative.
Name one person, other than your parents, who has had the most influence on your life. Why? 
This question was a no brainer for me, I would highly and confidently like to choose my sister for this question. My sister Dionne is a blessing from above, she continuously teaches me to have a big heart and expect nothing in return. She is older by one year but the amount of wisdom and knowledge she has taught me makes me think she is much older. I love that she is very mature for her age and although the truth is hard, she is never shy to tell me what is best for me and when I am doing something wrong. This is very special to me because I feel like I can always rely on her to look out for me in life. If you're reading this (and I know you are), LOVE YOU DIONNE!
What is your proudest personal accomplishment (other than participating in this pageant)? 
My proudest accomplishment so far is finishing highschool with 4 awards. These awards include, Honours Award, this means that I graduated with higher than an 80% average. I also graduated with a business certificate which means that I have taken over 6 courses of business in my 4 years of highschool. I graduated with the Prefect Leadership Award and this was a huge accomplishment for me because out of everyone in my school, only a few got selected to achieve this award and it is chosen by those who practice and idolize leadership in their everyday life and it is such a good feeling being recognized for that. The last one is an Ontario Secondary School award that shows that I have finished my studies in a Secondary school and have officially graduated from that system.
What is the most interesting or unique thing that has ever happened to you and/or what is the most interesting thing about you? 
One of the most interesting thing that has happened to me is having one of my biggest things on my bucket list being crossed off. One of the things that are on my huge bucket list is being asked to model for a company randomly. This is on my bucket list because this comes out of luck, it is not something you can train to do or prepare yourself for, it is the spontaneous moments in life that mean the most. When I was 17 I was walking in Queen Street in Downtown just randomly shopping and I walked into this adorable boutique (Spoof), as I was paying for a dress the owner asked if I was a model and asked me if I was interested in modeling for her summer catalogue. It truly felt like a sign because out of everything on my bucket list, this was the number one thing I wanted to happen to me and it did! The most interesting thing about me is that I will always turn any situation into something positive, I can always think about a good thing that can come out of anything and even the worst of the worst situations, I still have my optimistic personality to find something to be grateful for and I truly love that about myself.
What is your career ambition and what are you doing or plan to do to accomplish that goal? 
My career ambition is to do something in the commerce field, more specifically advertising and marketing. I am currently in school for this field which is helping me accomplish that goal because the courses I take help me expand my knowledge in these fields and my program also allows us to do internships that give us real life experience and is also part of my learning experience which is amazing!
What would be your "dream job" in life?
My "dream job" which I do hope becomes reality one day is being a successful model. I believe that models are an inspiration because of their confidence and unique look. I love being different, I characterize myself as different by the way I dress and the way I act, I do not change my personality or habits for anyone because I am truly comfortable with myself and I really inspire to be a model and hopefully a role model to those who want to feel confident in themselves.
Describe where you were raised and what your childhood was like.  
I was raised and still am currently living in Mississauga, Ontario. It is a city that is big enough to know a lot of people but small enough to have mutual friends with strangers. My childhood was a dream, I loved every second of it. It consisted of going to my grandparent's house everyday after pre school and school. My parents work a lot and growing up my grandparents were always there to take additional care of me. My grandma would teach me how to play cards and teach me how to bake cake and my grandpa would take my sister and I shopping for new toys and take us to the park.
List any interesting or unusual jobs you may have had. 
Mmm, this is a hard one because I've had one job my whole life and it is the same one I still have!
List any volunteering you have done.
Dominican Republic building a house for the less fortunate
Volunteered for many leadership programs and anti bullying campaigns (this is where I talked to a huge group of people from different schools to spread awareness of bullying)
Terry Fox Run
Prefects (Aloysius Gonzaga Secondary School)
Safe@Gonzaga (Aloysius Gonzaga Secondary School)
What is your most unusual talent?
One of my most unusual talents include laughing nonstop for a certain period of time! Yea I know everyone gets the giggles but I get the giggles to the next level but I consider this a talent because not a lot of people can laugh for such a long period of time or even find a lot of things funny but once I find something funny, I will laugh very hard everytime I think about it.
Where is the most interesting place you have been to? 
This was a tough question because I have travelled to very unique islands before and have travelled to my origin country and even places people dream about going their whole life. I am so blessed that my parents emphasized how important family trips are and left me with an endless image of how beautiful the world really is. Out of all the places I have travelled to, I find Venice, Italy one of the most beautiful and interesting places I have been to. I find it amazing how a city can be ran on water and how different their lifestyles are compared to the rest of the world and even the rest of Italy. When I go there, I always see boats parked outside a resident's house and even a garage for it, I find it so cool how people have boats instead of cars to travel to places, it is honestly mind blowing but so cool and exciting to see!
What do you hope to be doing in ten years? 
Ah, the year 2027… I hope that I will be pursuing something in modeling and/or business. I like to keep my options opened so I would either like to take over my father's perfume company or work in the fashion field as a social media blogger or model for something that I am passionate about. I hope that my family is always around to witness my successes and failures. Either way, no matter where life takes me, you will always find me with a smile on my face!
Is there anything you would like to add that we haven't asked?
I would like to thank my family for always believing in me, thank you for being my support system and my hope to success. They are my everything, I am so lucky to have a mother that is my best friend and I can share all my disappoints, dreams, happiness and hopes with and someone who endlessly encourages me to do what I am passionate about. I am so thankful for my father for having an open mind on things that he is not familiar with but knows I am interested in. His wisdom, honesty and knowledge has had a huge impact on my life and sets out to be my greatest role model in life. I see the way he looks at life and it is so beautiful to witness someone so optimistic and real. Last but not least, my all time best friend and beautiful sister, Dionne! Thank you so much for always having my back and always spending the most amazing times together! Dionne shows me what a real best friend looks like; she is so honest and caring towards others and their feelings and makes sure to physically show you how much someone means to her. I love that we are so close and the best of friends and you are truly the biggest blessing in my life!