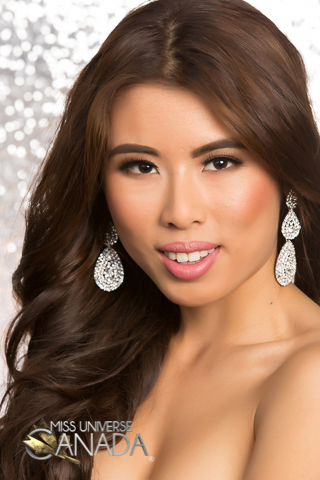 Height: 5'5
Hometown: Markham, ON
Languages: English, Cantonese
Occupation: Grand Ambassador and Flight Attendant
Victoria Deng is twenty-two years of age and currently lives in Markham, Ontario, although she grew up in Toronto's Regent Park, a district well known among residents of Toronto for drugs, crime and mayhem, sharing a small government subsidized two-bedroom apartment with her parents, siblings and grandparents, all in the same small space. Growing up impoverished and struggling, but with the warmth, love and closeness of her entire family always there to refresh and inspire her, she learned to appreciate the little things in life and to always look to the future positively and with passion. Victoria has diversified life experience due to her varied work and volunteering experiences, having worked in film, events, modeling, jewelry, sales, coiffure, recreation, pageantry, lodging hospitality service, art, music, food and beverage and the airline industry.
At age 20 Victoria graduated from Seneca College in Tourism and Travel with an accelerated flight service certificate, having had to work four part-time jobs to cover her tuition. Her single mother had to support her parents and younger siblings, leaving her no alternative but to work with the focused intent of success in completing her certificate, funding all of the costs alone. After graduation, she worked at the prestigious Four Seasons Toronto in D|Bar, and Café Boulud, then the youngest employee at those venues. During her time there, she completed a sommelier (level two) certificate and was the youngest and only server assistant to be nominated for an award before a year had transpired and to receive an Employee of the Month Award for her professionalism and work ethic. Currently, she is a full time employee at North America's Best Voted Flight Attendants for Air Canada Mainline. She is also a loving and caring daughter, granddaughter and older sister of 3 siblings. In her free time, she studies languages, travels the world, explores new cultures and history and volunteers as a committee member for Dream's Take Flight, passionately helping young children to believe in their dreams as she did as a young kid, by seeking out sponsored donations for less fortunate children to be sent on trips to Disney World. She has traveled to over 10 new countries, and 25 new cities in less than a year. Her hobbies include playing the piano, drawing, playing sports, sampling diverse cuisines and hiking. Victoria's goal is to become a public figure as a model or actress and thereby inspire young children, showing them how anything is achievable when they chase their dreams and goals, despite their humble origins or anything else which might challenge them. Some highlights of her career includes being in a music video broadcasted all over the radio station called "Better To Be Loved" by Francesco Yates, a volunteered runway model at this year's town of Markham Chinese New Year Gala, and is a grand ambassador for Nike, Air Canada, and a couple other companies. Her motto is "With determination, passion, and hard work, anything is possible." She has always devoted her time to help others other as an older sister, friend, daughter, mentor and anyone she encounters with a welcoming hand, an open heart, and a warm smile. Nothing makes her happier than to experience the joy of others.
Victoria models herself on her grandmother, who passed away last Christmas. Her grandmother's unconditional love, constant joy and selfless acts of kindness are what inspires her, and what dedicates her heart to bring life and love to others.
Sponsors
Sin Lashes,
Dao Vanity
, The Film Chicaa, Family and Friends.
Video
Q&A
What are your interests and what do you enjoy doing the most?
I enjoying travelling around the world, and experiencing new fitness activities such as hiking, catching waves, and sight seeing. Immersing myself in a new environment, getting out of my comfort zone, meeting strangers, and discovering new culture has had a huge impact in my character development. It has allow to get me to know myself and get a better understanding of my own weakness, strengths, confidence and has helped me to grow as an individual.
I am also a passionate artist, and I love to draw, and play music. I am also an animal lover and own a dog and have the cutest little bunny pet. I love making others smile on a daily basis! Working as a flight attendant and a volunteer committee member on "Dreams Take Flights Charity Board" has given me the privilege to meet someone new everyday and a chance to make them smile and have a pleasant experience.
List any special training you have had (music, art, drama, dance, etc.)
Growing up, I had the privilege to take private piano, and art classes. On my personal recreational council involvement in college, I organized and participate in salsa, and zumba lessons.
In what sports, if any, have you participated?
In elementary school, I went two three different schools, and at each one I joined all the sport teams, but my favorite would be volleyball and running. I enjoyed playing sports that much that I even applied to a private sport high school.
In high school, I went to Bill Crothers Secondary School and played on the volleyball, cross country, and badminton team.
Name one person, other than your parents, who has had the most influence on your life. Why?
I would have to choose my grandparents. They showed me how to appreciate the little things, acted as my second parents, taught me family values, and gave me unconditional love and appreciation for the joys of life through their constant smiles. Not once did they ever give up on me, or my siblings, and constantly taught us the importance of being better people.
What is your proudest personal accomplishment (other than participating in this pageant)? 
My proudest personal accomplishments is supporting myself and putting myself through college despite being raised in difficult circumstances. I was able to buy a car at 18, own a condo at 22, and paid my way through college and earned a full time post secondary diploma while at the same time juggling four part time jobs. In addition, I am also proud of being the youngest employee at the Four Seasons Toronto hotel chain, and then making it into one of the most selective airlines in North America, Air Canada Mainline. While employed with both of these companies, I have received two excellences awards for quality performance in under a year of service. I truly believe that "hard works pays off".
What is the most interesting or unique thing that has ever happened to you and/or what is the most interesting thing about you?
The most interesting and unique thing that has ever happened to me is that I have made friends with strangers that happened to be celebrity figures. And the most interesting thing about me is that I can spend endless hours painting realistic sceneries. This has taught me to be patient and self-disciplined, while also feeling serenity, and accomplishing a vision.
What is your career ambition and what are you doing or plan to do to accomplish that goal? 
My initial career ambition is to become a flight attendant, but now that I have achieved that goal I would like to pursue something even more challenging and to become an actress. I love how this career displays art through an individual's own unique expressions. Performing impersonations and getting out of character are definitely some of the hardest things to do, and I enjoy seeking challenges improve myself and become a better person.
What would be your "dream job" in life?
My dream job is to become an actress, and an entrepreneur who specializes in planning events. I am especially interested in planning charitable events, which will give back to those who need it the most, that inspire small children to believe in dreams, and teach them to never stop chasing those dreams no matter how or where you grew up.
Describe where you were raised and what your childhood was like.
Growing up was very difficult for me, as my mom was raising 3 children on her own. Being the oldest, I had a sense of huge responsibility to set a good role model for my little siblings' would make sure the food we ate was healthy, as the oldest, I always tried to save the good food around the table for my little sister while at the same time trying to teach her not to be greedy and table manners. I also felt that it was my responsibility to help and give back to my family so I worked very hard to help my mother out with any financial problems she had, and for a couple years I only lived with my grandparents to monitor their health and be the translator if they needed any assistance. My father was not around growing up and it was hard to see him go through some mental health issues, and that made me develop a strong stance against the consumption and influence of recreational drugs growing up because of what I saw it do to him. Despite all of that, I have never been so thankful and happy as my family has taught me strong values, such as having good moral character, always having the willingness to help, and maintaining unconditional love in a family despite living in even the worst circumstances.
List any interesting or unusual jobs you may have had. 
At the age of 18, in the summer I had an opportunity to challenge myself by being an assistant manager for a Production company called "Moti Levi's". I was in charge of sales and to sell manual toothpaste dispenser in at the Toronto Exhibition Center in the "Direct Energy Building" for two weeks and manage to be the top sales person.
List any volunteering you have done.
Growing up I have always loved volunteering in school, and I have participated in various team and extracurricular activities such as the prom committee, heath and recreations committee, kindergarten supervision, art teacher, library club, and various charity foundations such as Milliken Children Festivals, Hurricane In Philippines, Markham Potluck, and several more. In the past year, I was a volunteer model for the Town of Markham, and an active council committee member for "Dreams Take Flights".
I would just like to say that seeing all the funds and donations we have made in the past year and finally seeing Toronto's Dreams Take Flight chapter take roughly 135 kids to Disney world absolutely melted my heart. The excitement and happiness that all these kids had at 4 am put a smile on my face. Being able to share this passionate volunteer experience with police officers, firefighters, paramedics, pilots, and many other generous volunteers who decided to come and not get paid made me so happy. Everyone's mission was to make sure these children had a wonder experience to learn and play with fire trucks, dogs, ensure that they are having a good time, and encourage these kids to keep dreaming.
What is your most unusual talent?
Being able to adapt in any city, country, and being able to talk to anyone in a professional and enthusiastic manner while developing a great connection.
Where is the most interesting place you have been to?
This is probably the toughest question, but I would have to choose between New Delhi, and Cancun. New Delhi, India, was a huge culture shock to me, because of the amount of poverty, domestic animals, and poor families on the streets. As for Cancun, Mexico, the scenic ocean view, old Mayan ruins, and cenotes really blew away my expectations.
What do you hope to be doing in ten years?
I would like to be an admired actress that started up an events company, which contributes to local charities.
Is there anything you would like to add that we haven't asked?
I think you should ask why are you participating in Miss Universe Canada, and what is the mission of Miss Universe, and how can you impact a social movement as a national title.