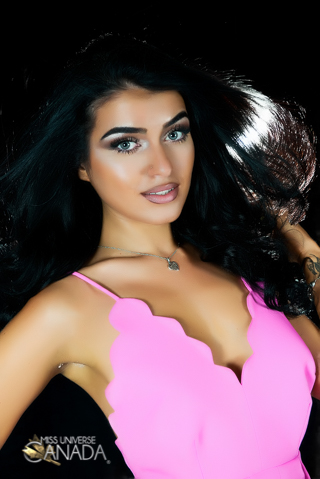 Height: 5'9
Hometown: Windsor, ON
Besiona Bekaj was born in Kosovo/Pena, Yugoslavia in 1994. At the young age of 3, her father abandoned them, and moved to Switzerland. This led to her parents' divorce which was extremely difficult on her mother raising a daughter on her own especially at a time when war began in 1999. Besiona remembers the day vividly when they were told they had to leave their home and immigrate to Albania. After six months Besiona's mother immigrated to Canada, and Besiona remained with her grandparents. At 10 years old, Besiona moved to Kitchener, Ontario to live with her mother, stepfather and brother. She had been longing to see her birth father again which led her to relocate to Switzerland to live with him at the age of 16. But unfortunately, her hopes of a happy reunion did not turn out as she had imagined. She therefore made a brave and positive decision to move out on her own. This experience gave her the opportunity to become extremely independent. She enrolled in hairstyling and make-up artist school and worked as a secretary to provide for her financial needs. She was a dependable and hardworking employee and knowing 4 languages (Albanian, English, Italian and Turkish) made her an invaluable asset to the company. She also took it upon herself to learn Spanish and volunteered at the hospital for Sick Kids.
While living in Switzerland she competed in and won best model of Europe. Afterwards, she entered Miss Kosovo and received First Runner Up and Miss Photogenic. Even though she did not know how she would make it happen, she knew in her heart she had to fulfill her dream of participating in the Miss Universe Canada. Her grandmother always believed in her achieving her goals which gave her the confidence to work hard and have a positive attitude to make it happen. In 2016, her grandmother (who lived in Kosovo/Peja), was diagnosed with mouth cancer and Besiona took this time to be by her bedside to care for her. After 3 months, her condition worsened and her last wish was to see Besiona reunited with her mother in Canada. To fulfill her grandmother's wish, she moved to Windsor to live with her mother, stepfather and brother. Although it was difficult for her to leave her life in Switzerland, she knew in her heart it was the right choice to make. After much dedication and perseverance, she now has a permanent job, wonderful friends and is fulfilling her dream of participating in the Miss Universe Canada. In Besiona's words "I am deeply grateful for the support, kindness and generosity that Canada and its wonderful people provided for my family and myself so that we could have a safe life filled with unlimited possibilities. If crowned Miss Universe Canada, her dream is to help families who are in need in any way, especially when they don't have the money to heal themselves. She is deeply touched by the suffering the children and parents have to go through and she feels that her past experiences can be of great encouragement and hope to such families.