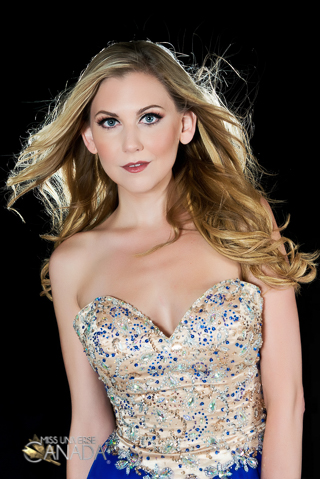 Height: 5'8
Hometown: LaSalle, ON
Kristen Binder is an confident, kind-hearted, and ambitious young woman who strives to continually learn and be open to all of life's opportunities. Born in Windsor and raised in LaSalle Ontario, she is the oldest of three siblings and has always strived to be a good example of hard work, integrity, responsibility, and compassion. She received an academic scholarship to the University of Windsor and graduated with a Bachelor of Arts Honours Degree in Drama and Communication Studies, and a minor in German Language. A hostess at one of Windsor's most notable fine dining restaurants, she is saving money while applying to return to school to achieve her dream of obtaining a Masters of Social Work degree. Her passion lies in working with women to end eating disorders and negative body image, while promoting a healthy lifestyle. She envisions herself speaking with women about media literacy, equipping them with life skills and empowering them to develop positive self-esteem, confidence and resilience.
Kristen's interest in modelling sparked when scouted by a model and talent agency at the age of 14. Since then she has modeled in Chicago, Detroit, and Toronto, appeared in independent films and music videos, and worked as an on-air presenter. In Windsor's fashion scene she is very invested and has networked with many of the city's prominent fashion designers, photographers, and businesses. In addition, she has authored articles as a freelance writer for local publications covering fashion events from her inside perspective. You can find her online sharing her experiences and insights about the fashion and beauty world in a blog she's created and authored since 2012 at catwalkcandy.blogspot.ca.
Kristen has always maintained an active lifestyle, and currently enjoys practicing yoga for it's total mind-body workout. A former competitive swimmer, she taught swimming lessons, lifeguarded and coached children as a certified Swim instructor and Lifeguard. She was able to share her love of swimming and knowledge of water safety, and teach younger athletes the value of hard work and persistence. One of her most memorable accomplishments was spending a summer in Italy, where she worked as an English Tutor providing fun, enriching, hands-on opportunities for children to learn English through games, sports, drama, and music. She also loves animals, art, singing, reading, and spending time with family.
With a passion for community involvement and helping others, Kristen gives time on a regular basis to volunteer, most recently, with the Bulemia Anorexia Nervosa Association (BANA), Met Hospital's Paediatrics department, Operation Christmas Child and Street Health. She jumps at chances to incorporate her loves of volunteerism and fashion by modeling for local business promotions and charity fashion shows. With the title of Miss Universe Canada, Kristen would like to continue her mission of inspiring and empowering women to believe in themselves and learn the skills of success to achieve their full potential. She plans to increase her presence on social media and in her community, by reaching out to schools, organizations, and media outlets. She hopes that by sharing her personal story she can encourage people to talk openly about physical and mental health, reduce stigmas surrounding eating disorders and other mental health issues, and encourage all people to embrace positive thinking and self-love.