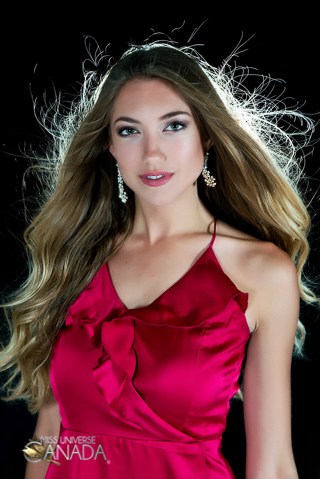 Height: 5'7
Hometown: Windsor, ON
Beautiful, diverse, friendly, and welcoming… these are words used to describe Canada, but close friends and family also use these same words when describing Melissa. Not only is she all of the above but she is also caring, determined, and ambitious. Melissa is a dual citizen of the United States as well as Canada, but has lived in Windsor, Ontario her entire life. Born to an American mother and Canadian father, she acknowledges both cultures have helped shaped who she is today, but truly embraces her Canadian roots.
Melissa Montaleone is in her second year in the collaborative nursing program at St Clair College, on her way to becoming a registered nurse. She is currently on the Dean's list, obtaining over an 80% average in her program. She has just turned 20, but ever since she was young, she has wanted to follow in her grandmother's footsteps to become a nurse. She believes nursing allows for a more personal relationship with each and every patient, which makes a greater impact on their lives. Melissa is also trying to pursue her passion for acting by participating in theatre and film productions. She has been in over 10 theatre productions, in a few commercials and music videos, and has done some modeling within the community. Melissa also loves to enjoy the outdoors and nature.
In her spare time, she enjoys fishing, hiking, and kayaking. She also keeps busy by volunteering, and spending time with her family and friends. To Melissa family is extremely important. Because she has a large extended Italian family, Melissa has learned that "family" is the most important part of life. Melissa was recently awarded the title of Miss Tecumseh 2017. This has allowed her the opportunity to get more involved with her community, and to participate in local events and fundraisers. Being Miss Tecumseh has also opened a door allowing Melissa to team up with the "Transition to Betterness" foundation, which is her charity of choice. She has also volunteered with the "I Can Bike" organization, "Children Make a Wish Foundation", "Sick Kids", and at local retirement homes. She one day hopes to travel to a third world country where, as a nurse, she can do mission work and help those who don't have access to proper medical care. One of Melissa's future goals involves becoming a nurse practitioner. Through hard work and dedication to her profession, she hopes to have the opportunity to make a positive impact on her patients, offer comfort and compassion, and save lives. Melissa hopes that Miss Universe Canada will give her a platform from which she can make a greater difference in her country, through being a spokesperson, and raising donations for many charities such as "Transition to Betterness". She also hopes to inspire women of all ages to be determined, proud, and to follow their dreams. Melissa is very excited to have the opportunity to possibly represent Canada, and to be a role model for every woman across our great nation.