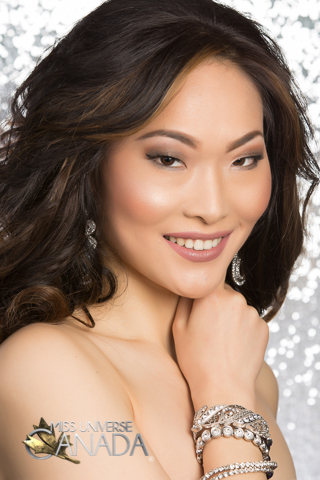 Height: 5'7
Hometown: Waterloo, ON
Languages: English, Mandarin, French
Occupation: Mergers & Acquisitions Deal Advisory
Xinxin Zhang works at KPMG in mergers & acquisitions deal advisory, while passionately pursuing her artistic and entrepreneurial endeavors. She is part compassion, elegance, and intellectuality. She was former Miss Teen Canada International 1st Runner Up and she endeavors to represent Canada at Miss Universe.
She graduated from the University of Waterloo with a Bachelor of Mathematics (Honours with Distinction) and Masters of Accounting. During her university years, she founded the Arts Symposium for creative people to share their visions and sell their artwork to support themselves in their artistic pursuits. Having a passion for education and entrepreneurship, she earned a role as a teaching assistant for mathematical finance tutorials and successfully operated a franchise with a client base of 147 customers.
With a childhood dream of one day working on Bay Street, Xinxin began her career at KPMG Toronto and continues her career in Manhattan, New York City ("NYC"). Being designated as a Chartered Accountant and Chartered Professional Accountant, she has worked with multi-billion dollar global clients in assurance, management consulting, and mergers & acquisitions advisory across a diverse pool of industries. Xinxin further widens her industry knowledge through her involvement in the startup scene. Notably, she and her teammates took home 1st place in the AT&T Challenge and 2nd place in the Microsoft BizSpark Challenge at the 2013 TechCrunch Disrupt Hackathon NYC. She further indulges in entrepreneurship and innovation by volunteering her business acumen to companies like Site2Site and OpenSports, while learning about venture capital by helping to fund startups in NYC such as O! MungBean.
Determined and assiduous, Xinxin has balanced her academics and career with her passion for the arts and fitness. She was professionally trained in dance, piano, vocal, fine arts, swimming, and figure skating. She obtained training from the National Ballet School of Canada and other renowned teachers. Her accolades include receiving RCM Grade 10 Piano and RAD Advanced I Ballet certificates, as well as being the opening dance act for a Chinese celebrity, Cai Yi Jie. Her affinity for entertainment and fashion has motivated her to host for Fairchild TV productions at the age of 14 and to model in New York Fashion Week 2016.
Aiming to give back to the community, Xinxin has volunteered at Pride Stables, assisting kids with special needs, and at the Toronto Community & Cultural Centre ("TCCC"), choreographing for various charitable functions, which gave young adults in the community a chance to learn dance and a stage to perform on. She played a vital role in developing the Youth Leadership & Talent Training Program. For her dedication, she has received the Award of Excellent Youth Volunteer Service in Canada and the Canada Day Youth Award, presented by the Minister of Canadian Heritage and Status of Women. In partnership with STEM From Dance (STEM: science, technology, engineering, and mathematics), Xinxin has been a guest speaker at various underprivileged schools in New York to speak out to youth.
Xinxin travels the world to absorb new cultures through interactions with locals and to witness historically impactful relics. She has been in Milan for Fashion Week, Munich for Oktoberfest, Dominican Republic for bachata, and Xinjiang for the Tarim mummies that have changed history, to name a few. These trips have allowed her to gain new knowledge and enrich her perspectives.
As an artist, and a woman in STEM and finance, Xinxin believes that optimism, passion, and gratefulness are the keys to realizing dreams. With a mosaic background and multifaceted achievements, Xinxin hopes to utilize Miss Universe Canada as a platform to inspire young women to become leaders of tomorrow, to promote a healthy and beautiful image, and to project positivity.
Sponsors

Video
Q&A
What are your interests and what do you enjoy doing the most?
I am an avid dancer. I love to enjoy a night of salsa and bachata with my friends.
I like to make time for exotic adventures and backpacking trips around the world to absorb every culture's most quintessential aspects. So far I have managed to be in Milan for Fashion Week, Munich for Oktoberfest, and Xinjiang for the Tarim mummies. What impresses me even more is that no matter where I am I always find a way to dance – I flew to Kashgar and the Dominican Republic to dance with the locals and to have the most authentic cultural exchange experiences.
I also have a passion for knowledge and everything geeky. I am a fervent subscriber to National Geographic and Psychology Today.
List any special training you have had (music, art, drama, dance, etc.) 
Dance
Ballet training received at National Ballet School of Canada for 6 years; currently dancing in RAD Advanced II ballet classes
Modern dance training received at the Canadian Children's Dance Theatre (CCDT); danced 1 year as a core apprentice at CCDT
Various ethnic Chinese dance types, including Uyghur and Dai dance, learned from renowned teachers
I taught myself salsa, bachata, and merengue since Latin dancing is super fun!
Piano
Attained Royal Conservatory of Music Grade 10 level
Competed in Kiwanis music festival and awarded 1st, 2nd, and 3rd place for different repertoires and categories
Figure skating
Training received at West Toronto Skating Club for 6 years
Attained Junior Silver level for ice dance and Senior Bronze level for free skate
Competed provincially
Singing – training received from former Chinese National opera singer for 2 years
Fine art – training received from an art professor for 6 years
Swimming – attained Bronze Medallion level
In what sports, if any, have you participated?
I have participated in a number of sports including badminton, track and field, swimming, Muay Thai boxing, and figure skating. Nowadays, I focus my energy on ballet and other fitness routines that would support the flexibility and strength that I need for ballet.
Name one person, other than your parents, who has had the most influence on your life. Why?
I would have to name two people – my grandparents – because they were equally influential. They raised me for 6.5 years and had an early childhood impact on me. My grandparents were great educators, instilling kindness, discipline, diligence, wisdom, integrity, and a go-getter attitude in me. I try to carry all my grandparents' teachings and qualities with me today.
What is your proudest personal accomplishment (other than participating in this pageant)?
At the age of 14, I was one of the opening acts for a Chinese celebrity, Cai Yi Jie, in a show produced by Fairchild TV. I choreographed a modern dance act and performed to the theme music of Troy. I portrayed the ghost of Achilles in memory form. It felt rewarding that all my hard work had paid off.
In the same year, Fairchild TV made an exception for me as the youngest contestant in its radio host and TV personality search competition. My participation graced me with several hosting opportunities alongside other radio and TV celebrities.
I am proud of holding the title of Miss Teen Canada International 2008 1st Runner Up. I cold called a lot of businesses to obtain more than $3,500 of sponsorships. In the end, I exceeded what I required for the competition. The experience helped me develop confidence and the soft skills that I still heavily utilize in my career today.
What is the most interesting or unique thing that has ever happened to you and/or what is the most interesting thing about you
In 2013, I booked a spontaneous trip to New York City to visit my friends, attend technology conferences, and network. Through my networking efforts, I got invited to a private event where I met Snoop Dog!
On the same trip, I spontaneously attended TechCrunch Disrupt, one of the largest technology conferences and hackathons, formed a team with 3 other elite individuals, and won first place in the AT&T Challenge and 2nd place in the Microsoft BizSpark Challenge. Our mobile application demonstration was presented in front of more than 2000 attendees and broadcasted live on TechCrunch.
What is your career ambition and what are you doing or plan to do to accomplish that goal?
I want to be able to offer unparalleled business and industry expertise in the deals market to my clients. I'm developing as much business acumen as possible through my current job. I hope one day I can be an influencer in the financial world.
I also want to develop more industry knowledge in the technology market; the innovations that change our lifestyles fascinate me. Currently, I'm reading Weapons of Math Destruction, highlighting the flaws in data analytics. Super interesting!
What would be your "dream job" in life?
My dream job would be one in which I can innovatively combine my diverse interests and professional experiences. These interests include public speaking, building relationships, and being creative.
Describe where you were raised and what your childhood was like.
I was born in Sichuan, China, home to world-famous spicy dishes! I was raised by my grandparents for 6.5 years while my parents pursued graduate education in Germany. My grandparents started my early dance and fine arts education, then passed the torch on to my parents when I moved to Toronto in 1998. My parents diligently searched for and put me in premier schools for dance, music, and other extracurricular activities. I had a busy schedule but learned to appreciate the rewards of hard work. Because of my parents, I have the accomplishments I do today.
List any interesting or unusual jobs you may have had. 
When I was 18, I successfully ran a window cleaning business, which only employed students. I reached $25,000 in revenue, a client base of 147 customers, and built strong rapport with them by the end of the summer.
While in university, I worked as a Peer Leader. I was a student advisor to 13 students in my cluster in the areas of academic planning and social support. I received high reviews for engaging students and developing 1-1 relationships with each and every one of them!
I really love teaching so I'm currently tutoring a 12 year old in math, science, and humanities. And, she's a smart cookie!
List any volunteering you have done.
Arts Symposium – I founded the Arts Symposium as a campaign to advocate for artistic appreciation and recognize the importance of arts in society. It was a hub to unite artists and provide an environment for them to share their passions. It also provided a channel through which artists can sell their artwork to support themselves in their artistic pursuits.
Toronto Community & Cultural Centre ("TCCC") – I played a vital role in developing the Youth Leadership & Talent Training Program. I organized and choreographed for various functions and fundraisers hosted by TCCC. Through these channels, young adults were given the opportunity to learn new dances and experience stage life. I was the recipient of Award of Excellent Youth Volunteer Service in Canada and the Canada Day Youth Award, presented by TCCC and the Minister of Canadian Heritage and Status of Women, respectively.
Pride Stables – I worked with kids with special physical needs by assisting with the therapeutic riding programs.
Teddy Bear of Hope – I participated in multiple fundraising efforts, supporting the mandate of bringing teddy bears to children affected by strife and turmoil.
STEM from Dance – I spoke out to youth at various underprivileged schools in New York City to promote STEM awareness through dance movements, as a guest and motivational speaker.
What is your most unusual talent?
I'm quite crafty. Perhaps, that was something I was able to pick up from my grandmother and mother. I've made decorative hair pieces, dream catchers, and other quaint items.
Where is the most interesting place you have been to?
I have always been an avid historian, reading every issue of National Geographic. The most interesting place I have been to is Kashgar, Xinjiang, China. The city is in the heart of the Silk Road, with influences from many regions of the world. I was there to witness its unique culture and famous Tarim mummies. The discovery of these mummies somewhat redefined history, which is what makes them fascinating to me.
~90% of the population in Kashgar is Uyghur and in Uyghur culture, dance is very critical! This is how they court. I travelled thousands of miles just to have the experience of dancing with the locals on the streets of Kashgar. It was exhilarating! So if you want to find love, better put those dancing shoes on.
What do you hope to be doing in ten years?
I aspire to be a successful businesswoman and well-travelled in 10 years. I hope to be more involved in education and inspire young people to achieve their goals. Obtaining an MBA and PhD, and being a university lecturer and author are on my bucket list.
Is there anything you would like to add that we haven't asked?
I would like to add what Miss Universe Canada means to me. I think of Miss Universe Canada as a celebration and embracement of femininity. In many cases, pageant delegates can serve as a role model to young girls, inspiring them to be the best they could ever be and showcasing to them what they can achieve. My belief that you can make any dream come true is embodied in my unique combination of mathematics degree, work experience in finance, passion in arts, and presence in startups. I believe it is important to project positive energy and bring joy to people directly or indirectly.