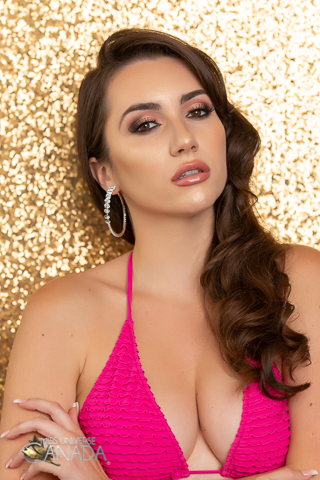 Height: 5'10
Hometown: Winchester, ON
Languages: English
Occupation: Reception Coordinator & Surgical Assistant
Alicia Angus was born and raised in the small town of Winchester Ontario, who is now living in the big city of Toronto, pursuing her dreams.
Alicia graduated from high school with the gold medal for highest academic grades. She began her academic journey in the Nursing program at Saint Lawrence College in Kingston, Ontario. Then she was accepted into the Communication and Sociology program at Carleton University. Once she completed her schooling her goal was to move to Toronto to become the strong independent, hard working woman she is today.
This past year she began her career path as a Medical Coordinator and assistant to surgeries at the Toronto Foot Clinic. She absolutely loves her job and being able to help new patients every single day.
Alicia is a part-time model, working with Ottawa & Montreal in high fashion runway and print jobs. She began her Pageant journey at Miss Teen Canada when she was 17, and since then has had the honor of represented Canada at multiple international pageants, she has placed top 10 and top 5 multiple times while winning best swimsuit body and the overall title of Miss World Perfect 2016.
She has had the privilege of bringing voice to two of her platforms, Canadian Cancer Association and Domestic Violence. She has spoken on stage in front of over 20,000 people about these issues, while also speaking to other victims and survivors of Domestic violence. Alicia has personally been a victim and survivor of emotional and physical abuse, and she now lives by the motto 'Your Scars are Your Strengths'. Alicia wants to give voice to all these men and women around the world that you are not alone, and it will be okay. There is always a light at the end of the tunnel.
Alicia greatest mentors and supporters throughout her life and her struggles are her parents and her family. Her mother was diagnosed with cervical Cancer back in 2008, she is now cancer free and is the definition of strength and selflessness. Her mom never took a single day for granted and that is something Alicia embodies each day.
Alicia's family also recently lost a grandmother and an aunt to Cancer. These three women have instilled so many amazing qualities that she wants to share with the world. Staying humble, loving yourself, being strong, seeing the best in everyday even if you must look a little harder sometimes, and most importantly cherishing every moment you have with the people you love and the memories you make.
Alicia believes that her journey and experiences throughout her life has given her the empowering stories and values that make her ready to represent Canada at Miss Universe pageant.
Sponsors
D & J Motors Ltd (Winchester), Terrace Green Bed and Breakfast, Veronica Sewing, Castle View Catering & Fine Dining, Family and Friends.
Video
Q&A
What are your interests and what do you enjoy doing the most?
I love going for runs, hikes and all types of physical activity. Fitness and living a healthy lifestyle has always been important to me. Also, I enjoy making memories with my family and friends as often as possible.
List any special training you have had (music, art, drama, dance, etc.)
Growing up I was very involved with sports, but I also took dance and some acting classes through my modeling agency. This helped me tremendously with being comfortable in front of the camera and a large audience. I have learned many skills in modeling, from fashion and makeup, to poise and posture.
In what sports, if any, have you participated?
I was involved in almost every sport growing up including basketball, soccer, softball, competitive swimming, track and field and competitive figure skating for 14 years. I had opportunities to travel and make some amazing memories with family and friends throughout Ontario by being a part of these sport teams. They taught me a lot about hard work, discipline and determination towards my goals.
Name one person, other than your parents, who has had the most influence on your life. Why?
One person who had huge impact on my life outside of my parents was my grandmother (Grams). She had a tough love approach to life that I'm so grateful for, because it prepared me for everyday life. Something she would always tell me was, "Work hard every day because no one is going to help you create your future but you." She taught me about true inner strength and to always stand up for what I believe in. She passed away May 28th, 2018, but she will always be with me.
What is your proudest personal accomplishment (other than participating in this pageant)?
My proudest personal accomplishment is being able to stand strong as the woman I am today. My life motto every day and especially on the MUC stage is to bring voice to my platform while also letting all men and women know that, 'Your Scars are your Strengths'.
What is your career ambition and what are you doing or plan to do to accomplish that goal?
My career ambition is to one day be a broadcaster, growing up I always enjoyed being in front of the camera and speaking, while also wanting to help people. Therefore, I began my academic journey studying nursing and continued by studying in the communication and sociology field at Carelton University. By combining them together I feel that I will have my dream career.
What would be your "dream job" in life?
My dream job would not be a 'job' it would be a way of life, waking up every day excited for a new and exciting day in the broadcasting field, while growing my skills and knowledge.
Describe where you were raised and what your childhood was like.
My childhood was amazing, growing up in a very small country town and being an only child allowed my parents and I to do so many things together. I was very introverted growing up, so my dad pushed me with sports and outdoor activities. My mom got me more involved in the fashion, modeling and pageant life. I am beyond blessed that I was raised both ways because I feel it allows me to adapt to new situations and individuals.
Growing up my parents allowed me to have almost every kind of pet you could imagine.
I was always an individual who needed to try it to truly understand it and grow. My parents were and continuously still support my desire to grow experience and struggle through life to be a better woman every day. One thing I will always hold so close to my heart is the morals and values they instilled in me from being raised in a small town and for the close nit family I have.
List any interesting or unusual jobs you may have had.
An interesting job I had growing up was the first job I ever had at 14 years old. I became a dietician at an elderly home in my hometown, I would help feed and prepare dinner for roughly 15 individuals. Working there showed me a lot about how much even a 5-minute conversation or a smile can brighten someone's day entirely. Working at this elderly home for 3 years was the main reason I went into nursing school.
List any volunteering you have done.
Canadian Breast Cancer Foundation
Canadian Diabetes Association
The Sick Kids Foundation
Operation Smile
The Winchester Memorial Hospital
Free the Children: I have raised over $8000.00 for this organization
I also began speaking voluntarily about my experience with domestic violence and my journey afterwards.
In addition to these great organizations, something I had found very rewarding was being requested by my modeling agency to be a volunteer teacher at a summer program, to teach the aspiring models about fashion, photographer, film, makeup and runway.
What is your most unusual talent?
Not sure if it is qualified as a talent, but I speak with random accents.
Where is the most interesting place you have been to?
The most interesting place I have been so far is Shanghai.
What do you hope to be doing in ten years?
In the next ten years I hope to accomplish it all, by becoming a broadcaster, a loving wife and mother. I want to still be inspiring women even ten years from now to have it all, I will be a strong all around a proud and accomplished woman.
Is there anything you would like to add that we haven't asked?
I began my pageant journey when I entered Miss Teen Canada and have had the honor of traveling the world to represent Canada, while meeting some of the most amazing and empowering women.
While doing so, I have endured some life altering events just like some men and women do in their lives but being able to stand on the Miss Universe Canada stage I want to let these men and women know that, you're not alone and I am a true testament that 'Your Scars are Your Strength'. Believe in yourself every single day.