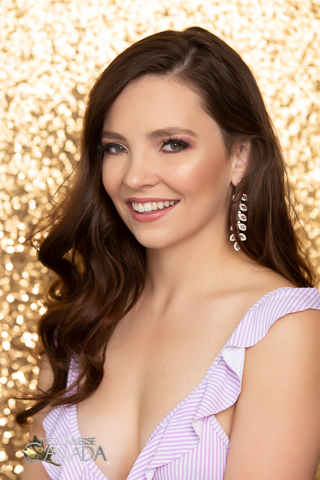 Height: 5'6
Hometown: Huntsville, ON
Languages: English
Occupation: Server/Bartender
Ciara is a recent Sociology graduate who is currently working as an entrepreneur, model, bartender and towards advocating for homelessness across Canada. Having been a victim of bullying growing up, Ciara has made it her personal goal to help others realize their worth and strive to meet their full potential. In November 2017, she was named an ambassador for Kids Help Phone's 2017 Anti-Bullying campaign, where she was able to speak out against bullying on a national level, and to encourage a positive and healthy mindset among Canada's youth.
In recent years, Ciara has focused mainly on eliminating the stigma surrounding homelessness, and spends much of her time working toward humanizing individuals who live without homes across Canada. She continues to create care packages with various items that are often taken for granted that could make a difference in the lives of those in need. She has successfully distributed approximately 250 care packages over the course of two years. Ciara aims to educate individuals on a national level about the severity of the homeless issue in Canada, and hopes to inspire others to also make positive changes that could benefit those in need. She is currently in the process of launching her very own clothing company geared to shed light on the issues surrounding homelessness, with a portion of the proceeds going towards assisting individuals who are struggling.
When she's not helping her community, Ciara enjoys painting, drawing, writing, photography and travelling. She has a knack for adventure and can often be found trying new things and pushing herself past the boundaries of her comfort zone. In the next year, she plans on launching her business and travelling across Europe before attending law school to become a Child's Advocate lawyer.
Winning pageants at both national and international levels, Ciara has used her previous successes as an outlet to advocate for homelessness, positive mental health and anti-bullying, as well as to develop her skills in public speaking, networking, to grow her confidence, and show others that anything is possible. She hopes to be a positive role model and to inspire people to find the love for themselves that she has finally found for herself through all of her hard work and in following her dreams.
Sponsors
Video
Q&A
What are your interests and what do you enjoy doing the most?
I love to learn and grow as a person. I am always trying out new things and taking a step outside my comfort zone to show myself what else I am capable of doing. Right now, I have this strange obsession with tea and learning about different blends, and this summer I hope to start blending my own tea. I think if you are able to make yourself happy by doing anything and everything you love, you are equipped with all the right tools to make those around you happy, which is another of my favourite things. When I'm not out adventuring and learning you can usually find me working out, painting or drawing, writing, travelling, and spending quality time with the people I love most.
List any special training you have had (music, art, drama, dance, etc.)
I would describe myself as a 'theatre kid' while I was in high school, and I spent a lot of time in acting classes and workshops for both stage and screen outside of school, as well. I acted professionally for film and television, working under Sherrida Personal Management, which came to an end because I wanted to attend university. While in university, I completed three out of four years toward a Bachelor of Fine Arts degree, specializing in studio art, later switching my program to Sociology, where I graduated with honours and used my training in art as a Minor. I also have extensive training and experience in modelling and have been published both in print as well as online, and did ballet for seven years.
In what sports, if any, have you participated?
I was introduced to ballet at the age of three and continued it for seven years, and I also love doing yoga and going to the gym.
Name one person, other than your parents, who has had the most influence on your life. Why?
When I was in grade six, I had a teacher who noticed that I had began being more introverted than I had been before. I was being pretty badly bullied at the time and he was the only individual outside of my family who noticed any change in me. He said it seemed as though I lost my light, and was devastated that my once excellent grades had become mediocre. He called my mother in to the school, told her his observations, and together they decided that at any and every opportunity they would push me. While away on a school trip to a sports camp, I refused to partake in the rock climbing activity because of my intense fear of heights. He took me aside and talked me through it, and would not take no as an answer for me not to participate. He gave me a goal of reaching the alarm at the top of the rock wall and pulling it, and talked me through the entire thing. It was small, but it made me realize that anything in the world can be pushed through to attain your goals. Although I struggled to pull the alarm at the top of the wall, I did it, and his little lessons about pushing myself will forever remain in my mind in everything that I do.
What is your proudest personal accomplishment (other than participating in this pageant)?
If you had had the chance to know me a little over three years ago, you would have seen quite a different person. I was very shy, often intimidated, and struggled with feelings of unworthiness on an everyday occurrence. One day, I decided that I was no longer going to allow myself to live like this. I pulled myself together, and was able to go from almost failing many of my classes, to graduating with Honours in Sociology, minoring in Fine Arts from Nipissing University in June of 2016. I decided then to enter my first pageant, Miss North Ontario (where I was invited to participate in Miss Universe Canada) held in Sudbury in May of 2016, won the title of Miss Canada™ 2017 the following March in Montreal, QC, and later won internationally at Miss Petite Model Universe 2017 in Madrid, Spain. During this period I have been able to help many individuals realize that they, too, can do anything they set their minds to, and in the process I have learned to become strong, resilient, confident and discover what it truly means to love yourself. This is my proudest accomplishment.
What is the most interesting or unique thing that has ever happened to you and/or what is the most interesting thing about you?
I would say the most interesting thing about me is my ability to push myself past the limits that either myself or anyone else has set for me. I always look back to where I was a year ago from that particular point in time and reflect on the growth and hard work it has taken to be where I am. I always want to keep doing better and better than I was before, and in doing that you must take risks and do things that you normally might not do. Not everyone can say that they can do that and it is something I am very proud of myself for.
What is your career ambition and what are you doing or plan to do to accomplish that goal?
I come from a family of entrepreneurs, and it has always been very inspiring to me to watch them succeed. I know in my heart of hearts that I have always been meant to be an entrepreneur, so I will always have a business of some sort going no matter what. I have so many ideas that are ever evolving and changing, but currently my focus is working toward creating my own online boutique and a t-shirt business explained in more detail below. I am also planning on attending law school next year in hopes of becoming a Child's Advocate Lawyer. I continually push myself to do my best and work very hard in everything that I do, which I know is what it is going to take to accomplish these goals.
What would be your "dream job" in life?
My dream job doesn't necessarily have a title. Whatever it is, I just want to be happy, continuously learning and growing, and being out there making other people happy. That's my goal.
Describe where you were raised and what your childhood was like.
I was raised in a small town with a small, tight-knit family. My younger brother and I were brought up by both my single mother, and grandmother, who still lives next door to my mom to this day. I was bullied a lot as a child because my family dynamic wasn't considered average, and I always felt like the odd one out. The bullying continued into high school, and even into university, which caused many years of low self-esteem and lack of self-confidence. One day, I decided that I wasn't going to live like this any longer, and that I was going to work on my own personal growth and become the strong, confident, independent woman I had always watched my mother be while I was growing up. She worked tirelessly day in and day out to ensure that my brother and I had everything we needed, juggling everything life threw at her while still maintaining her strength, and I knew that's exactly who I wanted to be in my own life. I would never change any of the hardships that I have faced in my life, because each one of them has been a lesson that I can use in my future, as well as to help others become the best versions of themselves.
List any interesting or unusual jobs you may have had.
I was an actress for film and television while I was in high school. I did a variety of parts in work such as Terry, the film encompassing the life of Canadian hero, Terry Fox, Ghostly Encounters, Glade Wisp commercials, and more, and used the money I made to go to University.
Another interesting job I had was working as a banquet server for a high-end resort, called Deerhurst, in my hometown. Many of the events I worked at were attended by famous individuals, some of whom I had the honour of serving. I had the opportunity of meeting many inspiring and wonderful people such as Celebrity Chef Susur Lee, David Usher, Shania Twain, Gowan and more!
List any volunteering you have done.
Collected items for homeless care packages and successfully handed out over 250 care packages in the past two years across Ontario
Became a Kid's Help Phone Ambassador for November 2017's Anti-Bullying Campaign
Collected enough school supplies for Haitian children alongside the Sow A Seed foundation to successfully provide 800 kids with items for school in Haiti
Spoke to schools across the district of Muskoka about self-esteem and motivating and encouraging youth to take chances and follow their dreams despite hurdles they may face
Read to children weekly and taught them about the importance of education
Was a spokesperson for various libraries in Ontario encouraging youth to read and continuously learn
Hosted various fundraisers to help raise money for Northern Ontario Families of Children with Cancer
Visited home for Orphaned children while in Spain bringing toys to brighten up the children's day
Held a fundraising event to support a homeless shelter in need
Visited abandoned animal shelter in Madrid, Spain and worked with them to educate the public on animal cruelty and how to overcome it
Collected over 175 pairs of shoes for the Soles4Souls organization
What is your most unusual talent?
I'm not so sure this is a talent, but I can totally wiggle my ears! ????
Where is the most interesting place you have been to?
In 2017, I had the opportunity of visiting the beautiful city of Segovia while I was travelling in Spain. The city is split by one of the best-preserved ancient Roman aqueducts that was once used to run water up the mountain where the city is located. I think this place is one of the most interesting to me, because while I was there, I found out the aqueduct was erected somewhere in the early 1st century AD, and was used all the way up until the 20th century, and I felt very lucky to have the privilege of seeing it in person. The whole city felt as though it had been kept in a time capsule, and it was like visiting somewhere straight out of a history textbook. I have also stepped on the very centre of Spain in Puerto de Sol, Madrid, which I think is pretty cool, too, don't you?!
What do you hope to be doing in ten years?
In ten years I hope to be successful, a loving wife and mother, and doing something that will help change the lives of others for the better.
Is there anything you would like to add that we haven't asked?
​I am honoured to be representing my hometown, my family, my friends and all of my supporters on the Miss Universe Canada 2018 stage. I am excited to see where it takes me, and I hope that I can inspire others to follow their dreams and to take that extra leap of faith in their own lives, as well!