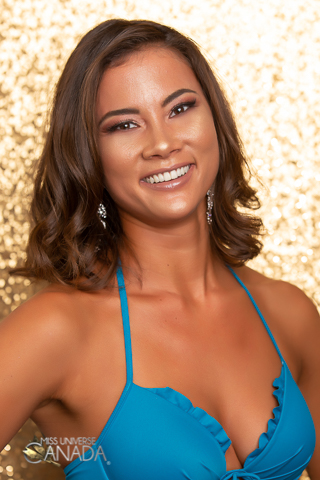 Height: 5'10
Hometown: Toronto, ON
Languages: English
Occupation: Bars Manager
Elizabeth Quan was born and raised in Ontario, Canada. Completing her degree at George Brown College for Applied Business Administration (Hospitality) Program, she has also completed two years at Ryerson University for Hospitality and Tourism Management. Even though she has completed her education, she constantly strives to learn more and pushes herself to be the best she can be every day. She currently manages two food and beverage outlets within the Thompson Hotel Toronto.
Having a background of Trinidadian, Chinese, and British decent, multiculturalism and diversity reflects her passion for culture and heritage everywhere she travels. Pushing herself to learn more and strive in the hospitality industry, she intends to use her talent and skills for business across the globe. Being culturally inquisitive shows her drive towards travel, culture, and heritage alike. Being intellectual, compassionate and driven, helps in achieving her goals to learn more languages and bring awareness towards various events and issues that people face on a regular basis around the world.
In accordance with one of her favourite quotes "learn from yesterday, live for today, hope for tomorrow" she believes everything happens for a reason and to make the most out of what life gives you. She also believes positivity, optimism and happiness are a necessity in everything that you do. Working optimistically every day to be the best she can be, is one of the best qualities she believes one should have. Her unconditional love and motivation to make everyone happy and confident to be themselves makes her life more meaningful. By reflecting her positive outlook on others, she plans to be an ambassador of confidence and beauty for women and men alike. With hard work, dedication, passion and perseverance anything is possible!
Sponsors
Family and Friends
Video
Q&A
What are your interests and what do you enjoy doing the most?
I have always been interested in traveling the world and experiencing the culture and learning the history of each location. It is very captivating to see the historical architecture and the story that each piece represents. Seeing how every one's lives are different in one way or another puts a perspective on things through out life and what we can do for the betterment of the world.
I love expressing who I am as a person through art and dance as well as showcasing the potential growth I have for future endeavors. These are two activities I enjoy doing, however, spending time with my family and friends are most important to me. I enjoy their company and always learn something new within each experience.
List any special training you have had (music, art, drama, dance, etc.) 
I am very blessed to have had such a large range of activities and learning curves through out my life. Music, I have learned piano and guitar. Art, I studied in school but also taught myself in particular concepts and styles. Dance, I have enjoyed majority of my childhood and each type gives a different emotion and story to tell (Tap, Ballet, Jazz, Acro, and Hip Hop). Mixology/Flair Bartending, being in the food and beverage industry for 12 years, I have learned about the history behind particular items within this field and also had training on how to generate a show while creating beverages.
In what sports, if any, have you participated?
The sports that I have participated in are basketball and rugby. For my whole life, they have been my favourite sports and I don't know what I would have done without them. They both give a sense confidence and competitiveness to be the best I can be as well as keeping me active and stress free.
Name one person, other than your parents, who has had the most influence on your life. Why?
My grandmother has had the most influence on my life. She has gone through so much through out her years and she is such a strong and beautiful woman on the inside and out. She has taught me to be more confident in myself, show the world my true self and explore the world and what it has to offer.
What is your proudest personal accomplishment (other than participating in this pageant)? 
My proudest personal accomplishment would be completing two years ar Ryerson University and graduating from George Brown College with a bachelor degree of Business Administration focusing in Hospitality and Tourism Management.
What is the most interesting or unique thing that has ever happened to you and/or what is the most interesting thing about you? 
The most interesting thing about me would be the excess amount of love and care I have for others. Majority of the time people believe I care too much, but I believe it is a great trait to have. It's always crucial to put yourself first so you can reflect your perseverance, positivity and motivation to others. I have had a lot of various experiences in my life that have helped me become the person I am today; so telling the world my story and helping others with the same struggles I have encountered in my life will be my accomplishment day in and day out.
What is your career ambition and what are you doing or plan to do to accomplish that goal? 
My career ambition is to be a leader in the Hospitality and Tourism industry. I plan on accomplishing this goal by traveling the world and learning/experiencing different cultures and history of each place I have visited.
What would be your "dream job" in life?
My dream job would be to help and create a positive impact on the lives of others. It has always been my dream to travel the world; so within this journey, I would love to help others across the globe with issues they face and create resolutions for problems and conflicts that arise within their communities.
Describe where you were raised and what your childhood was like.
My parents raised me in Scarborough and Newmarket with my older sister. I feel so blessed to have my childhood, for my parents taught me so much through out my growth as well as having such a tight bond with my sister and I. I had different relationships with each of my parents but they were both close in their own ways. My parents support my sister and I with all of our endeavors and constantly pushed us to learn more such as enrolling us in swimming, music, and dance classes. They also provided us with the opportunity to travel to various places around the world, which probably initiated my passion for the hospitality and tourism industry.
List any interesting or unusual jobs you may have had. 
An interesting job that I have had most recently would be bartending. I learned numerous things about various beverages but also learned the art of flair and mixology. People always used to reference my job as "Tom Cruise in the movie Cocktail".
List any volunteering you have done.
Sick Kids Hospital
Southlake Hospital
Operation Smile
SOS Children's Villages
Various school fundraisers
What is your most unusual talent?
My ability to adapt to every situation would probably be my most unusual talent. I always say "it's only awkward if you make it awkward", so whatever is thrown my way I always see the positive side of it. If I make a fool of myself, at least the others within the situation have a laugh with it! If I can make some one smile, I have accomplished one more thing in that moment. Smiles are contagious, so why not share the happiness all day, every day?!
Where is the most interesting place you have been to?
I was fortunate enough to travel to China. I was able to go to Beijing and climb the Great Wall, walk through the Forbidden City, and visit the Princess's Palace amongst so much more. Seeing my family and China's history, experiencing the culture and absorbing as much as I can from this vast and beautiful place is definitely a journey I will never forget.
What do you hope to be doing in ten years?
That is a tough question to answer for life always changes and we cannot predict the exact future. However, I hope to be travelling the world and helping others with major issues they may face within their communities. Hopefully with my background and past experiences, I can help create positive influences in every location I travel to.
Is there anything you would like to add that we haven't asked?
I would like to touch base on the constant views of the pageant world. This is the only pageant I have done and through out my experience in 2016, it provided me with more confidence and drive to do more for myself and more importantly helping others. This pageant creates a stepping-stone and outlet for young women to express their beliefs and speak on issues that are imperative to them. I got to meet intelligent, positive, driven, beautiful women that each have their own story to tell and I am truly grateful for this.